Will Smith's New Movie Targets The NFL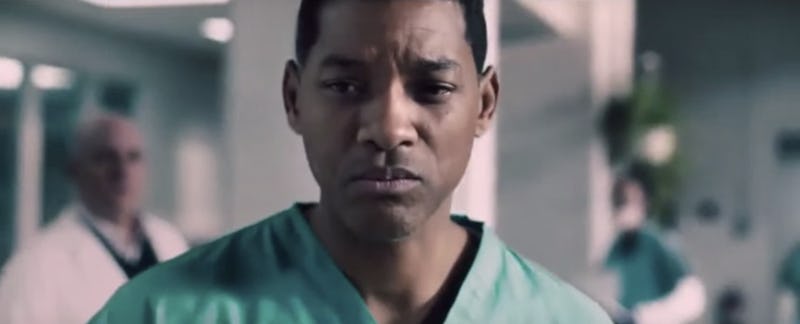 If you've been keeping up with the National Football League's bleak and ever-evolving concussion crisis, you probably fall on one side or the other of the debate: Yes, American football is dangerous by nature, and something needs to be done about it; or No, football is reasonably safe if proper precautions are taken. Wherever you stand on the issue, you'll be interested in the first full-length feature film about the issue. The trailer for Will Smith's Concussion was released on Monday. Smith stars as Dr. Bennet Omalu, the real-life neuropathologist who in 2002 became the first person to discover in deceased footballers' brains what appeared to be chronic degenerative disease — likely caused by repeated head injuries over the course of their careers.
As profiled in 2013's League of Denial, Omalu's discovery was ignored by the NFL for years. All the while, Omalu continued to quietly examine the brains of dead football players, many of whom had exhibited uncharacteristic behavior before their deaths. The case of Junior Seau — a 43-year-old former star quarterback who experienced a radical change in personality, according to family members, and then committed suicide — brought the degenerative disease Omalu had identified into the public spotlight. It's called chronic traumatic encephalopathy, and now best known as CTE.
Seau's brain, it turned out, exhibited signs of CTE. His family went on to sue the NFL for not properly warning its players about the alleged risks of playing the combat sport. (The lawsuit is ongoing.)
"I've found a disease that no one has ever seen," Smith says in the trailer, in Omalu's Nigerian accent.
Over the past few years, fear among Big Football and its athletes about the risk of CTE has heightened. The NFL's official position is that football is safe is played properly, and to this end, it has reinvented the rules of its game, aiming to reduce the number of head injuries. However, critics of the NFL say that no helmet is going to protect the brain from the hard hits that, for many footballers, are part and package of playing the game.
Back in 2013, the NFL reached a settlement with more than 4,000 former players, who said that they were not warned about a disease they believe the NFL knew about — the NFL entirely denies this — and a $675 million fund was set up by the league for former players and their families.
Evidence that strengthens the link between CTE and American football, whether played professionally or otherwise, has increased over the past few years. Earlier this year, promising '49ers linebacker Chris Borland abruptly retired at 24, citing the risk of head trauma. "I just honestly want to do what's best for my health," Borland said in a statement to NFL.com. "From what I've researched and what I've experienced, I don't think it's worth the risk." He had already been diagnosed with two concussions; research has strongly suggested that the risk of permanent brain trauma grows with every new concussion.
The NFL's supporters contend that players must of course take precautions to protect themselves, but given that only a few football players have been diagnosed with CTE, there's a low risk that the average football player will develop it — especially in light of the league's newest changes. However, so little is known about CTE in football players that it's difficult to say precisely what that risk is.
At the most drastic level, it's been suggested that all kinds of football — from what children play to the professional version of the sport — carry some degree of risk of CTE. In that case, the only way to eliminate that risk is to avoid playing football at all. This is simply unconscionable for many Americans, not to mention the NFL. And it's a national quandary that Smith does his best to bring to life in Concussion.
Images: Reboot Entertainment/YouTube