'Psych: The Musical' is Too Lame, Too Late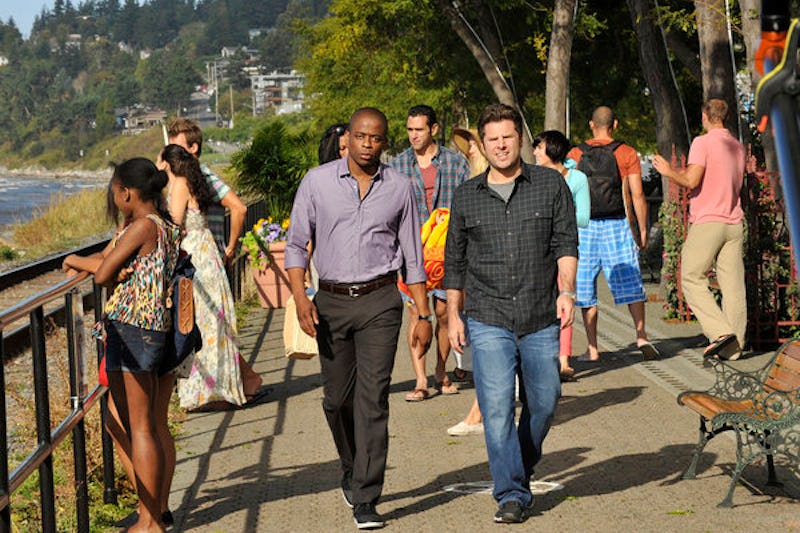 If there was a high point to Sunday night's two-hour Psych musical, it was Dulé Hill. The real-life Broadway actor saved the play-within-a-musical and made the tardiness of this musical episode more bearable. Even with Dulé's hilarious jabs and great dance moves, though, this episode came late to the series, with very little of Psych's characteristic swagger.
A musical episode has been tossed around since the early seasons of Psych, and the creators have been tossing around different ideas ever since. The long wait for a musical episode was supposedly a chance for the writers to perfect the episode, but the end result is somehow more Phantom and less Psych-out. Also, since this episode was supposed to air in the middle of Season 7, it has many plot inconsistencies, which make it an odd addition right before Season 8 begins. Which, for a show that relies so heavily on running gags, seems an odd choice.
Don't let this episode fool you, because Psych has had many witty themed episodes in the past. They have even re-recorded the theme song for a number of special episodes, often to hilarious effect. Although they have done many hilarious themed episodes, the eerie Twin Peaks-inspired "Dual Spires", the Bigfoot love letter entitled "Lassie Jerky," and the aptly-named "100 Clues," which mimics the movie Clue, stand out as some of their better themed work.
Despite their disparate influences, these episodes all have some classic elements of a Psych special that were missing from "Psych: The Musical." All three of these episodes got inside their respective influences — for example, "Lassie Jerky" was shot as fake "shaky cam" home video. They were also able to make specific jokes pertaining to the source material that were still approachable for an uninformed viewer. I know that when I saw "Dual Spires," I appreciated the wit behind this brand of humor, since I had never seen an episode of Twin Peaks. Even with this reference-heavy structure, though, all of these episodes still had the self-conscious zaniness that qualified them as true Psych episodes. And this is where "Psych: The Musical" overshot its mark.
Although there were many great jokes aimed at the theatre community — such as the dark but apt murder of a critic — these rarely fit into the Psych back-and-forth style of comedy. With the weird fairytale opening and the massive play-within-a-play, the episode felt overwrought, and lost the breezy Shawn and Gus comedy. Also, aside from the Lassie-and-Shawn tango and Gus' awesome Jamaican inspector man song, the musical numbers lacked the spontaneity that has made conversations at the SBPD hilarious in the past.
As much as I dislike the writing of this episode, I must say that, of the cast, Dulé Hill gave it his all, and it shows. He has a lovely singing voice, which proves that his time on Broadway was well spent. The prolonged tap routines are equally wonderful, as well as ability to outshine everyone on the cast in the group dance numbers. If Dulé had simply taken over this episode to showcase his many talents, it probably would not have felt so lifeless.
Lastly, there were some odd writing decisions in this special. Why, for instance, did Yang need to come back during a musical-themed episode, only to die? Her presence seemed played out, and her singing did not add anything to the episode. Also, where was the full song version of "Suck it?" And why didn't Gus get to sing his nicknames in a list as a silly aside?
All of these gags would have made this episode feel more like Psych, and less like a community theatre homage to it. Unfortunately, the lackluster writing made this special a little pitchy, and I hope the upcoming Season 8 can find the melody once again.
Image: USA