See Fashion Illustrations Of The Best VMA Looks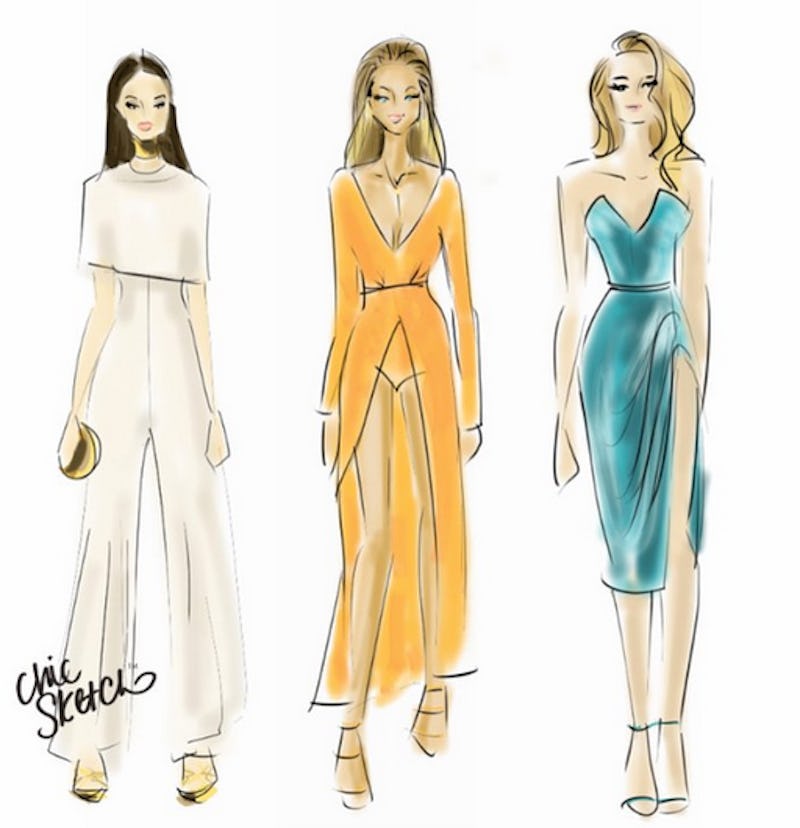 There are definitely some moments from the VMAs that I'd like to keep reliving (I mean Kanye for President, anyone?). These illustrations of VMA red carpet looks are here to help. Just in case you couldn't get enough of Gigi Hadid in that mustard yellow dress, you can now stare at a beautiful drawing of her rocking it for as long as you want. I know how I'll be spending the rest of my day, if you could excuse me.
These drawings really capture the beautiful dresses worn on the red carpet and feature looks from FKA Twigs, Chrissy Teigen, Miley Cyrus, and more. You can thank the couple behind Chic Sketch, Jordan Edelson and Emily Brickel, for bringing these VMA moments to life. Thanks to their app, you can upload a photo of an outfit and have a custom fashion illustration of your best OOTD created just for you. So, you may not be on the VMA red carpet, but you can still have your best outfits live on forever. Such a cool concept, right?
Check out some of the sketches from the VMAs and start planning what photo you'll upload into Chic Sketch. Make sure it's custom-drawing worthy, just like the ladies who rocked the red carpet.
These ladies looked great IRL and are still killing it in drawing form.
Oh look, here's Hadid again. So gorge.
Lily Aldridge's LBD was classic, yet stunning. This illustration really captures that, too.
Couple style game strong.
And last, but certainly not least, the fearless hostess. She was doing what she does best and baring it all in this little number.
I don't know about you, but I can't get over how lifelike these are! Check out the Chic Sketch app to get your own outfits turned into works of art.
Image: chicsketch/Instagram