How To Create A Messy Bun With Long Hair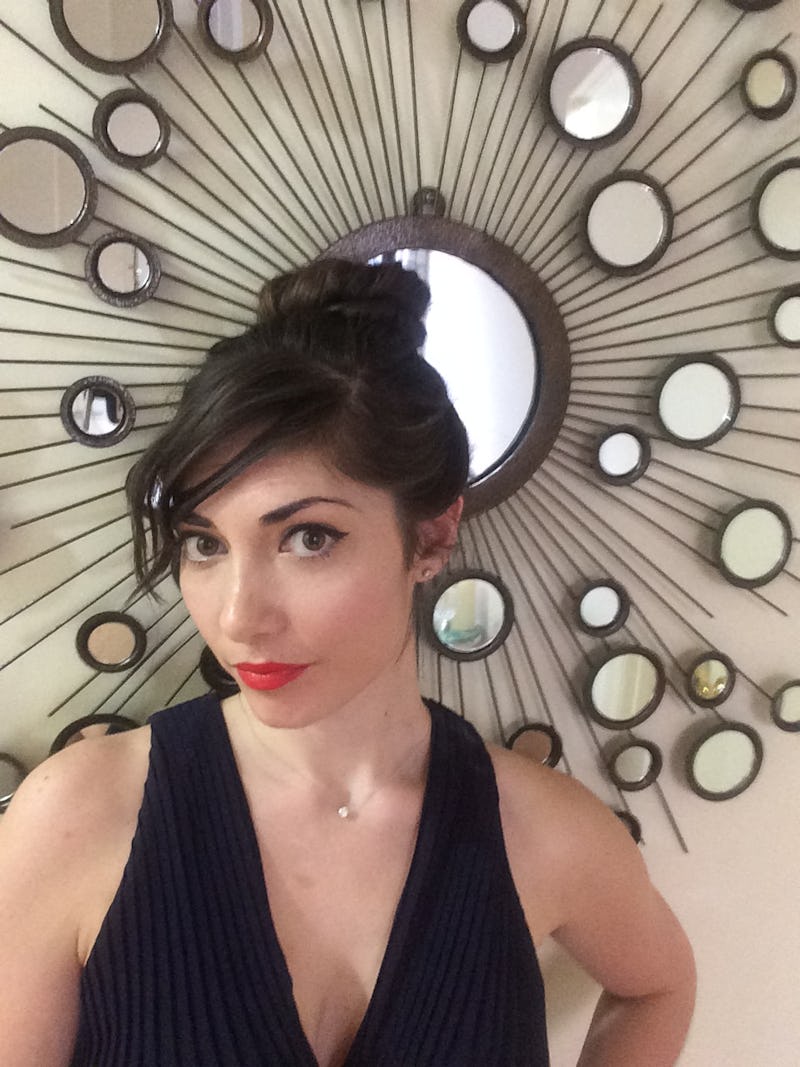 While glossy locks or a halo of curls are great for everyday wear, there sporadically comes an occasion when an updo feels infinitely more apropos. In such cases, the messy bun is hands-down the best choice in my book. But how do you do a messy bun with long hair? As utilitarian as it is enchanting, the messy bun can be achieved in five minutes or 50 depending on how much effort you're willing to allot to your styling routine. Moreover, the messier, the better when it comes to the disheveled top knot. Therefore, hair with a bit of grit and day-after-washing texture simply enhances the look. And if the simplicity of accomplishing the style isn't enough to sway you to try it, perhaps its coterie of celebrity fans might. From Blake Lively to Selena Gomez, the coiffure has taken the red carpet by storm with its casual romanticism.
However, admiring the messy bun on other and actually executing the look are two very different notions. In an effort to mix up my own hair routine and achieve that covetable, bedhead bun I've so often adored on the red carpet, I attempted the trick process of coaxing my coiffure-averse hair into a mussed updo. So pleased was I with the results that I may even place the simple style on my regular rotation. If you, too, adore the style, read on for seven simple steps to the perfectly ruffled bun for long-haired gals.
1. Prep Your Hair With Product
Having given my locks 24 hours to soak in the New York City grit and humidity, I only smoothed a dime-sized dollop of glossing cream into my hair before moving on to the next step. If you begin with damp hair, try volumizing mousse to gain texture.
2. Curl Your Locks Or Add Texture With Product
My hair was decidedly limp before I began styling, and so I decided to give my locks a light wave. If you choose to prepare your hair with curls, wrap two inch sections of your hair around the barrel of a one inch curling iron, rotating the curl direction between sections.
3. Divide Your Hair Into Sections
If you fancy a modernized Pippi Longstocking look, you might find yourself considering the prospect of stopping on this step with perfectly curled pigtails. Resist the temptation to do so, and divide your hair into four sections. Using clips or plastic bands, segment your hair into two front curls of roughly two inches in diameter, one section containing the hair at the crown of your head, and one section containing the hair halfway down your scalp to the nape of your neck.
4. Start Pinning
Once your hair is sections, gather a handful of bobby pins to secure your bun.
5. Pull The Top Section Into A Ponytail, And Then Make A Loose Bun
Create a topknot with the section of hair at the crown of your head by creating a tight ponytail with a clear elastic, and twisting the tail around the center. Pin as needed.
6. Wrap The Bottom Middle Section Around Your Topknot
After your topknot is secure, take the bottom half section of your hair and brush it upwards, twisting the section around the base of your bun to add further volume and dimension.
7. Pin Back Your Front Curls And Then Pull And Tease Your Bun For A Perfectly Imperfect Updo
Once your double bun has been fastened with bobby pins, lightly coil each of the two remaining curls backwards towards the base of your bun, and fasten each loose end underneath the base of your bun with a bobby pin. As soon as your updo is locked in with pins, give your locks an expert tousle, gently pulling out loose strands and fluffing the knot for the ultimate insouciant coiffure.
And there you have it — a totally possible perfectly imperfect up do, even if your hair is crazy long.
Images: Tyler Atwood