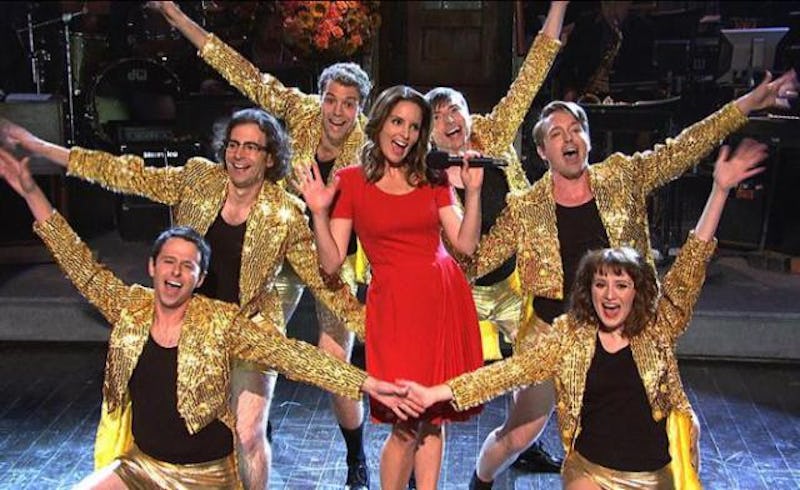 Excitement about SNL's secret auditions for a new mid-season cast member is mounting, primarily because all of the candidates look incredibly qualified, but also really fun to hang out with. Monday's news that three of these comediennes — Kerry Coddit, Natasha Rothwell, and Sasheer Zamata — have been selected for a final round of auditions has made the Internet sound with cries of change and progress. However, the news of these auditions, which tested out African American women to select a new cast member to start in January, may not be as upbeat as it seems.
Lorne Michaels has committed to adding one African American woman to the cast, which sounds great. However, Michaels also volunteered to the New York Times that he "believed that as many as two performers could potentially be considered, but he did not want to add too many women at this time because the cast already includes five." Oh boy.
Let's look at the numbers: currently the "repertory" (regular) cast of SNL includes five women and six men, and the addition of one more cast member would even that out. Of the "featured players," there are three men and Noel Wells, making the total nine men to six women. Additionally, there are currently three cast members of color, Jay Pharoah, Nasim Pedrad, and Keenan Thompson. So the addition of three African American women would make the SNL cast female-dominated, and it would begin to balance the racial makeup of the show, although many groups would remain unrepresented.
What does Lorne Michaels have against a lady-centric cast, then? If we look at past SNL seasons, it would appear that he will not allow it. Last season there were five women present in the entire cast (including "featured players"), and the year before that, there were also five. If we continue to look backward, the number of women fluctuates, but rarely swings up to five women in the entire cast. It seems five women has been a hard limit until this season, and Michaels just can't see SNL going from a vagina-unfriendly sausage fest to women-driven program this season.
So, Lorne Michaels, maybe you can prove us wrong and just hire all three of the candidates who have made it to the final audition, because setting a quota so your show stays white male-dominated is backward and unnecessary. Personally, I'd like to see where female comedy on SNL could grow if more women were allowed into the Lorne Michaels boys club.