The New Polaroid Camera With Ink Free Printing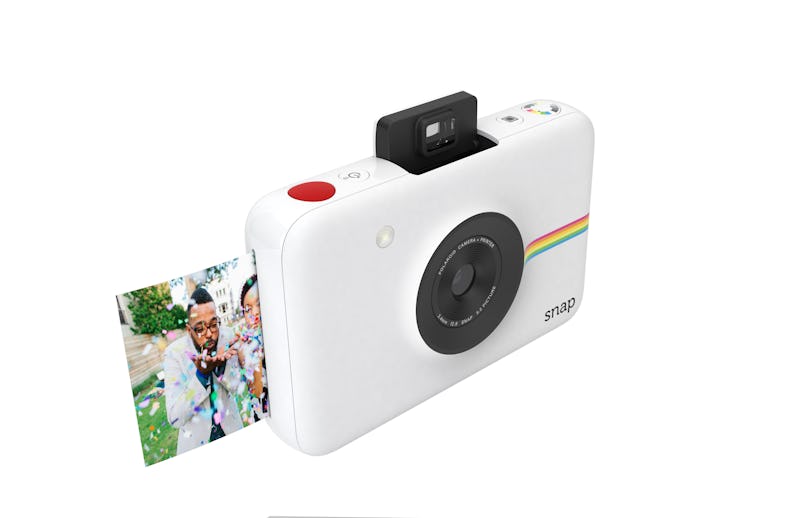 The days of Polaroid cameras are not dead. In fact, they're better than ever, thanks to a shiny new device that just dropped: The Polaroid Snap camera prints photos without ink, giving you the immediate gratification for which Polaroids are known without the need for any bulky film or a photo-quality printer. You guys? We've officially reached the future.
OK, so how does this amazing-sounding technology work? The Polaroid Snap uses something called Zero Ink Printing technology and ZINK Paper to work its magic. Developed by the company ZINK, ZINK Paper contains cyan, yellow, and magenta dye crystals trapped under a polymer coating. Before a photo is printed, the crystals are colorless, making the ZINK Paper look just like regular paper. After you snap a photo with the Polaroid Snap camera and hit the print button, however, the ZINK-enabled printer uses heat to activate and colorize those crystals. Bam! You have a full-color, high quality, long-lasting photo, instantly.
The benefits to this technology are numerous. First, because the photo is printed without ink, it's also smudge-proof. Second, you don't have to deal cartridges, ribbons, or toner, like you do with regular photo printers. Third, ZINK Paper comes with an adhesive back, so it can automatically be used as a sticker. (Remember those Polaroid sticker cameras from the '90s? It's kind of like that, only better.)
There are some drawbacks, too, course; the photos are only two inches by three inches, so they're somewhere around "wallet-sized" — some might say "tiny." But they print in under a minute — and, thanks to the fact that the Polaroid Snap stores its images on Micro SD (up to a 32 GB card will fit), they can also be printed in a larger size or uploaded to social media later. Oh and if you don't already feel nostalgic enough, the Snap offers different capture modes, including back and white. At $99, it's also fairly affordable; additionally, a 50-pack of the special ZINK Paper used to power it is going for $24.99 on Amazon
So why do we have such a nostalgic love for Polaroid cameras? Here's why they'll always be awesome.
1. Selfies Were Scary, But So Very Very Fun
Taking a selfie with a Polaroid could either be spot on or a horrific... but either way it was fun to attempt.
2. Shake It Off!
I'm convinced T Swift had the image of running around shaking an old Polaroid photo when she wrote that hit. Few things were more fun when we were kids than "helping" a Polaroid snap develop.
3. The Embarrassment
OK, so it's not as bad as uploading a bad photo directly to social media like we can now, but there was something special about taking a bad photo of a sibling that immediately printed and couldn't be erased or untagged.
4. Instant Memories
Back in the day, being able to hold a copy of a memory in your hand right when it happened was major. For some reason, there was just something special about it that digital pictures can't touch.