'A Teacher's Obsession' May Be Familiar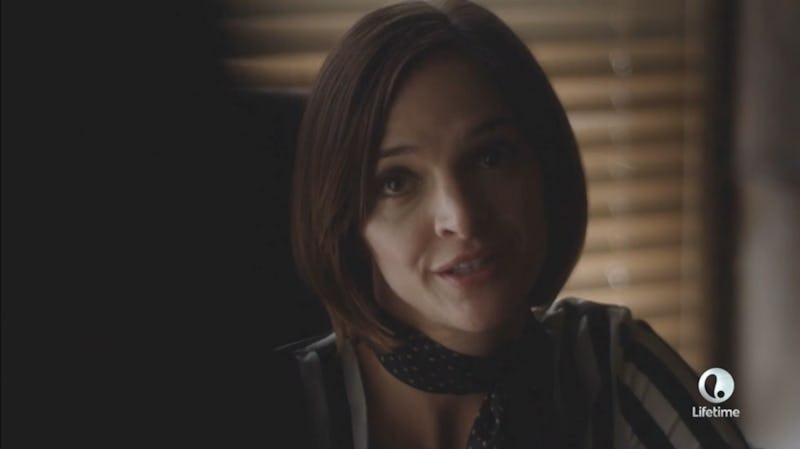 This Labor Day weekend, Lifetime is treating us to a new creepy, suspenseful tale, as its newest original movie A Teacher's Obsession, premieres on Sunday night. As the title might suggest, it chronicles the story of Bridgette (played, interestingly enough, by Peter Frampton's daughter, Mia Rose Frampton), a young student recently kicked off of the lacrosse team for her poor grades, and Jane, the teacher who hopes to help her get her life back on track — though unfortunately for Bridgette, according to the IMDb synopsis, Jane's help quickly turns disturbing, and "threatens her entire future." Of course that enticing premise begs the question: Is A Teacher's Obsession based on a true story? Add that scandalous plot summary together with the brief teaser (which features Bridgette's mother whacking Jane upside the head with a lacrosse stick), and you may be hoping it's not.
Lifetime has not presented A Teacher's Obsession as anything but fiction, and usually its real life-inspired movies are cited as such in their summaries and trailers, so there doesn't seem to be a specific true origin. Its gender-swapped twist on the depressingly mainstream male teacher/female student narrative makes it stand out a bit from many of the other fictional stories out there. After all, we've seen our fair share of inappropriate student-teacher relationships in pop culture — they're everywhere from Never Been Kissed to Pretty Little Liars, and they have quite the lengthy entry on TV Tropes — but A Teacher's Obsession showcases a different sort of inappropriate attraction than we're used to. Unlike the norm, this story features a female teacher/female student relationship (one-sided as it may be).
Last March a similar story made the rounds on the Internet. According to Pittsburgh's WTAE, Geraldine Alcorn, a local middle school teacher, was charged with interference with custody of children, luring a child into a vehicle, and corruption of minors after allegedly becoming obsessed with her 11-year-old student. A police complaint claimed that the alleged obsession was not sexual, and that Alcorn allegedly left her student encrypted messages in her math homework and sent her over 2,000 text messages, all in the name of attempting to convince her to run away with her, because Alcorn reportedly had hopes of legally adopting her student. The 28-year-old teacher resigned from her job and is currently awaiting trial, WTAE reports. After her April 1 preliminary hearing, Alcorn's attorney told reporters they would not be making a statement, according to a local CBS affiliate.
We'll have to wait and see if there end up being any similarities between A Teacher's Obsession and this news report, but either way, I'll be tuning in.
Image: Lifetime