Is Torrid's Re-Vamp a Good Move?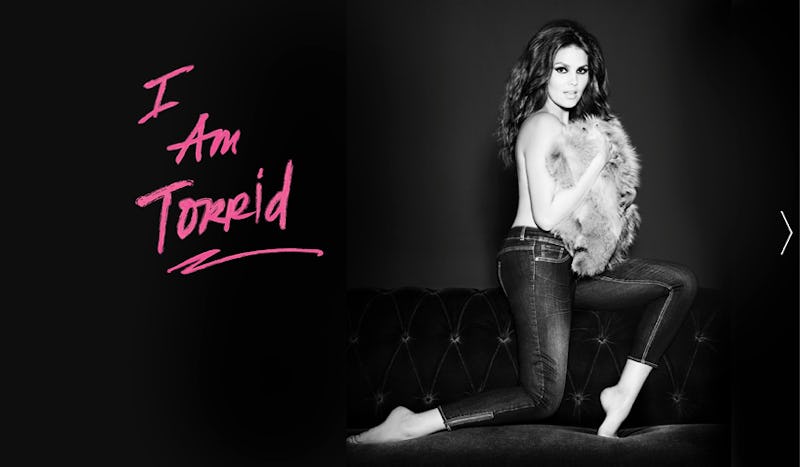 I remember the day I discovered Torrid. It was my 15th birthday, and my mother decided to take me shopping so that I could choose my own gifts and we could avoid the inevitable returning session that always occurred when she tried choosing clothes for me on her own. I grew up in Ocean County, N.J., and our main mall is to this day one of the most boring shopping centers I have ever visited (and I have visited a lot of shopping centers). It has about 20 stores, half of which sell the Jersey Shore-chic look. So instead of digging through heaps of the hideous, we drove about an hour away to a northern mall that friends and relatives had always raved on about. To this day, I remember only one store: Torrid.
Torrid was one of the best discoveries of my adolescence. Specializing in sizes 12 and up, I could fit into everything there. Previously forced into the racks of Fashion Bug (remember them?) or the maternity section of JCP, I felt liberated. At 15, I was right in the middle of my "alternative" phase. Pink streaks in my hair. Suspenders. Chains hanging out of my jean pockets. Torrid catered to that. I appreciated their variety. They had something for the punker girl like me, for the always-on-trend girly girl, for the vintage-lover. They were like Joyce Leslie of curvy girls. For the rest of my teen years and into my early 20s, as I transitioned from punk girl to full-on emo to tomboy to pin-up, Torrid was with me. They were born as a Hot Topic brand, and stayed true to the quirky through the early 2000s.
I was worried when Torrid announced in August they would be re-vamping. So often, that phrase means ditching anything alternative and going for an older, more working-girl look. There's nothing wrong with that look; — but the fear was that Torrid would be focusing solely on the professional, put-together-ness that women need to get ahead in the workforce. After all, Millennials are the Torrid generation, and we're all in our post-grad days looking to get our shit sorted.
Huffington Post blogger Ingrid R. Taller wrote a piece this week called "When Your Favorite Plus-Size Store 'Re-Brands' Itself," in which she analyzes Torrid's new approach to fashion. She went through the same relationship with the store that I did. But ultimately, Taller concludes that this new re-vamp is something to be mourned. "RIP Hot Topic's Torrid. They are now just another alternative company being washed out by plain peplum dresses and black button-up shirts," she writes.
In a way, I know she's right. It's a shame that Torrid has done away with the things that made it so cool to us as angsty teenagers. What will next-generation-angst-ridden-teen-girls do now? Of course, they'll be fine, because plus-size fashion is changing. E-commerce sites like Domino Dollhouse and ModCloth and Chubby Cartwheels specialize in alternative styles and have amazing plus ranges. Brands are increasing their size ranges all the time, like Mango and ASOS Black and Boohoo did just recently. The reason Torrid is changing is because we're changing. It's doing what it's always done. It's growing up with us.
The campaign that came along with the new launch, "I Am Torrid," is dedicated at showing the "inherent beauty and sexuality" of the voluptuous woman. The photography was sultry and dark and broody. It placed emphasis on what I can only describe as traditional sex appeal. Black and whites. Silhouette-enhancing cuts. Hip-hugging skinny jeans. It's all about the form — portraying the curvy form in a way that is alluring but not over-the-top. It's not quirky, but it's sexy. And that, when you think about it, isn't so bad.
It's no secret that plus-size women want to feel sexy as much as anyone else. Now that the Torrid generation is in our mid-20s, we're allowed to dress as we please and don't have to worry about our parents saying our outfits are too provocative or revealing or confession-worthy (I happened to have a very Catholic mother). We want to show off our curves but still look professional if headed to a job interview and classy when on a night out on the town. Torrid's re-vamp will let us do that. Maybe it doesn't seem as original considering the cargo pants and goth mesh they used to sell, but it is.
Brands are only just starting to realize that fuller-figured women want to have all the options available to them that straight-size women have. And that includes the sultry and dark and broody and sexy. Other brands are taking over the alternative looks, so it seems only fitting that Torrid take over some of the seductive.