13 Books All Awkward People Should Read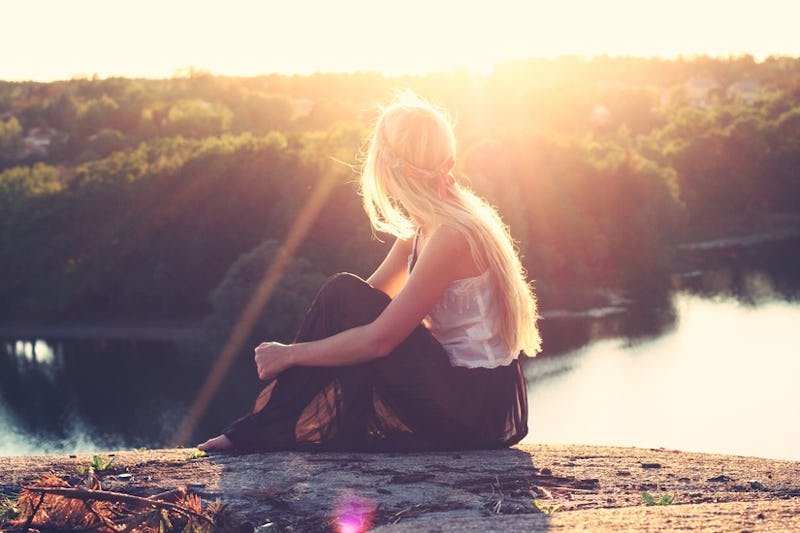 Awkwardness is a hard thing to define, mainly because it's different for everyone. But for me, it's that feeling of shifting your weight from foot to foot, waiting for the chance to contribute to a conversation happening around you... only to miss your chance. It's dreading seeing someone you kinda sorta know in public. It's what drives your desire to stare at your phone or your book during your commute, rather than make eye contact with a stranger. I get it. I've been there, and I'll probably (OK, definitely) be there again.
Everyone feels awkward sometimes. Maybe you feel it if you're the first of your friends to get to the party, or you're at a work function and you don't know anyone. For many, it passes. For the rest of us, those feelings are a more permanent thing. But we totally don't have to feel like we're the only ones.
Whether it's Charlie in The Perks of Being a Wallflower attending his first high school dance, or Fangirl's Cath writing fanfiction, characters in books have proven time and time again that there are countless ways to overcome all of life's awkward moments. Here are 13 books that will help you do just that.
Charlie is the awkward, introverted, and completely relatable high schooler that we all could see ourselves in at one point or another during our own high school days. When you're feeling particularly awkward, read Perks for a reminder that things do get better after high school, and you will find your own group of friends to make things (slightly) less awkward.
Fangirl by Rainbow Rowell
Cath knows about feeling awkward. Her name is half of one whole name, her sister has abandoned her at college, and she is a fanfiction writer. Sure, she has tons of friends, followers, and fans online, but in real life, Cath would much rather stay in her dorm than go out to parties. Fangirl will awaken the fangirl in all of us, and inspire you to be yourself, no matter how awkward or weird you feel initially!
"One friend with whom you have a lot in common is better than three with whom you struggle to find things to talk about." Mindy Kaling offers words of wisdom on friendship, awkwardness, and then some in Is Everyone Hanging Out Without Me; so much so that this fall's release, Why Not Me , only promises to be an amazing follow-up, full of even more awkwardness inspiration.
Princess Mia was a classic awkward high school girl: she hated public speaking, she had a few close friends and that was it. Dating wasn't her thing, and that was fine (at least for a while). She had awkwardness down to a T. Mia gave awkward people everywhere the hope that someday out royal grandmother would come and save us, giving us princess (and life) lessons to change our lives for the better.
As if we needed any more reason to love Ellen, her book is amazing. It's funny and inspiring, the perfect combo for awkward people everywhere. She knows embarrassment and encourages readers to accept it as a part of everyday life: not an easy thing to do, but you can't help but trust Ellen. "Sometimes the greatest things are the most embarrassing," she writes, and I can't help but hope that it's true.
Imagine if your closest friends just decided to stop talking to you one day, with absolutely no warning. You're cut off and alone, and there's no way to change something you don't know you've done. Murakami writes loneliness and awkwardness amazingly well, and will make you feel somehow less alone. Colorless Tsukuru Tazaki is heartbreaking but familiar, and a must-read for when you're feeling alone.
Issa Rae knows all about being awkward and introverted. She's got in down to a science. A science of misadventures, that is. A hilarious collection of essays on awkwardness and life, Issa Rae will make you feel so much better about your own awkward encounters, and so, so much less alone.
Amy Poehler, like Mindy Kaling and the rest of comedy's funny ladies, grew up feeling awkward and out of place just like the rest of us. She just happened to channel it into improv and comedy, and make a name for herself out of it. Since we can't all be like Amy, Yes Please gives us a look inside her brain and her life, and how she overcame her childhood awkwardness to become the woman we'd all love to befriend.
If you wanted a reminder of your awkward and lonely high school years, Aristotle and Dante is the book for you. A multi-award winner, this YA novel has so many things to offer. But most importantly, it will help any teenager feeling awkward through her own high school years feel less alone. Perfect for any age group, Saenz's novel captures the awkwardness that only adolescence can bring.
The Rosie Project is the story of Don Tillman — and for Don, "awkward" is putting it mildly. He is the Sherlock Holmes or Sheldon Cooper of this book, but in the most adorable way. He is determined to find a girlfriend: so naturally, he conducts a science experiment, with some amazing results! If you've ever felt awkward on dates (haven't we all?) Just know, The Rosie Project will give you some renewed perspective.
There's nothing more awkward than families, right? Jonathan Tropper puts that into perspective in This Is Where I Leave You . An entire family is forced to spend a week together, sitting Shiva for their deceased father, and every family argument, secret, and awkward moment is brought to life again. It's not only hilarious, but it will make you feel better about your next (inevitable) awkward family moment.
As sad as it might be, we've all felt bad about ourselves at one point or another. Nora Ephron brings this to light in her hilarious collection of essays, I Feel Bad About My Neck . Basically, whatever you're feeling bad or awkward about, ignore it, it's not worth the time you're spending on it. A worthwhile lesson that will have you laughing out loud, I Feel Bad About My Neck is the book every awkward person needs to read every now and again.
Two teenage boys with the same name meet in a chance encounter that surprises them both. Two Will Graysons, one Tiny Cooper, and one high school musical. John Green and David Levithan know awkward, and they write it perfectly. If their multiple bestsellers haven't caught your attention yet, Will Grayson, Will Grayson is an amazingly fun read that will make you wish for friends like these.
Image: Pexels