'The Lobster' Is A Different Kind Of Love Story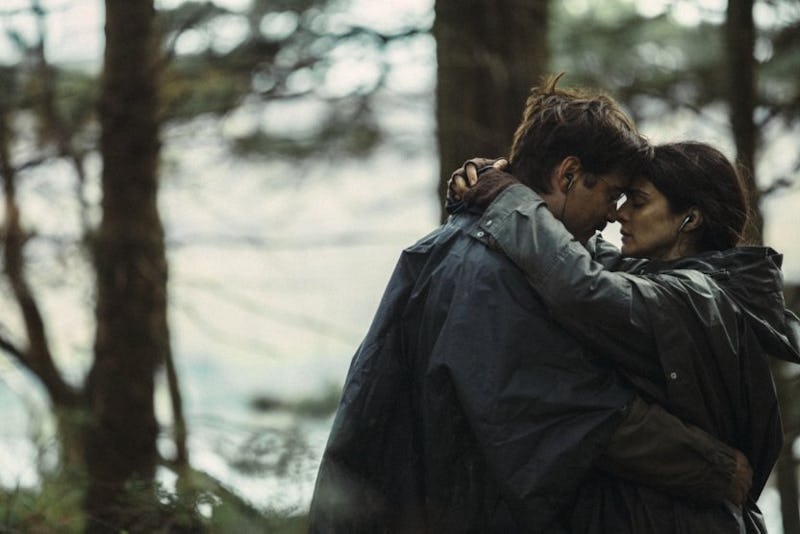 It's a far cry from 1984. The Lobster, a new dystopian film from director Yorgos Lanthimos, presents an unlikely scenario of the future: All single people have a time limit to find love, or else risk being turned into animals. The film debuted at Cannes earlier this year to much praise, and now a new trailer for The Lobster released today via The Guardian shows what all the fuss is about. Colin Farrell stars as a man coming out of a 12-year relationship suddenly cast adrift, and with a ticking clock till he transforms into a lobster (his declared choice of animal, should he fail to find a new partner). His brother, unfortunately, failed to find love at The Hotel, where all single people are taken before they pair off, and now accompanies Farrell's character David as a beloved pet.
The Lobster won the Jury Prize at Cannes and subsequently screened at the Toronto International Film Festival. It satirizes dating, setting a 45-day time limit for the singles at The Hotel to find a match. Each character is known simply by his or her "type" — a star-studded cast includes Léa Seydoux as "Lone Leader" and Rachel Weisz as "Short-Sighted Woman" — aside from Farrell himself, whose name is David. Check out the trailer and our rundown of who's-who among this incredible ensemble.
1. Rachel Weisz
Weisz plays what looks to be Farrell's character's main love interest. The characters at The Hotel are all known by their defects (presumably what makes them unsuitable partners — thus their dilemma and 45-day countdown). For Weisz, that's shortsightedness (her IMDb page refers to her as "Short-Sighted Woman).
2. Ben Whishaw
The actor known for playing John Keats in Bright Star and Jean-Baptiste Grenouille, the titular murderer of Perfume: The Story of a Murderer appears as "The Limping Man" in The Lobster. Makes me wish the characters were known by their future-animal names, for each man and woman elects what animal he or she will eventually become in case of failure at The Hotel.
3. John C. Reilly
Reilly appears for a moment in the trailer lugging a shotgun playing a character called "Lisping Man." According to Slash Film, one of either Reilly, Whishaw, or Farrell's characters will turn into an animal by the end of the film, so we can't expect a happy ending for all.
4. Léa Seydoux
Seydoux of Blue is the Warmest Colors fame plays a woman called "Loner Leader." According to the Hollywood Reporter, one of the men at The Hotel escapes before he can turn animal, finding his way to the loners' woods. Could Seydoux be their leader?
5. Jessica Barden
23-year-old Brit Jessica Barden, while not a household name, is definitely a familiar face. She appears in Hanna, Far From the Madding Crowd, and now in The Lobster playing "Nosebleed Woman."
6. Ashley Jensen
A fan favorite playing seamstress Christina McKinney on Ugly Betty, Jensen has more recently appeared doing voice work for Gnomeo & Juliet and How To Train Your Dragon. She plays the delectably named "Biscuit Woman" in The Lobster.
7. Olivia Coleman
Though Tom Hardy is the only face to appear on screen during Locke, his performance is supported by a whole cast of phone-in actors who he speaks with over his hour-and-a-half car ride. Olivia Coleman is one of them — she plays his mistress Bethan, the woman he's driving across the country to support while she gives birth, fracturing his marriage in the process. In The Lobster, she plays an altogether different role — the Hotel Manager who gives Farrell the rundown when he arrives at his new abode. "A lobster is an excellent choice," she assures him.
8. Angeliki Papoulia
Not the most recognizable name this side of the Atlantic, Angeliki Papoulia has appeared in several other films under the direction of The Lobster director Yorgos Lanthimos. Here, she plays "Heartless Woman," though the trailer unfortunately doesn't give us much indicator beyond that.
The Lobster looks like an intriguing addition to the futuristic-dystopic-thriller cannon (à la Never Let Me Go, even). And if its talented (and beautiful!) cast is any indicator, it'll be a film to wait for when it comes to theaters later this year.
Image: Picturehouse Entertainment