12 Mugs That Book-Lovers Will Adore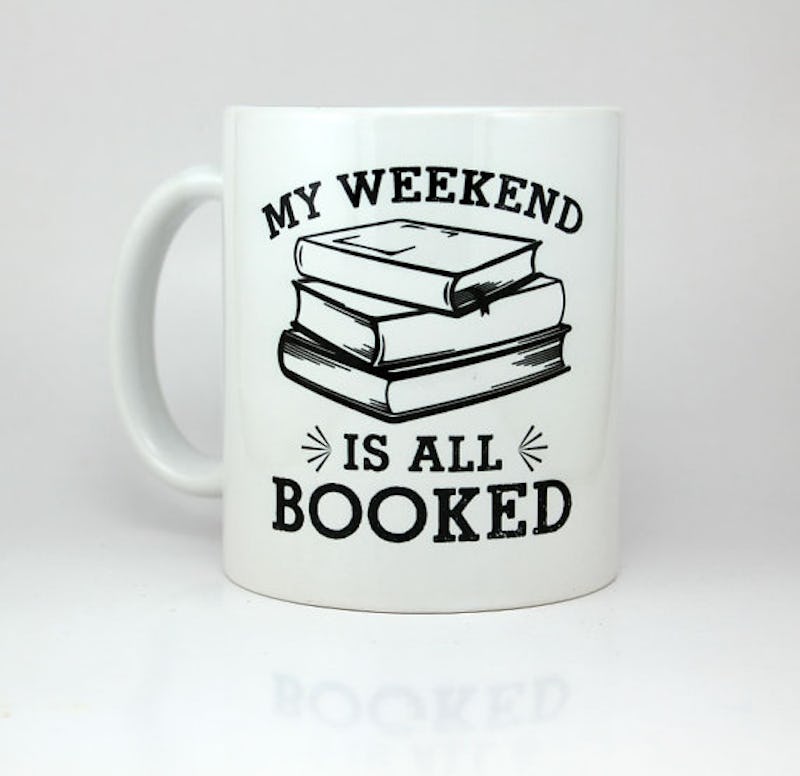 As fall begins and the temperature drops, there's nothing better than bundling up with a warm sweater, a mug of hot chocolate, and (obviously) a good book. Something about sitting in a corner until you've eaten all the marshmallows and finished an entire book in one sitting just screams "autumn" — and it's one of the best feelings ever for any book-lover.
Even though I'm always a little sad to see summer end (because reading on the beach is a dream come true), I'm still excited for fall. It should completely be every book-lover's favorite season, partially because books and winter drinks just go so perfectly together.
Of course, what makes the whole scene even better is having the perfect mug for your hot fall beverage. Whether you're drinking coffee, tea, or a pumpkin spice latte (because obviously), you can show your love of reading through your overflowing bookshelf AND your choice of drinking vessel. From mugs printed with your favorite book covers, to teacups featuring quotes that only fellow fans will recognize, all these choices will only enhance your winter reading-and-drinking-tea experience. And if you manage to coordinate your reading material with your mug? That's the cherry on top. Or should I say the pumpkin spice?
The Jane Austen Mug
Jane Austen Mug, $15, Amazon
Featuring quotes from Jane Austen's novels and a cute cartoon of the writer herself, this mug is sure to fill your morning with no agony and all hope. Find it here.
Mischief Managed Mug
For all those Marauders out there who just really need some coffee, this cup (and matching saucer!) is the perfect pick. Don't be alarmed by the Grimm at the bottom — it's probably just Padfoot.
Glasses and Scar Mug
If you'd rather steer clear of tea leaves and you're a Harry Potter fan looking for something more classic, check out this glasses-and-lightning-scar mug. All you need to do is say "accio earl grey" and you're all set. Find it here.
"Take A Sip" Mug By Sarah Wilkins
Artist Sarah Wilkins created this pretty design featuring the phrase "take a sip, turn a page..." The scene on the cover looks like paradise, which is where you'll be once you fill this with coffee and dive into your latest read.
Belle's Books Mug
Forget Starbucks. If Beauty and the Beast's Belle had her own cafe, it would be the place to go, because you just KNOW she'd fill it with books. And with an army of living kitchenware, you know the coffee would never be second best. When can I go to this place?
Superpowers Mug
Reading Is My Super Power Mug, $16, Etsy
Sure, invisibility or flying or teleportation would be great, but don't you already kind of time travel when you're reading a great book? Reveal your secret identity with this "reading is my super power" mug... Find it here.
Alice In Wonderland Mug
If you're a fan of early morning coffee and finding time for a little reading before you start the day, why not pick up this great mug featuring a quote from Lewis Carroll? Personally, I don't have time to believe as many as six impossible things before breakfast, because I'll probably just sleep through breakfast. But if you're an early bird...
The Prancing Pony Mug
For all the Hobbit fans out there... this one's for you. Maybe you picked it up when you were off having adventures, but you'll never tell. Though your birthday's coming up, and you've been thinking about spilling some secrets...
Booked Weekend Mug
Let's be real: when you say you've got plans on Friday night, you mean you've got a date with some fictional characters and a cup of chamomile. This mug understands.
Words By Shakespeare Mug
The bard practically invented half of the English language, and this mug is printed with just a few of the phrases we owe to good ol' William Shakespeare.
Believe in 398.2 Mug
If you're a fan of fairy tales, this mug will fit perfectly into your quest for a happy ending. Its pretty floral colors and chalkboard background will make you feel as if birds prepared your morning coffee and you're about to enjoy it in an enchanted forest.
So Little Time Mug
At the end of the day, this mug just tells the truth: so many books, so little time.
Images: Modcloth, Barnes & Noble MyCraftyMomma, HilarysHobby, CraftyArtsShop, LennyMud, horsefeathersgifts, FersPottery, ShirtAndCup, ShakespeareSayings, LittleThoughtBubbles, PenEndeavors/Etsy