10 Literary Themed Halloween Party Ideas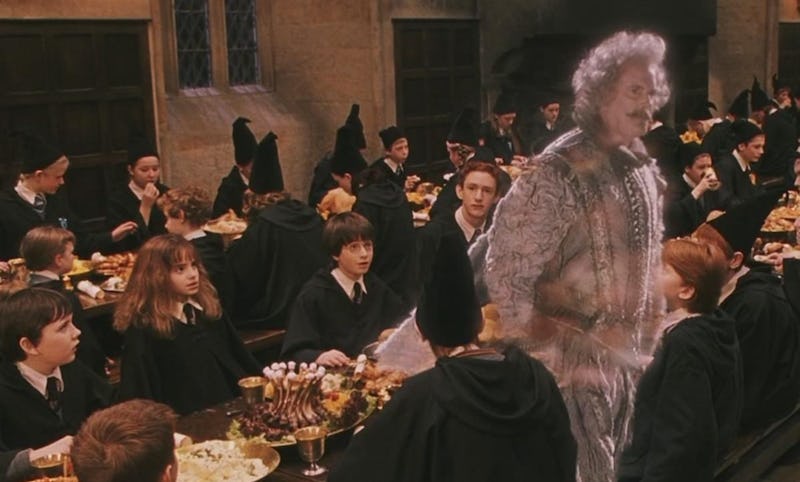 As a book-lover, I feel it's my duty that whenever I throw a party I have to make sure the theme is literary. After all, whenever I read I imagine that I'm transported to the world of the book, and I just want everyone to be able to experience that in real life, too. From birthday parties to holiday gatherings, there are so many opportunities to transform a party space into a book-world, and the best holiday for this has to be Halloween.
If you're throwing a Halloween party this year, forget the traditional spider web and pumpkin décor. Leave bobbing for apples and corn mazes and hay rides for another night. Because when Halloween rolls around and it's time to choose a party theme, why not pick one from your favorite book? It will 1) give you the chance to reread and then talk about that book all night, 2) dress up as one of the characters and encourage everyone else to dress up as one of the characters, and 3) pretend that you're actually in the world of that book (at least for one night).
So, scan this list (or perhaps your bookshelf) and make this Halloween one for the books.
Harry Potter Deathday Party
In Harry Potter and the Chamber of Secrets, Nearly Headless Nick invites Harry, Ron, and Hermione to his "deathday" party. This gathering of Hogwarts ghosts would be the perfect theme for a Harry Potter Halloween party — though you'll probably want to skip putting out platters of rotting food, like Nick did in the book.
How to decorate: Black drapes, lots of candles, and fake chandeliers
What to serve: Pumpkin juice, Butterbeer, Bertie Bott's Every Flavor Beans, Chocolate frogs
What to wear: The fancy robes of a Hogwarts Ghost
Pride And Prejudice And Zombies Party
For Jane Austen fans, nothing says "Halloween" like Pride and Prejudice... and zombies. The Netherfield ball gets a scary makeover, but you still get to wear your Regency apparel.
How to decorate: Clear a dance floor, and give everyone dance cards to fill out
What to serve: White soup, fancy cocktails, and brains
What to wear: The outfit above would do quite nicely...
The Hamlet Party
Shakespeare had plenty of ghosts in his works, but Hamlet is probably the most well-known of the bard's ghost stories. Now all you have to decide is... to throw this party, or not to throw this party?
How to decorate: Rosemary, for remembrance; pansies, for thoughts; fennel, columbines, rue, and a daisy... Party store skulls also make the perfect decor, so you can pick them up every so often and recite, "Alas, poor Yorick..."
What to serve: "Poisoned" wine (and tell everyone to be grateful it's not a Titus Andronicus party)
What to wear: An outfit fit for the Prince of Denmark
The Charlie And The Chocolate Factory Party
Send your guests invitations on golden tickets and hold the ultimate Halloween candy party, inspired by Willy Wonka's famous chocolate factory.
How to decorate: Just toss a bunch of candy everywhere.
What to serve: Again... candy. Everywhere.
What to wear: Grab a top hat, a cane, and a garish coat, and you've got the perfect Willy Wonka costume.
The Phantom Of The Opera Masquerade
Gaston Leroux' novel is a perfectly dark theme for a Halloween party, especially if you incorporate elements from Andrew Lloyd Webber's popular musical version. Play the soundtrack in the background and tell everyone to come in mask, and you've got a setting for a glamorously creepy party.
How to decorate: Obviously, you need a giant chandelier (whether fake or real), and as many candles as possible. Some opera music playing in the background couldn't hurt either.
What to serve: This cookie cutter could certainly come in handy...
What to wear: A mask. Duh.
Where The Wild Things Are Rumpus
Turn your party space into an island full of wild things, based on this beloved children's classic. Personally, my favorite illustration from this book is when Max's bedroom is half-room, half-island, because who wouldn't want to be transported into a completely different world without ever leaving your room?
How to decorate: With some fake plants and a paper boat, you can transform a room into the island and let the wild rumpus start.
What to serve: Supper. Still hot.
What to wear: With some footie pajamas, a pin-on tail, and a crown, you can be Max and reign over your party of Wild Things.
The Sherlock Holmes Party
Sometimes, Halloween is all about intrigue. And mysteries. And saying "elementary, my dear Watson," even though you know Sherlock never said exactly those words in the books.
How to decorate: Place a sign on your front door that says "221B Baker Street," tape some scientific charts on the wall, and put on some violin music.
What to serve: Pub food and drink, of course.
What to wear: You know the drill: pipe, hat, coat. Elementary, my dear.
The Wonderland Party
Lewis Carroll's curious book Alice's Adventures In Wonderland is the perfect subject for a quirky, colorful Halloween party... or maybe even a Halloween tea in the golden afternoon.
How to decorate: Make a tunnel leading from your doorway inside so guests can "fall down the rabbit hole," and then from there let your imagination run wild. Toss playing cards everywhere, stick the outline of the cheshire cat's smile on the walls, and if you've got a yard, why not set up a game of croquet?
What to serve: Cocktails in teacups, pastries that say "eat me," and mock turtle soup
What to wear: If you have a blue dress and a headband, you'll be the perfect Alice hostess. Then again, if you want something a bit more regal, why not grab a crown and a red dress, and go as the Queen of Hearts?
The Coraline Party
Neil Gaiman's novel Coraline never fails to send shivers down my spine, so it would make the perfect theme for a literary Halloween party. After all, it's a little bit like Alice's Adventures In Wonderland... but if you're looking for something even creepier, Coraline will certainly do the trick.
How to decorate: Put up mirrors and circus decorations, to transform your party space into an "other" party space
What to serve: Candy buttons
What to wear: If you really want to get into the Halloween spirit, host plenty of party games and challenges while dressed as the Other Mother.
The Night Circus Party
Gather a group of rêveurs and host a Cirque des Rêves party this Halloween. Every since I read this book, I've wanted to throw a Night Circus-themed party. After all, the dinner parties in the book were so perfectly described that those chapters are basically a party manual in and of themselves.
How to decorate: Drape everything in black and white, with red accents.
What to serve: Various bottles filled with fancy drinks, and anything that looks remotely enchanting.
What to wear: Channel illusionist Celia in a Victorian gown and top hat.
Images: Warner Bros (4), Columbia Pictures (1), Paramount Pictures (1), BBC (1), Walt Disney Pictures (1), Focus Features (1)