How To Pick A Full Tattoo Sleeve Theme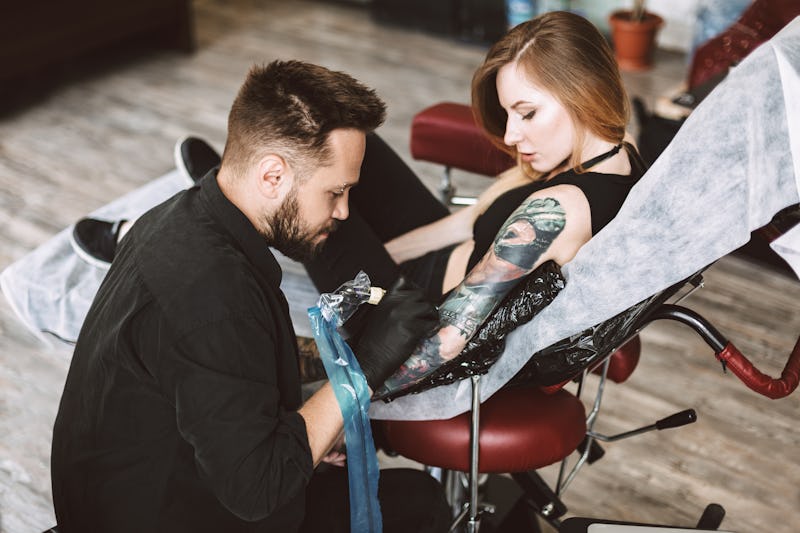 Shutterstock
Today's the day, you're ready to commit, and you just know in your heart — it's tattoo time! Now you need help figuring out how to pick a full tattoo sleeve theme. I've been on a mission for Bustle, interviewing tattoo artists all over the Bay Area. My goal has been to learn more about tattoo sleeves so I can help ladies who are ready to go under the gun, but still need more information. I've covered what part of a tattoo sleeve hurts the most and facts to know before getting started. I wrote a piece answering how long does a full sleeve tattoo take and how to deal with aftercare. But I honestly think picking the theme is the most exciting part.
So, you've got the money in tow and mustered all the chutzpah you could to get yourself close to a needle. All that's left to do is dream about the kind of art you want on your body. I spoke with Matthew Hamlet at Sacred Rose Tattoo in Berkeley, California for some expert advice on how to pick a theme for your tattoo sleeve.
Read on for practical advice on how to prepare for your first full arm tattoo consultation and how to go about getting the full arm tattoo of your dreams.
First Thing's First — Forget Everything You Think
Don't start out with an idea of exactly what you want. If you want the same tattoo your friend, Instagram buddy, or sea-faring grandpa has — take a picture of that tattoo and find the same artist to replicate it. If you want a work original to you — look at the diversity of styles out there and think about what themes resonate with you. Do you like black and grey, or do you like color? Do you lean toward the macabre, or do you like a more uplifting theme?
Once you have a general sense of mood, it's time to find a tattoo artist with reputation you believe in and an aesthetic you vibe with. Call and set up a consultation for a full sleeve tattoo design. Most consultations require a deposit. For example, Hamlet charges a $100 deposit and that fee then goes towards the total cost of your tattoo.
At the consultation, the artist takes notes and preliminary sketches, getting a real feel for who you are and what you want. After you leave, they draw a design, then you meet back up again.
To create the design, Hamlet photographs a person's arm then creates the tattoo design over top of that. He likes this approach as a sleeve is a piece of art that is painted on a 3D canvas. The skin on the arm moves, stretches, flows over muscles and bone, and is unique to each individual.
Hamlet says it's common for clients to ask for a few changes here and there after the design is done — but recommends going into the process knowing that you shouldn't micromanage the whole thing. Give your tattoo artist the leeway to be creative and use the artistry that is his or her forte. On that same note, don't be afraid to ask for something different if you don't like it. Hamlet says he works on a design until everyone is happy with it.
Preparing For Your Consultation
Hamlet suggests bringing no more than three ideas to the meeting. Don't show up with a patchwork vision of "I want black and white, but maybe some color, and I love flowers, but really hope to have more of an industrial theme, and I don't want any sharp lines but do hope to feature some right angles." This also doesn't mean bringing three photos of other people's tattoos that you love (see #1 above).
Here's A List Of Things Tattoo Artists Want You To Bring
A short description of the concept you're after.
Maybe you love dragons and fantasy, or you've always been bewitched by fairytales and romance. Write out a concept that keeps your heart enthralled.
Or if you have a message concept: Peace and harmony; conflict and growth; heartbreak and redemption, and why this theme is important in your life
Bring one or two things that inspire you. The tattoo artist will interpret the concept into an image that will work on your body
A poem that inspires you
A still from a horror movie that excites you
A piece of artwork that makes your heart dance
A photo of a sunset you love
An image of your favorite planet
A photo if you are memorializing someone (Bring both a print and digital format of the photo)
Leave the colors to the artist. Hamlet suggests not bringing in a fully rendered drawing of the image and colors you want. The more I interview tattoo artists, the more I am coming to understand that getting a tattoo is like commissioning an artist to paint a mural. You do own the building, but you don't hand the artist a photo of another artist's mural and tell them to replicate it for you. Instead, you say your building works for peace and you want a mural that conveys that message and that you especially love lily of the valley flowers and the image of the rising sun. Then you let the artist do what they do: Create some art!
Now get out there and get tatted up!