15 Easy Lunches You Can Take On The Go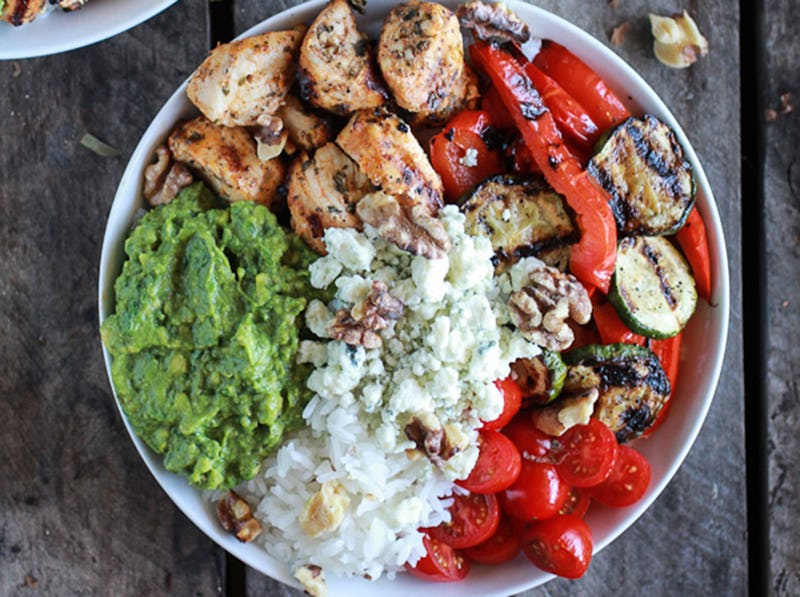 Personally, I've always felt like lunch is one of the toughest meals of the day. Unless you plan on being home all morning and afternoon, you either have to prep lunch recipes ahead of time and find somewhere to store your food until you're ready to eat, or you have to spend money to buy something. The cheaper, wiser, and healthier option is to make your own lunch, obviously, but we don't always feel like we have time. Plus, the typical lunch options get boring fast. That's why you need to have these delicious, easy lunch recipes on hand for when you're on the go.
Whether you're heading to an office for the day, going to class, or even working from home, these lunch ideas are simple, and will keep you full and happy. Your best bet is to make a big batch of one of these recipes Sunday afternoon or night, portion them out the way you want, and then store them in the fridge so you can just grab 'em and go in the morning. Doing this will honestly make your week so much easier and less stressful.
These recipe ideas are ideal for that kind of meal planning, and for anyone with an on-the-go lifestyle. They can be heated up if you want, or they can be eaten cold. And they're so delicious that everyone around you will be jealous. Who needs to spend money on salads from an overpriced deli when you could bring your own, right?
1. Edamame Feta Salad
This salad by Averie Cooks requires no cooking at all, which is always a huge recipe perk. Simply mix the ingredients together, let it sit, and you've got an easy lunch. The flavors are actually better after a day in the fridge, so this will only improve as the week goes on. Make enough to eat for about four days.
2. Greek Yogurt Chicken Salad Sandwich
Made with Greek yogurt instead of mayo, this chicken salad by Damn Delicious is a lighter and healthier version of the classic favorite. Grapes make it sweeter, and a little different. You can make a bunch of this for the week, then bring bread for sandwiches... or just eat it on its own.
3. LunchBot Meal
Prefer to eat a bunch of things instead of just one? This idea for a little Bento Box-inspired lunch by Back To Her Roots is easy and delicious. This one in particular offers egg salad, steamed green beans, crackers, a pickle, cucumber slices, applesauce, grapes, pretzels, and chocolate-covered cherries. Feel free to put whatever you want in it, though!
4. Greek Quinoa Salad
Back To Her Roots' other Bento Box lunch uses an easy recipe for Greek quinoa salad, which you can make on a Sunday night and eat all week, plus fruit, an egg, pretzels, and dates.
5. Crisp Tuna Cabbage Salad
Tuna salad is always a super easy and fast option for lunch, but it gets boring fast. Spice things up by adding cabbage and tangy Greek yogurt, just like The Kitchn. This one is so good, you won't even need bread.
6. Feel Good Lunch Bowl
Bowls are great for on-the-go lunches, because they typically consist of items that are easy to carry around, and they offer lots of different flavors. This one by Oh She Glows mixes an easy black bean and quinoa salad with roasted veggies and hummus.
7. Thai Chicken Quinoa Bowl
Want something with a little bit more exotic flavor? Try this easy Thai chicken quinoa bowl. Make a bunch on the weekend to last the whole week. How Sweet It Is shows you how.
8. California Chicken, Veggies, Avocado, And Rice Bowls
Grill up a whole bunch of veggies and chicken, make some rice, and then put the bowl together for as many days as you need. Half Baked Harvest has a super easy recipe that you can customize and make your own.
9. Easy Burrito Bowls
Who needs Chipotle when you can easily make your own burrito bowl at home? This vegetarian option uses black beans, but you can also add chicken, beef, or pork. Get the recipe from Damn Delicious.
10. Summer Chickpea Salad With Honey Garlic Lime Vinaigrette
This couldn't be more simple to put together, but the flavors make for something really delicious. This is another option from How Sweet It Is that will taste even better the second or third day.
11. Olive Tapenade And Hummus-Stuffed Pita
If you're looking for something on the lighter side, this is a great option. Your food processor does all the work of making the tapenade for you. You can make or buy hummus — your choice. Bring the salad in one container, and stuff the pita when you're ready to eat. Naturally Ella has the perfect recipe.
12. Quick And Healthy Mediterranean Tuna Fish Salad
You can definitely still have tuna for lunch without mayo involved. This salad combines lots of veggies and a simple dressing, and is easy to take to work or school. Get this one over at The Comfort Of Cooking.
13. Vegetable Burrito Bowls
This is a different take on a burrito bowl — it uses roasted sweet potatoes and peppers and onions. This is so simple to put together, and great to keep for the week. Vegetarians, leave as is, but you can definitely add chicken to this if you'd like. Get the recipe from Simply Delicious.
14. Green Bean And Purple Potato Salad
Potatoes and wax beans come together easily with a simple dressing — add on whatever you want, whether it's a boiled egg, a bunch of chickpeas, or both! Thanks, Love and Lemons!
15. Warm & Roasted Winter Salad Bowl
This bowl by Oh She Glows is healthy, warming, and delicious. It's also really easy to put together. And while it's great warmed up, it can be eaten cold as well.
Looking for more great food ideas? Check out Bustle on YouTube.
Images: Averie Cooks; Damn Delicious (2); Back To Her Roots (2); The Kitchn; Oh She Glows (2); How Sweet It Is (2); Half Baked Harvest; Naturally Ella; The Comfort Of Cooking; Simply Delicious; Love and Lemons