The Best Things To Bake When You're Feeling Sad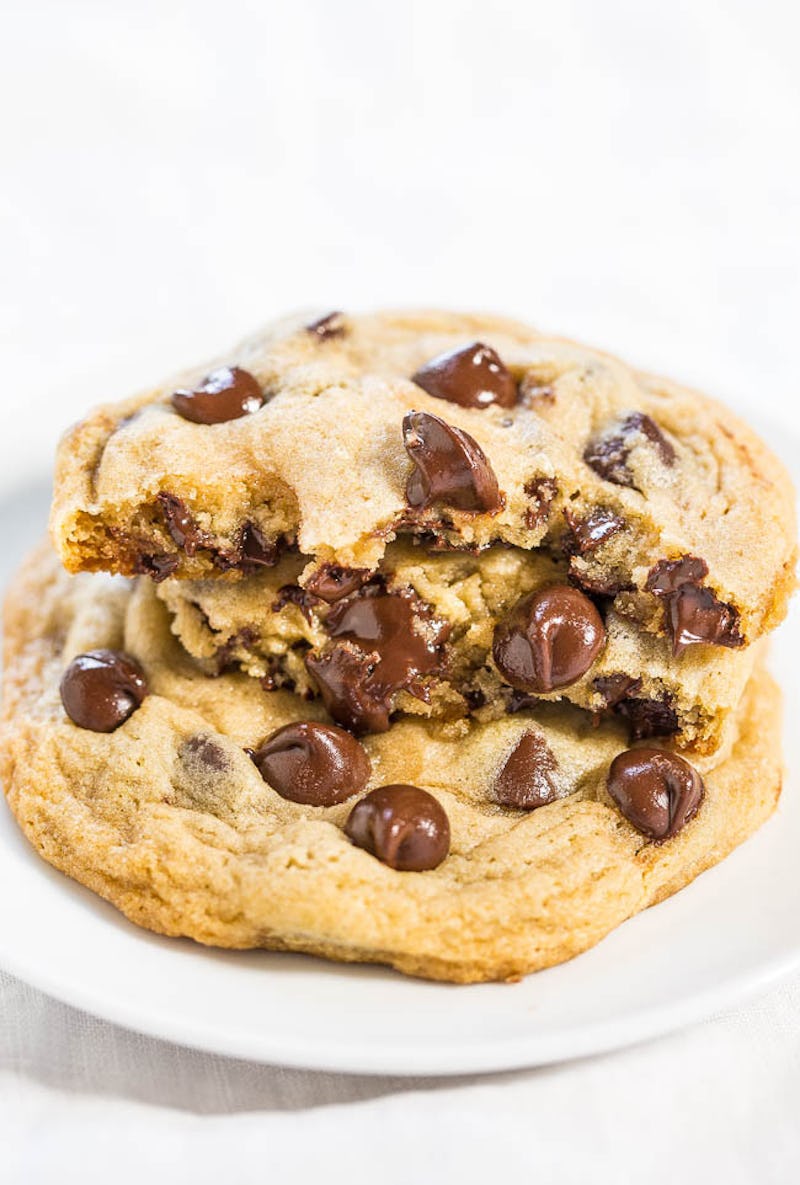 It could be a broken heart, a meeting gone terribly wrong, a failed test, or a fight with your best friend. Whatever it is, you're having a bad day. Bad days are the hardest to dig yourself out of, and sometimes the only solution is to bake your way out of them. Thankfully, there's a never-ending list of things to bake when you're sad.
When I was a little girl, there was always a supply of chocolate chip cookie dough in the refrigerator. If my mom or I had a bad day, that cookie dough was in the oven in seconds. A warm, gooey chocolate chip cookie with a huge glass of milk was the only thing that would ultimately cure us of our bad day blues.
Now that I'm older, and finally learned how to bake, I have expanded my sweet tooth selections beyond premade chocolate chip cookie dough. There's something about indulging in a sweet, warm, decadent dessert that completely lifts away the sadness, reminding you that is was just one bad day. The next time you're feeling sad, no matter what the reason, just turn on your oven, and start baking one of these delicious goodies. With every bite, you can remind yourself that tomorrow will be a better day.
1. Soft And Chewy Chocolate Chip Cookies
You knew this was going to be the first one, didn't you? My love for chocolate chip cookies fresh from the oven only grew exponentially with this extra soft and chewy version from Averie Cooks. It's positively drool-worthy.
2. Beer Brownies
What makes a brownie even better on a bad day? Beer. These beer brownies from Joy the Baker are the perfect combination of chocolate and beer to help you erase any bad memory from the day...especially when paired with a couple cold beers.
3. Homemade Little Debbie Cosmic Brownies
I used to turn to Little Debbie Cosmic Brownies during lunch in high school when I needed a little pick-me-up after a particularly rough chemistry test. Averie Cooks is here to save the day with a homemade version that blows the store-bought treat you love out of the water.
4. Skillet Cherry Pie
A heaping serving of cherry pie with extra ice cream… It seriously doesn't get better than this when it comes to baked happiness. This skillet cherry pie from Foodie Crush will give you that warm, fruity comfort you've been craving.
5. Pumpkin Pie In A Mug
Even if you're not having a bad day, this pumpkin pie in a mug from The Kitchn is just for you. It has all the comfort of a pumpkin pie individually portioned and ready for you to pile on the whipped cream.
6. Salted Caramel Apple Pie
The all-American dessert is a comfort food that no one can say "no" to when they're feeling down. Apple pie a la mode can put a smile on even the saddest day, especially this salted caramel version from Brown Eyed Baker.
7. Funfetti Birthday Cake
I am a firm believer that sprinkles make everything better. How can you be upset when you're presented with a slice of this funfetti birthday cake from The Kitchn? Embrace the bright and cheery sprinkles! It doesn't even have to be your birthday!
8. Gooey Chocolate Skillet Cake Ice Cream Sundae
I am trying to stop myself from running to the kitchen to bake this gooey chocolate skillet cake from Willow Bird Baking right this second. Just the idea of something so gooey and packed with chocolate brings a smile to my face. Bake it up, and dig in while it's still hot!
9. Chocolate Peanut Butter Sprinkle Cake
This sprinkle cake from My Name Is Yeh has your favorite flavor combo — peanut butter and chocolate. It's like eating a giant peanut butter cup, and it's tough to find something happier than that.
10. Milk Chocolate Cookies And Cream Cookies
I used to reach for an Oreo cookie when I needed a cookies and cream fix after a bad day. Once I discovered these cookies and cream cookies from Joy the Baker, there was no going back to the ones sitting in my pantry.
11. Warm And Gooey Deep-Dish Chocolate Chip Cookies
Simply swooning over photos of these deep-dish chocolate cookies from The Kitchn already has me feeling better. It has all the elements of a feel-better dessert in every gooey, chocolate-y bite.
12. Chocolate Chip Cookie Magic Bars
How can a dessert with the word magic in the title not magically make your day better? These decadent bars from Averie Cooks are packed with every dessert flavor you could possibly want, plus tons of texture. You'll forget whatever it is that you're sad about in approximately two bites.
13. Chocolate S'mores Cupcakes With Marshmallow Frosting
First off, marshmallow frosting. It's a thing, and it looks waaaaaay too good. S'mores cupcakes from Baked by Rachel takes s'mores to a whole new level of cake-goodness. It's the comfort of chocolate cake with the classic s'mores flavor you love, bringing a whole new meaning to the words comfort food.
14. Fudgy One-Bowl Chocolate Peanut Butter Cup Pretzel Cake
Please feel free to lick the screen if you must. I won't blame you one little bit. The salty-sweet combination in this cake from Half Baked Harvest gives you fudgy decadence while only dirtying one bowl. You'll be licking the spoon clean.
15. Classic Yellow Cupcakes With Chocolate Frosting
When you're really sad, sometimes all you need is the simplest of baked desserts. Classic yellow cupcakes with chocolate frosting from Brown Eyed Baker are my go-to when I'm having the worst day ever. You can't mess with a classic.
If you aren't already feeling happier by the end of this list, then you need to get in the kitchen ASAP. Turn on the oven, and get ready for a whole lot of warm sweetness coming your way!
Looking for more great food ideas? Check out Bustle on YouTube!
Images: Averie Cooks; Joy the Baker; Averie Cooks; Foodie Crush; The Kitchn; Brown Eyed Baker; The Kitchn; Willow Bird Baking; My Name is Yeh; Joy the Baker; The Kitchn; Averie Cooks; Baked by Rachel; Half Baked Harvest; Brown Eyed Baker