Steven Tyler Sings With A Street Performer & Proves Surprise Performances Are Always The Most Fun — VIDEOS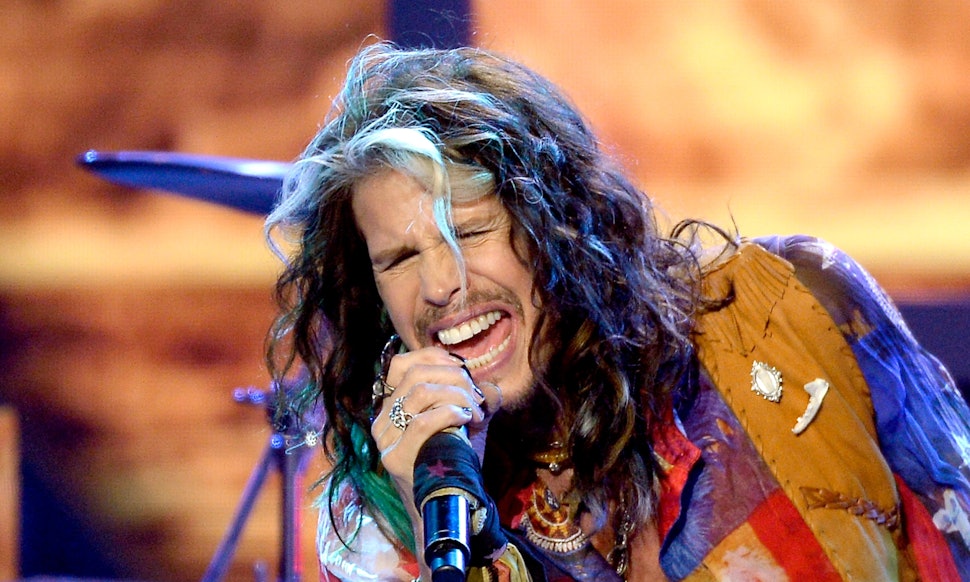 Kevork Djansezian/Getty Images Entertainment/Getty Images
Whether its on a stage or on the street, Aerosmith frontman Steven Tyler just likes to rock. Recently, he performed a free concert in the capital of Russia for Moscow City Day, and then gave the country another surprise. Tyler was spotted singing with a Moscow street performer on Sept. 4, and someone posted the video on YouTube. The acoustic performance of the Aerosmith hit "I Don't Wanna Miss A Thing" is not the first time a celeb singer has rocked out alongside a street musician — and it's also not the first time for Tyler himself. Last year, the lead singer joined two female buskers for a violin and accordion rendition of Aerosmith's song "Crazy" in Lithuania. And he seems to have a blast doing it each time!
Over the years, lots of famous musicians have stopped to watch street performers do their thing — and even join in on the fun, proving that when it really comes down to it, these stars just love to perform and share their music with the world (and on YouTube). What could be any better than just stumbling upon a famous singer belting out their hits randomly as you're walking down the street? Sometimes the best concerts are the ones you least expect — and celebs totally know that.
Geor Geor on YouTube
Here are a few other singers who surprised fans with totally impromptu performances in the street or elsewhere in public.
Michael Bublé In The NYC Subway
Michael Bublé on YouTube
In 2013, the Canadian crooner joined forces with the group Naturally 7 for an a capella performance of the song "Who's Loving You" at the 66th Street-Lincoln Center subway station in Manhattan. After the song, Bublé told the camera it was "the coolest thing ever." "Singing in the New York subway is something that's been done for years and years and years, and I feel like it's the most authentic, organic way to make music," he continued. "You see some of the greatest musicians in the world come down here and play."
Andrea Bocelli In A Miami Church
GregtheGarbageman on YouTube
For Christmas Mass 2013, the famous tenor graced the St. Patrick Catholic Church in Miami Beach with his voice and moving renditions of "Adeste Fideles" ("O Come All Ye Faithful") and "Silent Night."
Avril Lavigne On An NYC Subway Train
theAvrilTube on YouTube
In 2002, the above "Day in the Life" video shows Lavigne and her bandmates venturing down in the NYC subway and performing on a subway train for some world-weary commuters. She told the camera that they earned about $16 in tips from the performance and she promptly donated it to the homeless.
Dinner With Coolio In The U.K.
Olivia Johnson-Aley on YouTube
YouTube user Olivia Johnson-Aley met Coolio during a night out in Preston in 2013 and wanted to cook dinner for her housemates the following night. During a break from dinner, the rapper and the University of Central Lancashire students rapped and sang his hit "Gangsta's Paradise" with the young Brits, and he even helped them harmonize.
Andy Grammer In Santa Monica
UltraGee07 on YouTube
The now-famous singer actually got start as a street performer in Los Angeles and after he released hit single "Keep Your Head Up," he returned to the streets of Santa Monica to sing "Biggest Man in Los Angeles," a tune about his days as a busker.
Bloc Party In Paris
La Blogothèque on YouTube
Kele of the on-and-off again band Bloc Party performed this subdued, but beautiful acoustic version of the band's hit "This Modern Love" on a French street in 2008.
As these examples show, the best performances are often the most heartfelt.