14 Apple Recipes To Make With Your Orchard Haul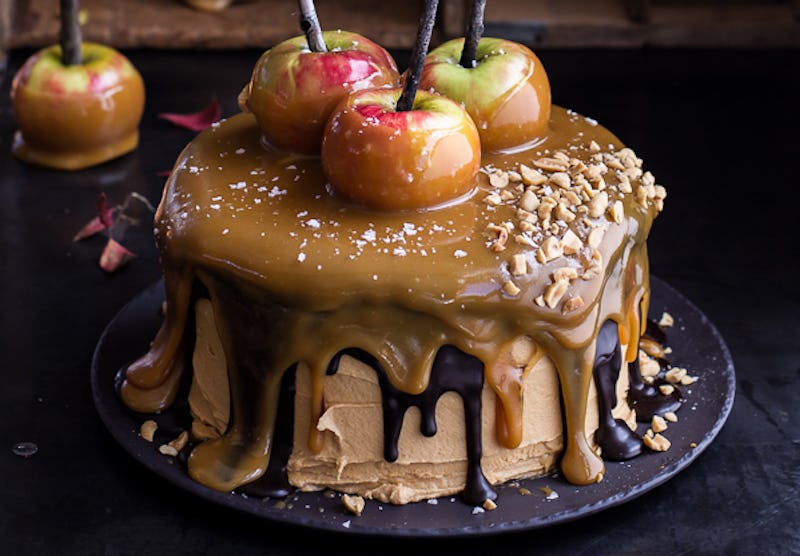 Labor day has come and gone, meaning it's only a matter of time before warm days cool to sweater weather, and leaves begin turning. Autumn's arrival brings a new batch of outdoor activities, and with orchards reopening to the public, apple picking should be at the top of your bucket list for fall. In case you need a little inspiration on how to turn your handpicked harvest into tasty treats, here's a roundup of 14 appetizing apple recipes to make with your orchard haul.
This lineup is brimming with favorite fall flavors like cinnamon and caramel, and feature guest appearances from other usual autumnal suspects like pumpkin and bourbon. Transform your bushel into fresh-baked desserts, and then cozy up fireside with a cup of hot cider. While a remix of America's classic apple pie does make the list, there is an endless number of inventive ways to incorporate apples into your favorite kitchen concoctions. Make your mornings more delicious with a short stack infused with Red Delicious, and revamp your granny's oatmeal cookie recipe with some Granny Smiths. Savory options make the list too, satisfying every autumn craving, and leaving no excuse to not make the most of your fresh pickings.
1. Bourbon Baked Apples
This boozy recipe by How Sweet It Is calls for large Honeycrisp apples that are then stuffed with apple crisp, doused with bourbon, and served à la mode.
2. Apple Cinnamon Pancakes
You'll want this pancake stack on your plate for breakfast — and every meal after. Be advised that you might be forced to share with roommates. Recipe creator Food Fanatic playfully warns "this sweet topping will fill your kitchen with the aromas of a freshly baked apple pie."
3. Crock-Pot Apple Sauce
A trip to the orchard is wasted if some of the batch isn't turned into apple sauce. This Crock-Pot method by Against All Grain is a deliciously easy way to cook up some homemade goodness that, served solo, makes for a sweet snack, but also acts as a key ingredient in several seasonal recipes.
4. Apple Sauce Mac & Cheese With Apple Sausage
This recipe by Adventures in Cooking calls for your homemade Crock-Pot applesauce, and blends it into cheesy goodness that then bakes until the macaroni becomes a beautiful golden brown.
5. Caramel Apple Turnovers
For the most die-hard sweet-tooth, these turnovers by The Comfort of Cooking are stuffed with apples that have been caramelized with cinnamon, nutmeg, brown sugar, and butter, and after baking are drizzled with homemade caramel.
6. Baked Apple Chips
A Spicy Perspective allows for any variety of apples to make this crunchy cinnamon-sprinkled snack. It's a healthy alternative to potato chips, and a simple way to finish off what you brought back from the orchard.
7. Turkey Cranberry Apple Quesadillas
This south-of-the-border style "Black Friday Sandwich" by Cookie Monster Cooking tastes just like Thanksgiving, and is a tasty way to put your leftovers to use after the holiday.
8. Hot Buttered Rum Apple Pie-Stuffed Cinnamon Sugar Soft Pretzels
It's hard to go wrong with "hot buttered," "rum," "apple pie," "cinnamon sugar," or "soft pretzels," meaning this hedonistic confection by Half Baked Harvest will never disappoint. Furthermore, it's suggested to be served hot, "...with ice cream." Amen.
9. Whole Wheat Autumn Apple Pizza
Not one, but two layers of thinly sliced apples top this thin crusted pizza. Along with bacon squares, gouda cheese, and caramelized onions. Thank you, How Sweet It Is.
10. Apple Cinnamon Oatmeal Cookies
Joy The Baker reinvents the quintessential fall cookie with Granny Smith apples. Who can argue with "crisp edges, hearty oats and walnuts, and tender apple bits."
11. Apple Pumpkin Butter
You can use a mixture of apple types to make this indulgent spread that combines the best ingredients the fall harvest has to offer. It works well in other recipes, but also great as a condiment. "Have some on toast. Over ice cream. Drizzled on a biscuit. Or just use a spoon like we did" suggests recipe creator Gluten Free Canteen.
12. Apple Pumpkin Butter Rugelach
Once you've crafted your apple pumpkin butter, these little babies, also by Gluten Free Canteen, are begging to be baked.
13. Mini Lattice Top Apple Pies
This list wouldn't be complete without apple pie, but why not put a non-traditional spin on the American favorite with these bite-sized options by The Crepes Of Wrath? They are as darling as they are delectable. The secret to that flavorful filling? The apples from your orchard haul are finely diced, then tossed with sugar, spices, toffee bits, flour, and lemon juice.
14. Salted Caramel Apple Snickers Cake
If you'd rather go the less classic route with your dessert choice, this mammoth concoction by Half Baked Harvest isn't half bad. Candy bar cake drizzled (read: drowned) in chocolate and caramel, then crowned with caramel-dipped apples? A necessity for your next Halloween party (and maybe every other day of your life).
And as if the photo weren't enough, here's a gif. You're welcome.
Looking for more great food ideas? Check out Bustle on YouTube.
Images: Half Baked Harvest (4), How Sweet It Is (2), Food Fanatic, Against All Grain, Adventures In Cooking, The Comfort Of Cooking, A Spicy Perspective, Cookie Monster Cooking, Joy The Baker, Gluten Free Canteen (2), Crepes Of Wrath