Sam Smith Drops A 'Spectre' Hint On Instagram & Could Be Joining An Impressive List Of Bond Theme Singers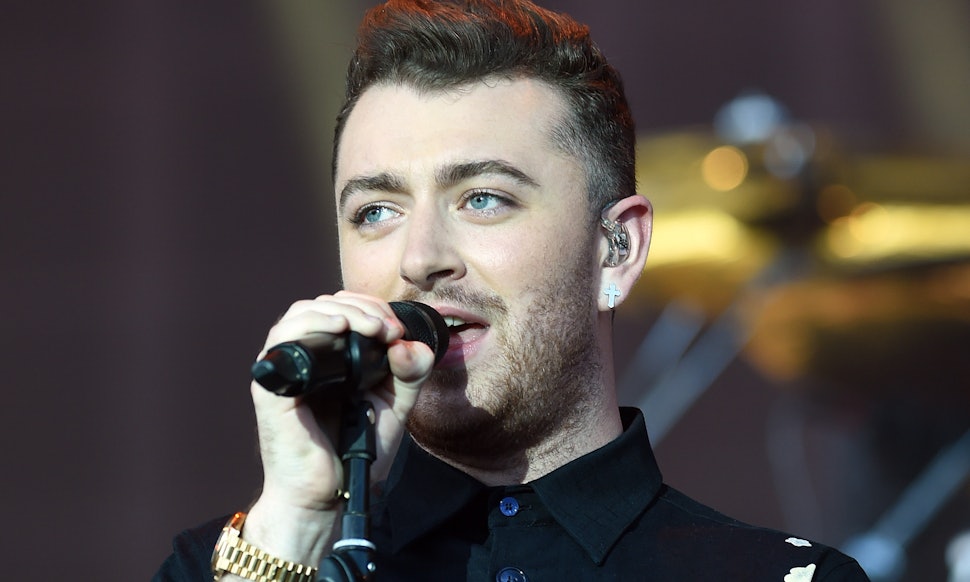 Stuart C. Wilson/Getty Images Entertainment/Getty Images
Rumors have been swirling for a while, but it now looks like the performer of the James Bond theme for Spectre may be Sam Smith. The "Stay With Me" singer dropped a big hint about his upcoming performance on Instagram and Twitter, where he posted a picture of what is presumably his hand adorned with an octopus. Bond fans will recognize it as the insignia of SPECTRE, the evil organization at the center of the upcoming movie and lurking throughout the Bond films over the years. Though uncaptioned, this seems like a pretty good clue that Smith will provide the theme for the upcoming Bond film, which follows Daniel Craig's Bond as he uncovers secrets about the titular organization.
(UPDATE: On Tuesday, Sam Smith confirmed that he has recorded the Spectre theme song by revealing the album cover and title, "Writing's On The Wall," on his Twitter.)
Smith had previously been one of many popular artists speculated to be recording the new Bond theme; Ellie Goulding and Lorde were also possibilities. It's an honor, one that the smooth-voiced and progressive Smith would certainly deserve. He'd be joining a long and illustrious list of pop artists who have recorded new songs for James Bond movies since the mid sixties, many of which have gone on to become chart-topping hits on their own right. Below are the most famous pop artists who have recorded Bond themes over the years:
Shirley Bassey
Sanpolitano on YouTube
The iconic Welsh singer with the huge voice recorded this theme for Goldfinger in 1964, and she went on to become the most iconic Bond theme singer, recording two more over her long career.
Nancy Sinatra
DocRewdySoul on YouTube
The "These Boots Were Made for Walkin'" singer and daughter of Frank recorded this beautiful theme for the 1967 film of the same name.
Louis Armstrong
gqlicious on YouTube
The romantic theme for the 1969 movie On Her Majesty's Secret Service was recorded shortly before Armstrong's death.
Paul McCartney And Wings
AvengedS939 on YouTube
This dramatic rock anthem from the former Beatle became an instant classic after appearing in the 1973 film.
Duran Duran
AvengedS939 on YouTube
The '80s rock group provided a very '80s theme to A View To Kill.
Gladys Knight
AvengedS939 on YouTube
This nostalgic opening to the 1989 movie from the Empress of Soul herself is pop perfection.
Tina Turner
doppelgangyr on YouTube
Not only was this sinister opening to Goldeneye performed by the iconic Tina Turner, but it was composed by Bono and the Edge.
Madonna
1980vwxyz on YouTube
An oddly hip-sounding Bond theme, Madonna totally pulled it off.
Adele
OddSunStudios on YouTube
The theme for the most recent Bond film was sung to dramatic perfection by Adele and is still stuck in our heads.
Is Sam Smith ready to join the ranks of Madonna, Louis Armstrong, and Paul McCartney? All signs point to yes, and I'm excited to hear the single.