These Book Quotes Will Make You Instantly Happy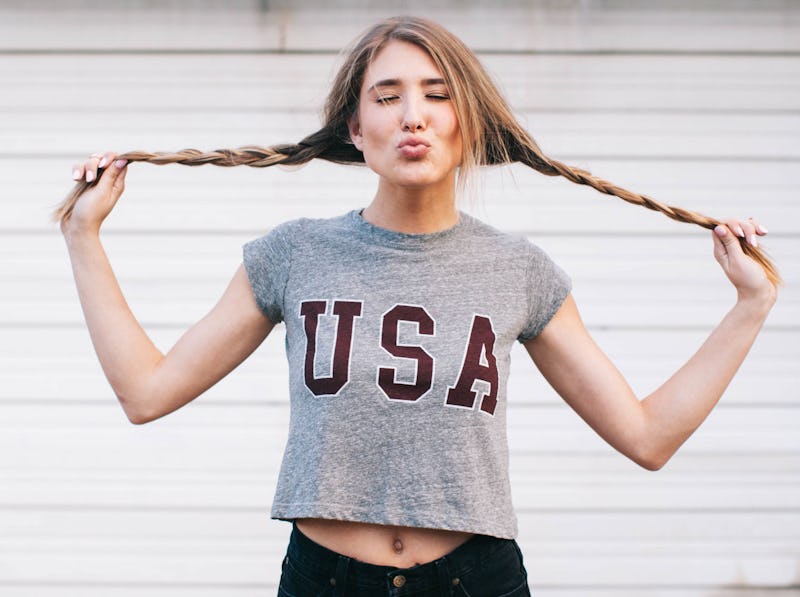 It isn't easy being happy all the time. Long days at the office, overwhelming piles of homework, and friend drama can cause the best of us to feel stuck in a rut. So, how do you cheer yourself up? Maybe you'll take a nice long walk to clear your head, or you'll read a new book. Or, maybe, you just need some strong words and helpful advice — quotes to get you back on your feet. There's no better place to find quotes to make you instantly happier than within the pages of your favorite books.
Some of the best authors bestowed us with life-changing advice and one-liners within their stories. These quotes can get you through the day, long weeks, and sometimes help you through any problem you're facing. Some of my favorite books remind me to stand tall and smile, even when I'm going through a rough patch like a break-up or dealing with stressful issues at work. Staying happy and positive can solve a lot of problems, and because of that, I thought I'd put together a list of some of the best quotes in literature to keep you smiling.
Including authors like Walt Whitman and John Green, here are some lines to keep you cheerful throughout the week, and whenever else you may need them:
"How wonderful it is that nobody need wait a single moment before starting to improve the world."
—Anne Frank, The Diary of a Young Girl
"Do anything, but let it produce joy."
—Walt Whitman, Leaves of Grass
"It's better to look at the sky than live there."
—Truman Capote, Breakfast at Tiffany's
"When we love, we always strive to become better than we are. When we strive to become better than we are, everything around us becomes better too."
—Paulo Coelho, The Alchemist
"Quick, make a wish. Take a (second or third or fourth) chance. Remake the world."
—Jandy Nelson, I'll Give You the Sun
"I know not all that may be coming, but be it what it will, I'll go to it laughing."
—Herman Melville, Moby-Dick
"The mystery of life isn't a problem to solve, but a reality to experience."
—Frank Herbert, Dune
"You have brains in your head. You have feet in your shoes. You can steer yourself any direction you choose. You're on your own. And you know what you know. And YOU are the one who'll decide where you go..."
—Dr. Seuss, Oh, The Places You'll Go!
"Do not just seek happiness for yourself. Seek happiness for all. Through kindness. Through mercy."
—David Levithan, Wide Awake
"I just want you to be happy. If that's with me or with someone else or with nobody. I just want you to be happy."
—John Green, Will Grayson, Will Grayson
Images: Brooke Cagle/Unsplash; martinak15; Sameer Walzade; Bethan; Mike Rastiello; Christophe LEUNG; Moyan Brenn; freeparking :-I; Sarah; netzanette; Chris Ford/flickr