Here's What He Really Wants In Bed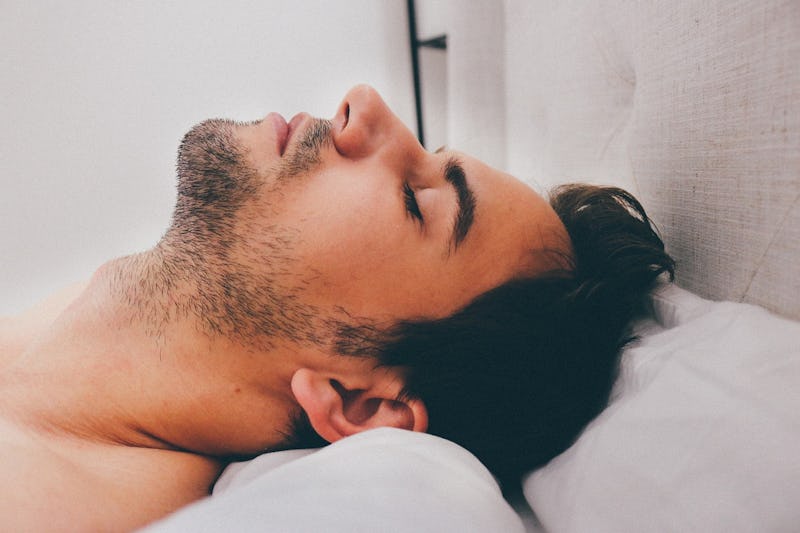 For a lot of people, hand jobs are part of our earliest sexual experiences. Slightly more daring than letting someone feel you up at the movies, hand jobs are less involved than oral and seem slightly more innocent. Plus, you can totally pull off giving one while "watching a movie" in your boyfriend's parent's den while everyone is upstairs, none the wiser. There's a utility to hand jobs that make them the perfect go to when we're just getting started on our sexual journeys. But do you really know how to give a good hand job?
But hand jobs tend to get lost in translation once we're all grown up and actually going all the way. Plus, they probably bring back awkward memories of trying to perform them to completion in your early teens.
When I talked to a few guys about the tried and true HJ, however, they still seem to be fans. Jeff, 29 even shared a story with me about a recent hand job that totally blew his mind, thanks to the talented lady performing it and the semi-public location where it took place.
Ready to get your hands dirty? Read on for some tips that will elevate your hand job game, straight from some dudes who know what's up.
1. Joe, 27
"Don't go so fast. Most girls think fast means good, but that's not the case. I don't care if you are the cheetah of the hand job animal kingdom...slow the eff down, it's attached to me."
2. Lyle, 31
"Some girls get weird about spitting into their hand before doing it or reaching for some lube. Even if you feel awkward, please don't try to give a dry hand job. It can actually be painful."
3. Luke, 24
"Change things up. Giving a hand job at one pace the whole time will probably get the job done, but it's no fun."
4. Cory, 27
"Get my balls involved somehow. I love when I'm getting a hand job and the girl has one hand rubbing my sack while she's working on my head with the other."
5. Steve, 33
"Use both hands. Especially if you've got the top one going up toward my head while the bottom one is going down my shaft. I get that it's kind of like patting your head and rubbing your stomach at the same time, but I appreciate multitaskers when it comes to hand jobs."
6. Alex, 25
"If you're using spit as lube and things start to get dry, don't be afraid to spit on it again, or better yet, put it in your mouth for a bit."
7. Kevin, 26
"Don't just keep your hand grasped around it like a joystick the whole time. Flip it around the other way too. It changes everything."
8. Pauly, 23
"Pay attention to my reaction. If I'm silent, it's not a good sign. Don't just keep doing what you're doing. Try something else!"
9. Jeff, 29
"I wrote off hand jobs until a girl took me into a closet at a friend's housewarming party recently and got me off that way. Where you do it definitely makes things hotter. Consider doing it somewhere where you might get caught."
10. Peter, 27
"Alternate the pressure you're putting on it. Lighten up your grip, then grasp down a little harder on it again. It's all about variation."
Want more of Bustle's Sex and Relationships coverage? Check out our latest video on sex positions for small penises.
Images: Olichel/Pixabay; Giphy