Bernie Sanders Emojis Are Here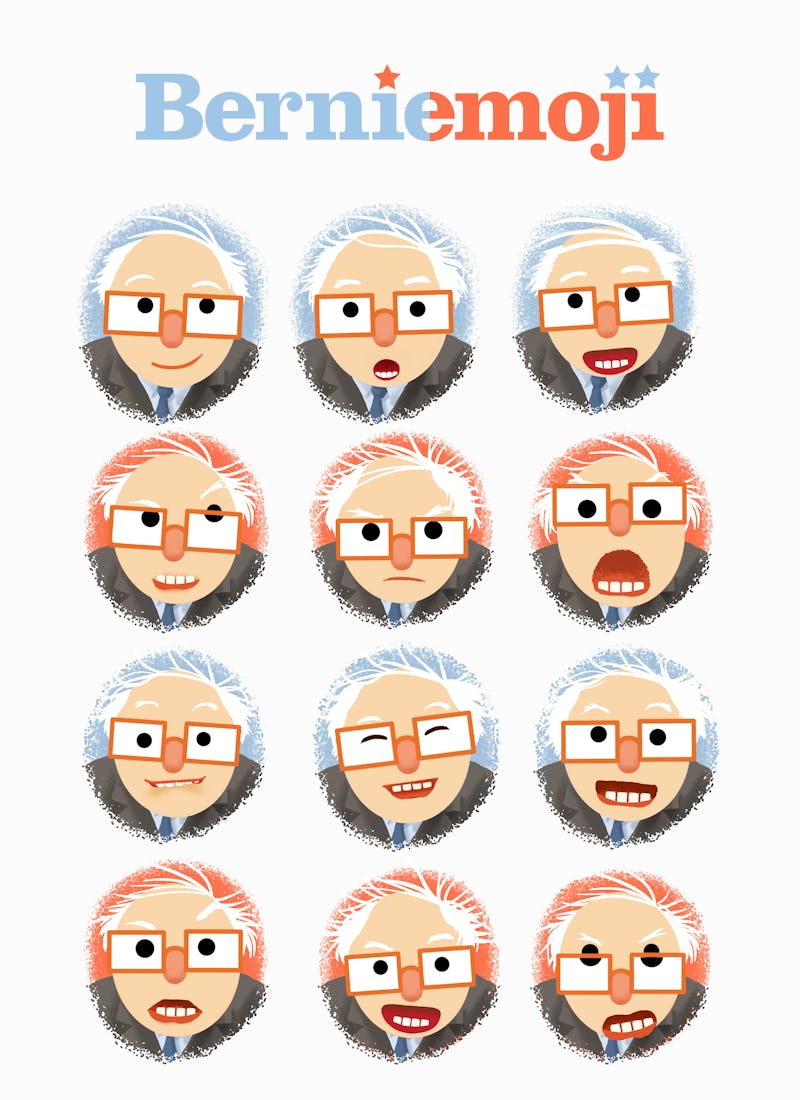 He might be the oldest contender in the race, but he's proven he has the social media prowess of a 23-year-old fashion blogger. In an election cycle that has required the candidates to master the social media arena, Bernie Sanders has surprised everyone with his massive online following. Now one of his supporters has created the ultimate weapon for Sanders' social media conquest: Berniemojis, aka Bernie Sanders emojis, which express his full range of emotions. Now you can discuss every hot-button issue in Sanders' platform using his own face, as if you were right there with him behind that podium. And what better way to support a candidate than emoting like one?
Designed and illustrated by Scott Nash and programmed by Akimitsu Hogge and Wade Brainerd of NASHBOX, the Berniemoji app features Sanders in 12 states of emotion, including his signature impassioned, calmly content, quietly seething, seriously tickled, and generally crotchety. The happier expressions are indicated by a blue background while the more negative ones have a red background. In all of them, Sanders sports his signature white hair, his rectangular frames, and his dapper suit and tie. But why did Sanders, above all other candidates, get the emoji treatment?
Graphic designer Nash, who designed Berniemoji for the iPhone and iPad, explained to The New York Times that Sanders of all candidates suited the medium the best.
It started as a dare. One of my colleagues laid down the gauntlet and said, "What's the equivalent of the Shepard Fairey portrait for Bernie?"
The Shepard Fairey portrait he's referring to is the now-iconic Obama "Hope" campaign poster.
After brainstorming for a while, Nash failed to come up with one iconic expression for Sanders, but for good reason.
And then it occurred to me that the key to Bernie, is he's not iconic, he's emotive.
So instead of one Bernie poster, Nash created 12 Berniemojis.
Berniemojis are everything every Sanders fan never knew they needed, but now won't be able to live without. Here's how to use them to discuss the major issues in Sanders' platform, and other important life topics.
Income And Wealth Inequality
The populist candidate has made wealth inequality one of the central issues of his platform and it's perhaps the issue that gets him riled up the most. He said in a July interview, "Our economic goals have to be redistributing a significant amount of [wealth] back from the top 1 percent." When making similar statements about the wealth gap, you'll definitely want to use the fervidly furious Berniemoji. It's also perfect for any situation that boils your blood, like when a jerk parks in between two parking spaces.
Racial Injustice
Another crucial part of his platform is race. Sanders has vowed to curb racial discrimination, which he acknowledges is pervasive in our society on a physical, political, legal, and economic level. When discussing something as significant and sobering as racial injustice, the quietly seething Berniemoji would be appropriate. The emoji is also suitable for discussing the Kim Davises of the world.
Donald Trump
Having had a political career that spans more than 40 years, it's probably nothing more than amusing for Sanders to watch Donald Trump try and tout himself as a viable candidate for U.S. president. If you're equally flippant about Trump's campaign, then use the seriously tickled Berniemoji, which would work for any situation that has you chuckling in delight. Like that sheep that really needed a haircut.
Getting Big Money Out Of Politics
The so-called socialist Sanders has a major issue with how closely tied big corporations are with politics, citing the Koch brothers and the Citizens United case as thorns in our democracy. When making impassioned statements about how big money can influence the way a country is run, it's OK to yell, and you can do it through the enraged, raised-voice Berniemoji. It's also a great option to use for any kind of protest or rally cry, or when you lose your temper talking to Comcast's customer service representative.
Fighting For Women's Rights
As one of the most socially progressive candidates, Sanders will also seek to end gender inequality. In addressing reproductive rights, equal pay, and paid family leave, Sanders hopes to embolden and inspire women across the U.S. When talking about making sweeping change for women's rights, it's only natural to use the optimistically determined Berniemoji. This emoji can apply to any situation where you need a little inspiration or motivation, like a really tough run. If he wasn't wearing a suit or tie, he could be a track coach — or cheerleader, even — yelling, "You can do it!"
Hillary Clinton
Not only has Sanders surprised the public by winning social media, but he's also shaken Hillary Clinton's camp by surging in the polls and drawing crowds that are more than five times bigger than hers. For such satisfying accomplishments — in lieu of a sunglasses-wearing Bernie — the calmly content Berniemoji says it all. It's also the perfect short-and-sweet response to any compliment and would be great for flirty texts. Yes, you should absolutely flirt using Berniemojis.
Raising The Minimum Wage
If Sanders is elected president, his legacy will almost certainly include raising the minimum wage to $15. It's one of the many ways he wants to tackle the wealth gap in the country. For an issue that affects so many Americans, it's shocking that similar legislation hasn't already been enacted. Therefore, the shocked and appalled Berniemoji should be used to here. And let Bernie express your surprise when your parents decide to visit you unannounced.
Images: Scott Nash of NASHBOX