'Dance Moms': 7 Life Lessons Learned From the Lifetime Series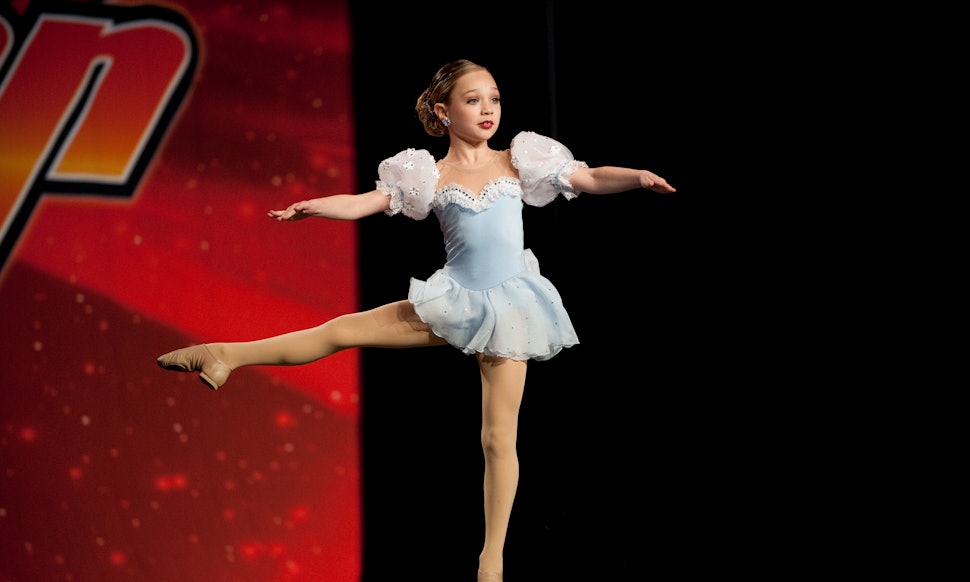 I love Lifetime's Dance Moms. And I stand by my love for it. "It's a show about screamy stage moms and poorly adjusted children," my friends say. "Why would I ever watch that?" Because it is so much more than that. The show is full of teachable inspirational moments... aaand screamy stage moms. Here are a few lessons from Abby and company that you can keep in your pocket forever. Images: Lifetime
7 LIFE LESSONS GLEANED FROM DANCE MOMS
I love Lifetime's Dance Moms. And I stand by my love for it. "It's a show about screamy stage moms and poorly adjusted children," my friends say. "Why would I ever watch that?" Because it is so much more than that. The show is full of teachable inspirational moments... aaand screamy stage moms. Here are a few lessons from Abby and company that you can keep in your pocket forever. Images: Lifetime
LIFE IS A PYRAMID
Every week, Abby uses a pyramid structure to let the girls know their current standing in the ALDC. And sure, this is a fairly harsh system, especially for children, but life is full of pyramids. Your tight-knit group of friends? Everybody has a best friend who they call first. At work? Your boss definitely revels in mentally determining which employees belong in the bottom row. So, at the expense of breaking their spirits down at an early age, these girls are getting a head start. They understand how the world works better than most adults.
LESSON LEARNED: It's a cruel world out there, just accept it.
NO TOPIC IS OFF-LIMITS
...for a dance number. Abby sees choreography as an avenue for advocacy. Or maybe she sees Very Important Issue routines as a surefire way to place in the top three at competitions. Potato, potato. A bunch of little girls pirouetting about DADT/texting and driving fatalities/Rosa Parks and the Civil Rights Movement/mental illness/breast cancer/missing children/immigration seems totally tasteful and not at all exploitative.
LESSON LEARNED: You can do anything in the name of art/competition!
JUST KIDDING. THERE ARE LIMITS
Episode 9 of Season 2 is summed up by its name: "Topless Showgirls". Abby surprised/horrified the girls when she announced that they'd be doing a showgirls-esque routine wearing flesh-colored tops. To create the illusion of toplessness. On children. The moms justifiably freaked out, but what Abby says goes, so the burlesque routine went on. Because the rest of the world doesn't share Miss Abby's moral compass, the episode will never air again.
LESSON LEARNED: Don't be disgusting.
DON'T FEAR THE DEATH DROP
In a television crossover of my dreams, RuPaul's Drag Race's Shangela Laquifa Wadley visited the ALDC studio to teach young Nia the Death Drop. This is an intimidating move, but hey! You only live once. And the best way to live is, ironically, to Death Drop. So face your fears and bend that leg and fall onto your back and wait for the applause. IT'S A METAPHOR.
LESSON LEARNED: Try something that might shatter every bone in your body. Figuratively speaking...maybe?
EMBRACE A HAIRSTYLE CHANGE
Jill (and daughter Kendall) are notorious studio hoppers, but no aspect of Jill's life is in greater flux than her hair. Lady loves to switch up her coif. And you know what? Good for her. We should all be so brave to take risks with our hairdos. Granted, some styles fail, but we always grow after the experience (as does our hair). A change can do you some good.
LESSON LEARNED: Stop being a wuss and get that fresh haircut.
YELLING WILL GET YOU AHEAD IN LIFE
Simply put, there is a crap-ton of screaming on this show. Understandably, because the stakes of the competitive dance world are high. Every episode, the moms practically douse the studio in kerosene, but Abby turns into Regan MacNeil and scares the moms into cleaning up their messes. Oh, what about the kids? The kids just hope they'll one day be allowed to hang out with their real friends. You may attract flies with honey, but Abby's raspy shriek is a fly's siren song. She regularly yells and threatens the moms and dancers, but no one leaves for good. ALM claims the show's contract is what's preventing a mass exit, but I think it's because the moms secretly respect how hard ALM yells.
LESSON LEARNED: Always be the loudest, even if it means a nodule on a vocal cord.
IF YOUR HEADPIECE FALLS DOWN, KEEP GOING
In the series premiere, Chloe's headpiece slid in front of her eyes during a competition performance. And Chloe did not miss a beat (get it?) and continued with a big ol' fake flower obscuring her vision. If you get a flat tire on your commute, don't waste your time with a tow truck. Go ahead and push your car to work. If you run out of salt while cooking dinner, use garlic powder in its place. It's almost the same color, so it should do the trick. Plus, you don't want to waste precious minutes asking your neighbor for salt. Don't let any obstacle stop you from getting the job done.
LESSON LEARNED: Don't ever stop dancing.