The iPhone 6S Comes In Rose Gold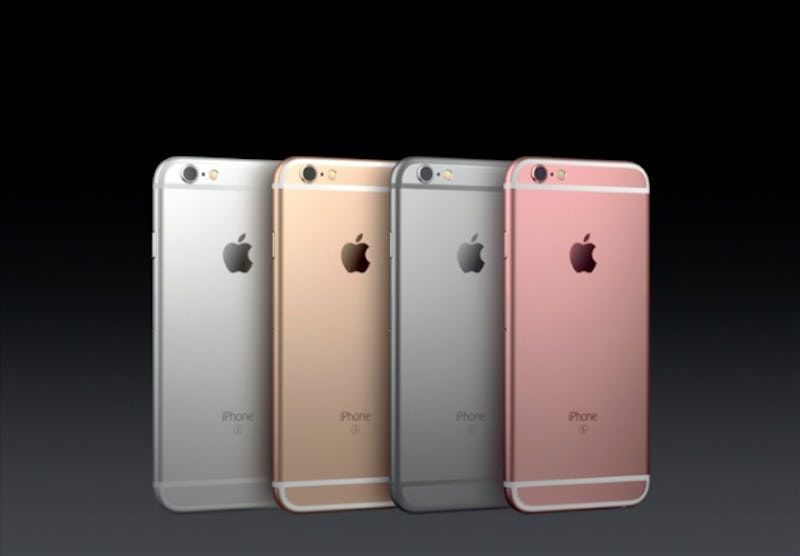 At a special event held in San Francisco on Wednesday morning, Apple revealed its latest, much-anticipated iPhone. The 6S features innovative technology like Force Touch, which can detect how intensely the device's touch screen is being pressed, allowing for a more dynamic user experience. The technology behemoth is taking yet another cue from the Apple Watch when it comes to the newest iPhone's aesthetics, which begs the question: what colors does the iPhone 6S come in?
In addition to the previous three colors offered on the iPhone 6 — gold, silver, and space gray — Apple is also offering a rose gold option. This is the first time the metallic pink color will be available for the iPhone. Aside from color differences, the iPhone 6S will look an awful lot like its predecessor, but with some key additions. The A8 processing chip is getting swapped out for a more robust A9 chip, offering 2GB of RAM. Likewise, the phone shell itself is being built out of sturdier, 7000 series aluminum to ensure durability. (That same metal was used when making the Apple Watch.)
Rose gold is a major change for the iPhone, which came in only black and white for its first few years before graduating into gold and space gray. Like its gold option, which is subtle and classy, the "rose gold" option shies away from in-your-face shades of pink and is, like its gold cousin, a light, pearly pink.
The iPhone 6S and iPhone 6S Plus are available for pre-order on Sept. 12 and in stores Sept. 25.
Images: Apple (1)