3 Bright Eyeshadow Looks You Need To Try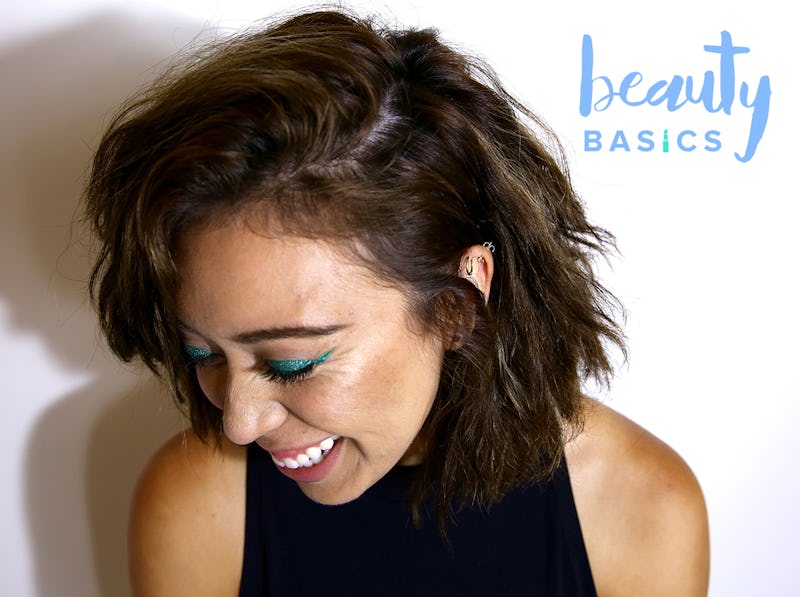 When it comes to eyeshadow, I've always been one for keeping things neutral. My everyday eyeshadow consists of a wash of beige that's slightly darker than my eyelids, and for night, it's a taupey-brown smoky eye. But I've always admired, even envied, the people daring enough to wear bright eyeshadow. My favorite beauty looks in magazines are always the ones with the most color, and don't even get me started about the Pinterest rabbit holes I've gotten stuck in.
That's why when Urban Decay's Vice 4 Palette landed on my desk I thought, "Why not give color a shot?" Neutrals are fun and all, but just think about the world of opportunity that opens up once you add color to your face.
I pulled three of my favorite daring bright looks to try using the Vice 4 Palette — a big blue wing, color-blocked neons, and a fuchsia smoky eye (because why not?) — and bright eye makeup instantly became my friend. I fell in love with Sierra's blue wing, and I am so excited to try Jenna's bright, smoky look. Given my nearly all-black wardrobe, it's safe to say that a pop of color on my lids definitely won't hurt. Is fuchsia eyeshadow work-appropriate? I can sure try.
This post is sponsored by Urban Decay.
Fuchsia Smoky Eye
Fancy a good smoky eye? Add hot pink into the mix for a fun, sultry pop of color.
1. Dust a pale lavender like Harlot all over your lid and in your inner corners.
2. Layer 1985, a bright fuchsia, on top, focusing the pigment at the outer corners and working your way in. Then swipe it under your lash line.
3. Finish it off with a deep burgundy, like Underhand, using the thin end of your brush to create a smudged, smoky line on your top and bottom lash lines.
Bold Blue Wing
Use your shadow as liner, and wing it out! An opaque turquoise is bold but not overbearing.
1. Create a base by dusting the pinky-beige Discreet all over your lid and up to your brow bone.
2. Then, using a thin eyeliner brush dipped in makeup remover (it'll turn the shadow into a gel-like texture when wet, I promise), draw a large wing in a pale turquoise shade like C-Note.
3. Wet the brush again and darken the wing with a bright turquoise, like Arctic, then use a cotton swab to clean up any jagged edges.
Color-Blocked Neon
Go for twice the fun with two complementary neons: one on the top and one on the bottom.
1. Apply Fastball (pale salmon) all over your lid and bottom lash line.
2. Next, layer orange shadow, like Flame, over Fastball on your upper lid, until it's as opaque as you'd like.
3. Finish with a smudge of 1985 along your bottom lash line.
Images: Kenny Suleimanagich/Bustle.
Makeup: Liz Oliver/Cloutier Remix.