You Can Now "Super Like" People On Tinder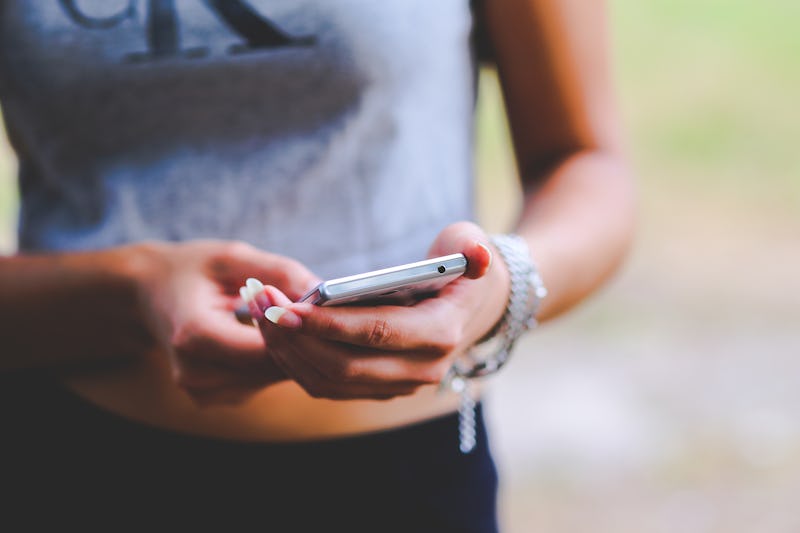 Apparently grand romantic gestures and online dating can coexist after all. Tinder's new "Super Like" feature was unveiled today, and it seems like an...interesting (read: cheesy) way to let someone know you're extra into them, with one simple swipe.
Rather than swiping left or right on someone, you can now swipe up, too. This action indicates to the person that your interest in them is especially high, because apparently some people are just so moved by a Tinder bio that they immediately start hearing wedding bells. After "Super Liking" someone, when you pop up in their list of matches, a blue banner underneath your name and age will declare, "So-and-so super liked you!" So before someone even makes a decision about you, they'll know just how excited you are to get coffee (or have sex, whatever).
If it's a match, the super-swiper will even appear in your list of matches with a handy blue star next to their name, lest you somehow forget just how into you they were at first sight. Beware though: You only get a limited number of Super Likes, so you have to really mean them when you choose to dish one out.
"Because they're so limited in number, a Super Like, or a 'swipe up', sends a more powerful signal, conveying an especially high level of interest," Tinder CEO Sean Rad told Engadget. "People like to know that someone finds them special, and we think this will lead to even better matches."
The feature, which will launch first in Australia, is slated to roll out globally later this year. Tinder even released an appropriately superhero-themed advertisement to showcase the "power" of the Super Like in a world where creeps inevitably dominate the online dating landscape.
So if you're an avid Tinder user looking for love, this new feature could be both a blessing and a curse. The good news? The Super Like feature could increase our odds of finding ~true love~ on Tinder, or at least make us feel more special on occasion. The bad news? Now we all have to retrain our thumbs to incorporate this new swiping action.
Tinder isn't the only dating app to incorporate a flirtatious feature — here are three other tried-and-true ways to give someone special that extra virtual nudge in the right direction.
1. "Liking" On OkCupid
If you're feeling too lazy to write out a heartfelt first message to someone, but want to let them know you're interested, "liking" someone's profile by hitting the gold star button is a pretty foolproof tactic. You can go back later and look through the list of people you've liked, and then send them a message, or you can be extremely lazy and hope that they'll be inspired to message you just because they know you liked them. If you're really lucky, the person will also like your profile, and you'll both get a notification telling you so, which is a handy way to subtly express mutual interest, all before saying "hey."
2. "Charming" On Happn
Happn works by showing you people who are nearby, and if you both like each other you can start chatting. However, if someone is super interested in you and you have yet to like them back, users can send you a "charm," which is basically like saying, "Hey, look at me please, I like you." Maybe not the most graceful way to flirt, but it's a handy feature, especially for those of us who live in a big city and might accidentally miss out on someone simply because of the sheer volume of people around us.
3. Sending A Song On Happn
Although you can only use this feature once you've already matched with someone, it's worth mentioning because it's such a unique way to virtually flirt with someone. The app partnered with Spotify, so users can pick a track to send to someone they're chatting with. Whether you were innocently discussing your favorite bands or you want to send them a subtle hint in the form of Kygo's 'Sexual Healing' remix, this feature is basically the 2015 equivalent to making someone a mixtape.
Want more of Bustle's Sex and Relationships coverage? Check out our new podcast, I Want It That Way, which delves into the difficult and downright dirty parts of a relationship, and find more on our Soundcloud page.
Images: Pexels.com; Tinder; Giphy (3)