11 Books Featuring Characters With Autism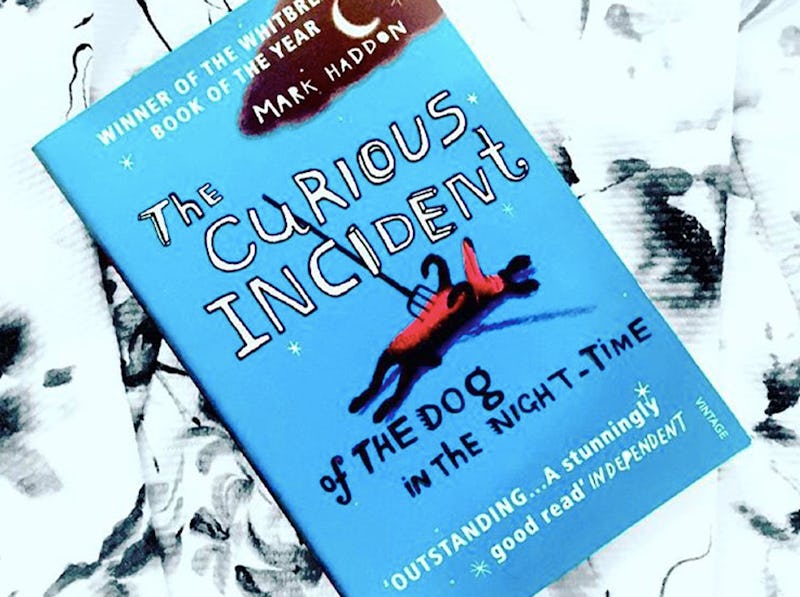 Whether you're aware of it or not, it's very possible you know someone with autism. According to Autism Speaks, 1 in 68 children are affected by autism in some form or another. What's more? The prevalence of autism is only increasing — it's actually the fastest-growing developmental disorder Stateside — and, as it stands, there is no cure. Those are some alarming figures.
Because living with autism isn't easy, one way that those who have been diagnosed can feel less alone is through seeing characters much like themselves represented across media. The good news is that we're seeing a larger number of film, television, and literary characters now land proudly on the spectrum. It's a pretty beautiful thing!
To celebrate growing neurodiversity in fiction, I've gathered 11 books not only featuring important characters with an official diagnosis on the autism spectrum, but also featured in plots that aren't about their diagnosis. Hopefully in the future there will be many more!
14-year-old Nathaniel Clark is of two worlds: one being the outside world where he is forced to interact with others, while the second is his inside "Aspie" world where he can surround himself with comforting mathematical formulas. Although he's called a genius thanks to his high IQ, Nathaniel knows that it takes more than that to truly be considered one, so he sets out on a quest to become worthy of the title.
For those expecting this to make the list, I refuse to disappoint. Christopher John Francis Boone knows all the countries of the world and their capital cities, as well as every prime number up to 7507, but his favorite thing to do is solve mysteries. When his neighbor's dog ends up murdered, Christopher goes on an adventure to find out who did it, only to discover devastating information that turns his entire world upside down.
Although Mikael Blomkvist wonders if Lisbeth Salander has Aspergers syndrome in the first book of the series, The Girl with the Dragon Tattoo, this book makes the list thanks to August Balder, a young nonverbal autistic savant who witnesses his father's brutal murder. Realizing that he's the only one who may be able to identify the murderer and uncover the reason why he was murdered in the first place, Lisbeth teams up to protect the boy and find out what happened.
In a world where all diseases have been stamped out by the end of one's infancy, one unfortunate generation misses the cut-off, rendering them unable to fully reap the benefits of the disease squashing technology. Lou Arrendale is one of the last people in the world with autism, but has managed to fit into society just fine. When a new breakthrough in technology offers him the chance to cure his own autism, Lou must decide whether or not he wants to continue to be himself, or completely change the way he thinks.
M is for Autism by The Students of Limpsfield Grange School
Remember when a group of girls with autism teamed up to write a book about autism? M is for Autism features M, an autistic girl who just wants to fit in with the rest of the world, but constantly feels as though she lives on another plane of existence from everyone else. Using real-life experiences, nontraditional printing and textures, this is arguably one of the most well researched novels about autism out there, because these authors live it every day.
Karen Nieto began life as a feral child, left to wander the beach near her family's tuna canning business, only to be discovered by her Aunt Isabelle when she arrives to save the failing business. Diagnosed as an autistic savant, Karen learns to thrive under the love of her aunt, and her live is changed completely when it's discovered that her almost preternatural affinity for animals can be put to use saving the tuna plant by becoming the first humane fishery on the planet.
Patrick Fort is a medical student with Aspergers, obsessed with where the human soul goes when the body dies ever since the death of his father. Things go from challenging to dangerous when Patrick's medical cadaver begins to show signs that perhaps its death was not necessarily natural, which springs him into a murder mystery with more twists and turns than a rollercoaster.
Caitlin is an 11-year-old girl with Aspergers who is stuck in a world where everything is metaphorically black and white. When her brother Devon dies, she doesn't understand how to get over it, that is, until she reads the definition of "closure" in the dictionary and goes on a quest to achieve just that. On her journey, she realizes that actual real life ten times more confusing than she could ever imagine.
Told in alternating chapters written by two different YA authors, The Half-Life of Planets centers on the summer of a Liana and Hank. Liana loves science and dreams of being a planetary scientist, but unfortunately has a bit of a reputation due to her addiction to kissing. Hank has Aspergers, loves music, and unfortunately has never kissed anyone. Both of their lives change after a chance meeting in the women's bathroom of a hospital. It's a cute summer romance with a neurodiverse twist.
Colin Fischer by Ashley Edward Miller and Zack Stentz
When a gun goes off in the school cafeteria, it's up Colin Fischer to prove that it wasn't Wayne Connelly (the school bully and Colin's frequent tormentor) who brought it to school. Colin isn't precisely like your everyday teenage sleuth, he hates to be touched, hates the color blue, and requires index cards to understand facial expressions. More than just a mystery, this book follows the struggles of an autistic kid who's just trying to fit in during high school, and the unlikely friendship that develops as he tries to clear Wayne's name.
Marcelo can hear music no one else can, and is diagnosed with the spectrum disorder PDD-NOS (Pervasive Developmental Disorder-Not Otherwise Specified) because of it. Spending the majority of his life in a special school that has sheltered him from feeling too different, everything in Marcelo's life seems to be going fine, that is until the day his father demands that he enter "the real world" by working in the mail room of his law firm. It's here that Marcelo learns about the petty jealousies and competition of the real world, but it isn't until he finds a picture of a girl with half a face in a file that he realizes that some things just aren't fair.
Image: dreaminginpages/Instagram