Bretagne The 9/11 Rescue Dog And 5 More Hero Pups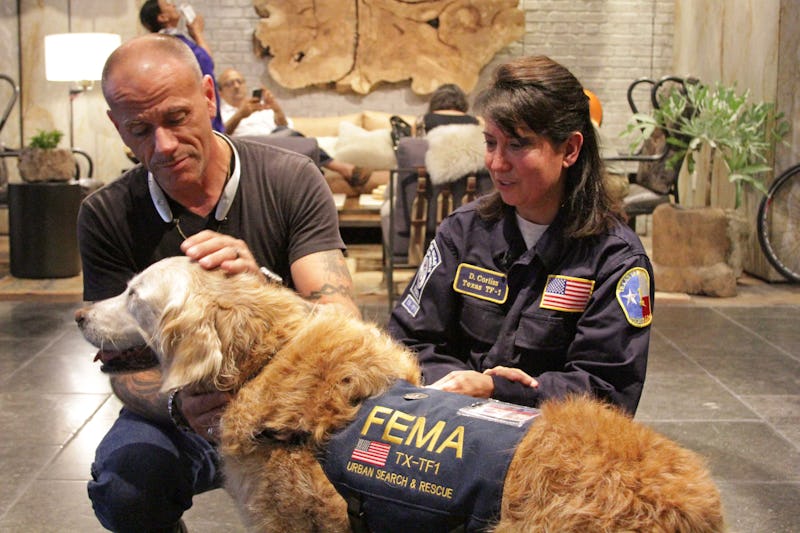 In the wake of the devastating September 11th terrorist attacks, approximately 900 search and rescue dogs traveled to New York City and Washington, D.C. to aid in the biggest search and rescue mission in American history. The dogs worked up to 16 hours each day searching for survivors and remains; they also provided much-needed comfort to traumatized survivors and exhausted rescue workers. Cindy Otto, a veterinarian who cared for the dogs at Ground Zero, told Today, "You'd see firefighters sitting there, unanimated, stone-faced, no emotion, and then they'd see a dog and break out into a smile. Those dogs brought the power of hope. They removed the gloom for just an instant — and that was huge because it was a pretty dismal place to be."
Each dog worked for an average of only 10 days, but their impact has resonated for years for those who were there. A study conducted by the University of Pennsylvania found that 9/11 rescue workers who were paired with a dog experienced significantly lower rates of psychopathology and PTSD than responders who didn't have a canine companion at their side.
And while many were concerned that the dogs themselves would develop physical and emotional problems after working under such stressful and dangerous conditions, a separate study found the search and rescue dogs suffered only minimal health setbacks. And, as it turned out, search and rescue dogs that were deployed on 9/11 actually had longer average lifespans than their non-deployed peers.
In fact, one of them recently celebrated her 16th birthday. Bretagne, a golden retriever from Texas, is the last living rescue dog who worked at Ground Zero. Bark Post recently partnered with 1 Hotels to bring Bretagne back to New York City for a well-deserved birthday bash:
Honor Bretagne and her fellow four-legged American heroes by checking out these five organizations whose dedicated dogs lend a helping paw to those in need.
1. LCC K-9 Comfort Dogs
The LCC K-9 Comfort Dogs are based out of Illinois, but they quickly pack up their bones and collars (OK, maybe their handlers do that part for them) to travel to traumatized people all around the country.
Dressed in their "Pet Me" vests, they were on hand in the aftermath of Hurricane Sandy and the Boston Marathon Bombings, and are staples in communities that have experienced school shootings. After last year's shooting at Marysville-Pilchuck High School in Washington, a local pastor admitted that he was skeptical at first, but then he witnessed the dogs in action: "One little boy had hardly said a word since [the day of the shooting], but around the dogs he couldn't stop talking."
2. Warrior Canine Connection
Warrior Canine Connection trains dogs to support veterans who are suffering from disabilities upon their return from combat. The dogs are bred for service and, as puppies, they each interact with over 100 "Official Puppy Petters" that include veterans, recovering warriors and civilian volunteers. With the help and guidance of the program, veterans themselves help train the puppies to become service dogs — and they often report that the training process is very therapeutic for them as well. Once the dog is fully trained (usually at around two years old), he or she is given to a disabled veteran to assist them with daily tasks.
Another great aspect of the Warrior Canine Connection program? They offer a live puppy cam that allows you to watch the new puppy litters romp around the organization's Maryland headquarters. (Warning: you may end up spending hours per day watching the cam, because it's pretty impossible to turn away from these adorable little guys).
3. 4 Paws For Ability
4 Paws for Ability was created after founder Karen Shirk saw a dire need for skilled service dogs that are specially trained to work with children. Today, 4 Paws provides service dogs to work with children all over the world.
In its early days, 4 Paws focused on training Mobility Assistance Dogs and Autism Assistance Dogs for kids. Today, they trains dogs to assist children who suffer from hearing loss, seizures, diabetes, and Fetal Alcohol Syndrome. They are currently the only organization that provides support dogs to children with FAS. Although 4 Paws primarily pairs dogs with children, they have also made service dogs available to veterans who suffer from mobility problems or hearing loss due to combat injuries.
4. Courthouse Dogs Foundation
Testifying in court can be a traumatic experience for victims of violent crimes — which is why the Courthouse Dogs Foundation provides dogs to support and comfort the witnesses in these trials. Ellen O'Neill Stephens, who co-founded the foundation in 2004, explains the psychology behind the program on their website: "When a person is reliving a traumatic event, they experience physiological reactions similar to what they had when the event was taking place. This adversarial system [of testifying in front of your attacker] is brutal. A lot of people come out damaged by it."
The organization spends about two years training each dog. Although they have been shown to be especially helpful for children, the dogs also provide courtroom support to adult rape victims and parents whose children have been victimized. The dogs are often with the victims every step of the way — they are present while they struggle to tell their stories to police and prosecutors, and they join them on the witness stand to act as a soothing presence. Prosecutors and police credit the dogs' presence with helping victims relax enough that they are able to speak the truth, when they otherwise might be unable to form the words to express themselves.
5. Heeling Allies Assistance Dogs
Psychological illnesses can be as debilitating as physical ones. Heeling Allies provides service animals to individuals whose psychological impairments have prevented them from functioning in day-to-day life.
For individuals with severe mental illnesses, everyday activities like going to the grocery store or riding public transportation can feel like impossible hurdles. But with an emotional support dog, these tasks can become doable again. The dogs are trained to bring their humans back into the "here and now" during panic attacks, PTSD flashbacks and other moments of emotional overload.
Mental Health Service Dogs help their handlers feel more motivated, secure, and safe. Heeling Allies trains dogs to work with individuals suffering from illnesses including PTSD, agoraphobia, OCD, Asperger Syndrome, and acute anxiety disorders.
As these crucial organizations all show, dogs are more than just amazing pets with adorable, Instagrammable faces. They can also offer invaluable support to humans during times of intense physical or psychological distress, and can be credited with improving countless lives. So give your pup a hug today, and think about Bretagne and the other heroic pups who give us so much.
Image: BarkPost, Wikimedia Commons