'90s Dancing In Public Is The Ultimate #TBT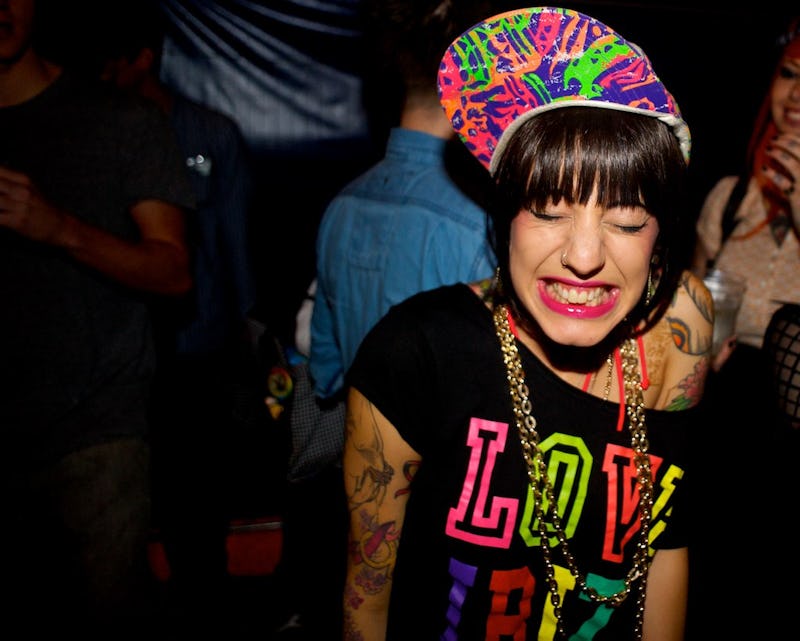 Happy Throwback Thursday! There's really only one way to celebrate this momentous weekly occasion, and today, we've got just the thing: The latest installment of the video series "Dancing in Public." Titled "'90s Dancing in Public," it's, well... exactly what you think it is. Pastels and neons, baggy sweatsuits, and huge boom boxes hoisted atop a sturdy shoulder are the name of the game today — and the best part is that even the video quality itself makes it look like it hails from the '90s. VHS recordings don't last forever, you know?
The "Dancing in Public" series finds its home on the web on the LEVO Pranks channel on YouTube, which is created and managed by prankster Kyle Levo. The concept is pretty self-explanatory: Levo picks a theme, dresses in a way that reflects the theme, then goes into a public place and dances to the music corresponding to that theme. Other installments in the series include "Slow Dancing in Public" and "Dad Dancing in Public," but I suspect this '90s iteration is going to be tough to top. Oh, and by the way, the videos don't only capture the epic dancing; they also catch the reactions of those looking on. Pretty fun, right?
The video really does make you feel like you are actually in the '90s again, giving you the perfect dose of nostalgia. Plus, what better way to start your Thursday then to watch this so-authentic-it's-scary throwback?
Yep, that's what I thought. Check out five must-see moments in GIF form below, and don't forget to scroll down to watch the full video — soundtrack and all!
Although you're probably thinking, "How does classic J.Lo make you think of doing the chicken dance?", somehow, it works. In fact, it actually looks quite natural.
Levo's impromptu moves to Eric b and Ramkin's '90s hip hop hit are over the top and hilarious — but the funniest moments to be seen here are from the onlookers. The guy sipping his coffee look like he doesn't know whether to join in or run far, far away.
3. The Wedding Crashers
At one point, a wedding party joins in the fun and dances along to "Don't Sweat the Technique" with Levo. Talk about a wedding to remember!
4. Sway With Me
This group of parkgoers looks mildly confused and unimpressed throughout the video, but towards the end the manage to get into it themselves and start to sway along to Des'ree's "You Gotta Be." It seems that there can indeed be moments when slow songs are not cringe-worthy and awkward.
5. All Together Now
Levo convinces a group of friends in the square to join in on the '90s dancing, grooving along to The Digital Underground's "The Humpty Dance."
This video is full of LOL-worthy moments; check it out for yourself below to see even more! Better yet, dance along with Levo this morning to get your blood flowing and to start your day off strong.
Images: The James Kendall/Flickr; LEVO Pranks/YouTube (5)