13 Short Girl Rules To Break In Body Pos Style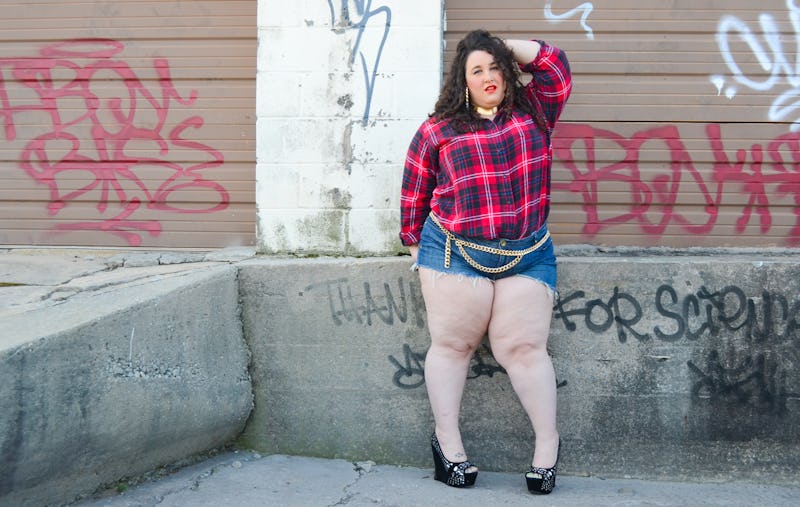 Despite most models standing tall at 5'8" and above, height isn't actually a fashion limitation. Whether you are plus size or straight size, there are plenty of short girl fashion rules to break. I myself am a fat short person, and that is something that will not change until I get older and get even shorter. My grandma, who was also 5'1", dipped down to 4'11" in her later years. Thus, I am fully ready to have to drive while sitting on a phonebook when I'm 80. Despite the fact that I have a hard time reaching things in tall cabinets or need to keep a step stool in my car just in case, being short has never really bothered me as much as it seems to bother other people.
I can't tell you the number of times I've been called out for my height because I look tall in photographs, or been turned down for plus size modeling opportunities because I wasn't actually as tall as I look online. I'm not trying to trick anyone or look tall, though. In fact, I regularly break fashion rules that dictate how I am supposed to dress my short, fat bod. So stop cinching in your waist in every outfit and don't fear short shorts or jumpsuits. Short girls can wear it all.
1. "Short Shorts Shorten The Legs"
Short shorts were the number one thing that came up when I searched for things short girls shouldn't wear, but if short shorts make you look shorter, why do I look so tall in this picture?
2. "Opt For Heels, Wedges, & Platforms"
I have a fellow short friend who only wears shoes with at least a two-inch heel. She even wears platform flip flops to the beach. This is all fine, of course, but I am personally not cut out for never wearing flats. Heels may elongate your legs, but it's more important to me that my shoes make me feel like I am standing on clouds.
3. "Rompers Mess Up Your Proportions"
Rompers are one of those items that you often hear people say look good only on tall, thin models. To that, I present this denim romper as evidence of the contrary.
4. "Jumpsuits Will Never Fit Your Bod Right"
Short girls don't have to shy away from jumpsuits just because of their length. If you find one with an elastic bottom, you can roll it up. If not, you can always hem it as well.
5. "Maxi Dresses Won't Do Anything For Your Legs"
I wore maxi dresses and skirts almost exclusively during my recent trip to Sicily, proving that you can slay internationally while breaking one of the biggest short girl fashion rules in the book.
6. "Long Sleeves Will Shorten Your Arms"
I was actually surprised to read that long sleeves were a supposed short girl fashion no-no. Even if the sleeves are longer on you than they were designed to be, you can still rock the look with or without the sleeves rolled up.
7. "Booties Will Also Shorten The Legs"
Booties are one of fall fashion's favorite trends and there's no reason that short girls should be excluded from wearing them. Especially since Eloquii just added shoes to its offerings, including totally cute booties.
8. "Long Tea Dresses Will Make Your Center Look Boxy"
I have heard a lot of short girl fashion advice that says to never wear anything boxy and to always cinch the natural waist with a belt, but why should we have to miss out on oversized silhouettes?
9. "Thigh Highs Kill Length"
As a short fat girl, finding thigh highs that actually stay above my knees is a challenge. Not only do sartorial rules claim that they also "shorten the legs," but retailers just don't seem to cater to my proportions. Once I found this pair from Kix'ies, however, I never wanted to take them off.
10. "Wide Cut Pants Will Diminish Your Silhouette"
I'm still on the hunt for a good pair of plus size drop crotch pants, but I did finally find some wide cut ones from H&M's plus size section (similar to this pair). They were the right length for me to wear with flats without hemming them. Plus, they were stretchy, which is my only requirement for pants.
11. "Stay Away From Ankle Strap Shoes"
"Ankle straps make your legs look short," cry the fashion rule followers. Well, my legs are short and that's OK. Although I don't care for buckling ankle straps, I love to layer them with chain anklets when I do wear them.
12. "High Waisted Shorts Are Not For You"
Just like with short shorts (which these totally also are), I read a lot of commentary about how high waisted shorts make everyone who isn't a straight size model look like they are wearing mom jeans. I think I look great in these high waisted floral shorts, though, so clearly whoever wrote that rule is just plain wrong.
13. "Don't Try To Imitate Tall Girls"
For my spring collection lookbook, I modeled alongside my friend who is 5'9". We wore the exact same samples to show that you don't have to change how you dress because of your height.
So, dear short girls, the moral of the story is this: Just wear whatever you want. Even if it "makes your legs look shorter."
Images: Alysse Dalessandro