Domino Dollhouse Is Going On "Indefinite Hiatus"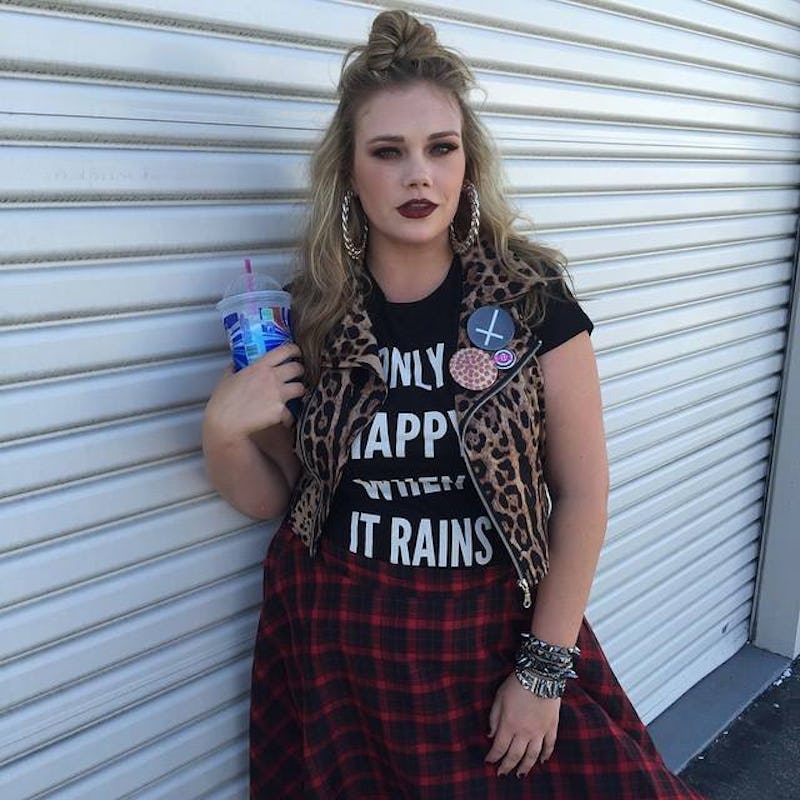 Sadness has been radiating throughout the plus size community this week, as Domino Dollhouse announced it would be closing indefinitely beginning in Nov. 2015. However, the unexpected news and rather short deadline for getting all our last-minute purchases in has come from a positive place. Owner Tracy Broxterman wrote in the news section of the site that she will be switching gears to focus on her "growing family." Undoubtedly, Broxterman's decision has been well thought through and is the best option for the plus size pioneer and body positive beauty blogger.
Although the news has been on the blog and news sections of the Domino Dollhouse site since Sept. 4, I personally didn't realize that the retailer would be closing its doors until many bloggers who I follow on the Internet began lamenting its closure. Plus size model Tess Holliday, for instance, posted a humble, heartfelt status on her Facebook page, thanking Tracy Broxterman for changing her life by giving her her first ever modeling job ever. Not to mention changing the world with her promise of producing "plus size clothing without compromise." Holliday wrote, "Tracy treated me like a supermodel, and family. That's what Domino Dollhouse is to me, family. Love you to the moon and back."
Holliday is not the first or last to lament Domino Dollhouse's closing. Blog posts and tweets have been plentiful, and they're not just filled with people upset about the hiatus. They'll filled with people wishing Tracy Broxterman the best of luck, too. Body positive blogger Margot Meanie wrote, "Thank you, for serving our community so well for so many years! Good luck with your growing family," whilst featuring the awesome "Pretend We're Dead" vest in grid in an outfit post celebrating the brand.
When I reached out to Broxterman via email for comment regarding the extreme feedback that the announcement has caused, she tells me, "Honestly, even after five years of loyal customer response, I didn't expect the emotional outpouring I've been receiving. With the myriad of choices that are popping up, I legitimately thought I wouldn't be missed. I had no idea how many people really responded to specifically the Domino Dollhouse aesthetic until I made this announcement."
Although it's arguably pretty heartbreaking that Broxterman didn't realize the true power and positivity her brand has inspired in others until it was time to shut down, DD's impact on the community certainly won't be forgotten.
Considering Broxterman's original post stated that Domino Dollhouse would be taking an "indefinite hiatus" and not specifically a closure, I wanted to ask her whether her return to fashion (if she returns to fashion) would be a reopening of the brand or the creation of a totally new one. Her reply leaves us with at least a little bit of hope.
"When I opened five years ago, the market was drastically different than it is now. I'd love to think that I could come back in the same capacity, but I can't imagine how different everything will be in the next five years. I'm definitely open to other creative avenues, but plus size fashion is part of who I am. I can't imagine that it wouldn't be in that field," she says.
When Broxterman started, there was "no ASOS Curve, no Forever21+, no ModCloth Plus," but she is not remotely bitter about these big brands taking the plus size market by storm. Her humble nature towards the amazing progress she's personally contributed to the plus size fashion world is reason enough to wish her all the best with her future endeavors, both in family and in fashion.
She tells me, "I love the fact that as choices become more available, niches and alternative styles can flourish. I'm a customer as well and I can't imagine going back to how it was."
The world of plus size fashion will undoubtedly continue to grow in uniqueness and availability, but a huge part of the progress already made is definitely down to folks like Tracy Broxterman. Hopefully she'll be around again one day to contribute to the retail side of things further. Until then, Broxterman will continue posting on her blog Chubble Bubble.
Images: Courtesy Domino Dollhouse