New 'SNL' Promos Are all About Timberlake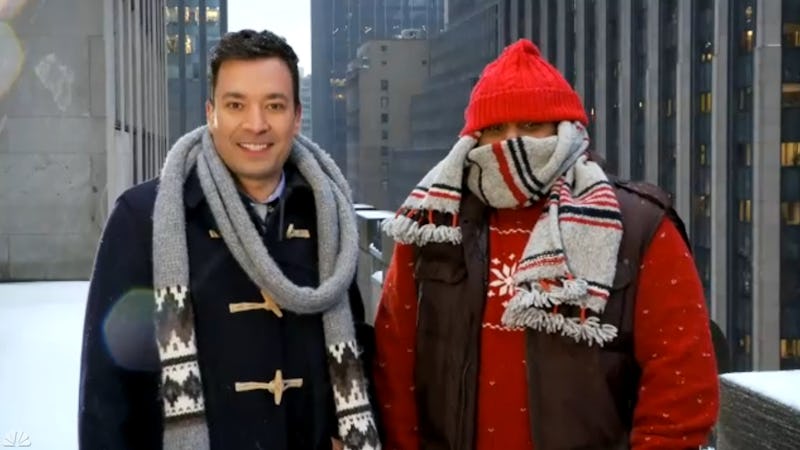 HEY GUYS DID YOU KNOW THAT JUSTIN TIMBERLAKE IS THE MUSICAL GUEST ON THIS WEEK'S EPISODE OF SATURDAY NIGHT LIVE? NO? Well, NBC is determined to sear that information into your brain — possibly your very genetic make-up — in their new promos for the upcoming Saturday Night Live episode that features musical guest Justin Timberlake. Oh God, see what I just did there? It's working. The promos, if you dare watch (and you should, they're funny), feature this week's host Jimmy Fallon, and regular cast member Kenan Thompson.
Sidethought: Who would have figured back when Kenan & Kel was on that we'd one day be watching Kenan on SNL promos in NYC and Kel Mitchell still doing Nickelodeon shows? Time is scary. Anyway, in the promos, Fallon and Thompson ensure that we all know that this week's musical guest is Justin Timberlake in a few creative ways, including having Thompson pose as Justin Timberlake by bundling up with a ton of coats, scarves, and a hat in hopes we won't notice the difference.
All in all, they're a few delightful promos that speak well of this week's episode — plus, you know, Justin Timberlake is involved so that's always a hit.
You can check out the promo below. This week's SNL featuring musical guest Justin Timberlake (and I guess host Jimmy Fallon) will air on NBC this Saturday at 11:30 p.m. ET.