What To Wear To This 'Harry Potter' Themed Bar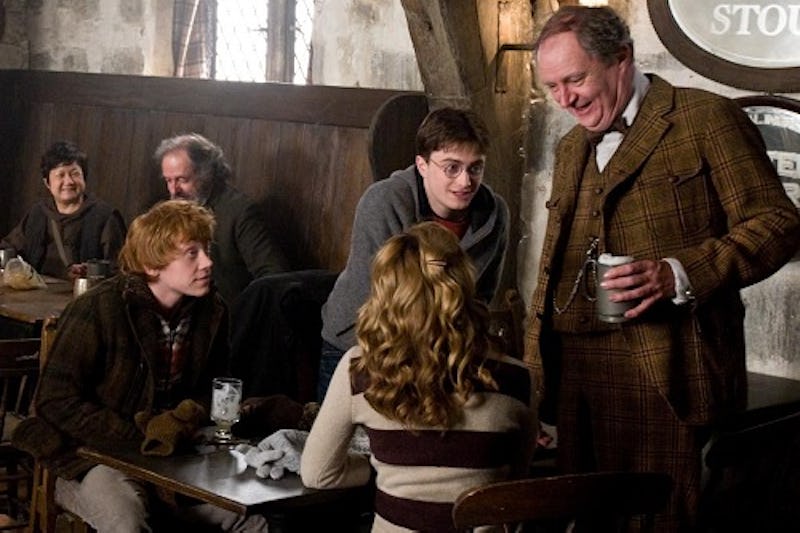 Attention all Canadian Potterheads, your Friday night hot spot just got a magical revamp. A Harry Potter themed bar opened in Toronto last Saturday, marking yet another location bringing our beloved childhood stories to life. Faithful fans will recognize the bar's name "The Lockhart" as a nod to the late defense against the dark arts teacher and revel in the series-inspired menu complete with delectable tapas and drinks dedicated to Potter culture brews.
It was a childhood fantasy come to life when Orlando's Harry Potter theme park was built. Taking a seat at the Three Broomsticks and ordering a round of ice cold butterbeer with the squad was suddenly an all-too casual vacation fave. Personally, I'm thinking The Lockhart will be an even greater magical experience than the theme park brewery. When you visit Harry Potter World, you are consciously aware that it was a vacation spot built to provide a live-entertainment experience for Potter lovers. This new location is smack dab in the middle of the muggle world, providing us with a taste of magic for a few hours before continuing on with our everyday lives.
Co-owner of The Lockhart Paris Xerx told New Toronto, "Without knowing any of the Harry Potter stuff, you already will think of this as a cool bar. You'd come here and see the stag's head on the wall and go 'Wow, I love that', but a Harry Potter fan might say 'That's a Patronus.'"
Now that you're planning your next trip out to Toronto (obv), let's talk about what you're going to pack. You didn't think I was about to let you head out on the town for a butterbeer without dressing the part, did you? Check out 10 key pieces to wear to this Harry Potter themed bar that will ensure your allegiance to the series (and prove to everyone there that you're definitely no muggle).
Head Wear
1. Deathly Hallows Cap
The Deathly Hallows Cap, $24.95, universalorlando.com
Maybe because baseball season is at its prime right now, but I am diggin' this Deathly Hallows cap. Wear it straight forward, or give it some '90s flair and swing that bill backwards. Pair it with a crisp black, casual blazer and white tee and you'll be that bar's designated cool girl.
2. House Headbands
Gryffindor Headband, $16.95, universalorlando.com
A signature piece even Blair Waldorf would approve of. There is a version of this headband for each Hogwarts house, and it is a more subtle way to make the statement that yes, you have read the books and/or have seen the Harry Potter movies and are well aware what this bar is all about.
Accessories
1. Necktie
Authentic Slytherin Tie, $31.95, universalorlando.com
I could not be more thrilled that prep school style is making a comeback, and what better way to stay on trend and rep your favorite house by adding a loose necktie to your button down?
2. Wallet
Harry Potter Daily Prophet Flap Wallet, $14.50, hottopic.com
Skip the clutch and throw your credit card and ID into this Daily Prophet printed wallet.
3. Necklace
Harry Potter Collectible Time-Turner, $59.95, wbshop.com
Channel your inner Hermione and turn back time a few drinks if you're just not ready for the night to end.
4. Watch
Deathly Hallows Crest Square Stainless Steel Watch, $49.95, wbshop.com
OK so we're all Muggles here, but if we can't control time, at least we can wear it, right?
T-Shirts
1. Short Sleeved T-Shirt
Bellatrix Lestrange T-Shirt, $29.95, universalorlando.com
I went to Harry Potter World back in August and I must have seen this t-shirt on every shop's shelf. I like it best in red, but it also comes in black and grey. That witch's face is enough to scare anyone into buying you a drink.
2. Tank Top
Harry Potter Spells Shirt, $14.00, etsy.com
This shirt is not only adorable, but could easily turn into a drinking game. Whoever mispronounces any spells on the tank top buys next round.
Dresses
1. Marauder's Map
Marauder's Map Reversible Skater Dress, $95.00, blackmilkclothing.com
I am loving the feminine twist on the Marauder's Map in this dress, and the model has the right idea with her edgy footwear. You're not heading out to the club, just America's own magical bar. So throw on a pair of combat boots and throw back a few beers with your clique.
2. Deathly Hallows
Harry Potter Deathly Hallows Dress, $39.99, tvmoviedepot.com
This dress is basic enough to be super versatile. Add a denim jacket and heeled booties, or ripped tights and combat boots. Either way, you can't go wrong.
Images: Warner Bros Entertainment (1); Courtesy Brands (10)