NYFW Street Style Is On Point This Season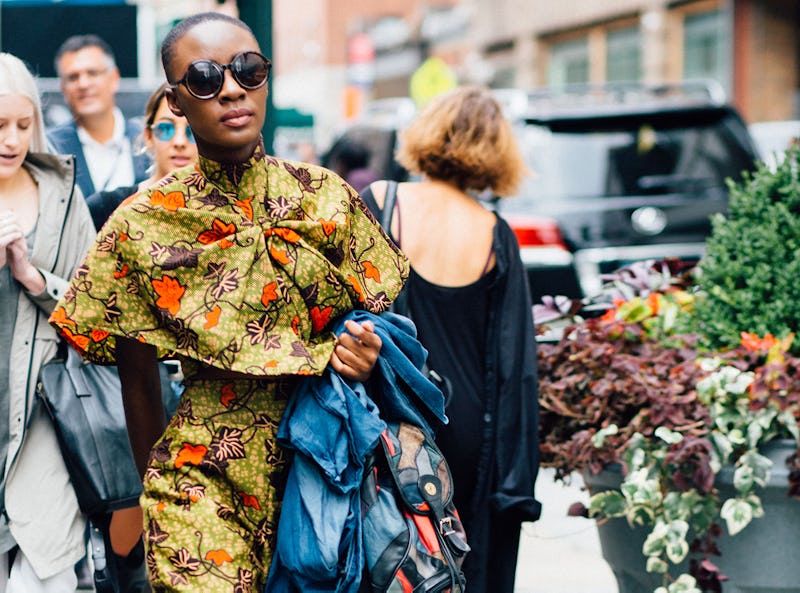 It may be September, but the weather in NYC is still hot enough that all the Fashion Week street style looks are actually appear to be of the Spring/Summer 2016 collections showing on the runways. With it far too warm for any sort of jackets just yet, attendees were able to show off all the best pieces in their wardrobes — and show them off they did. The usual minimalistic, all-black (and white, if you're feeling daring) uniforms of "fashion people" in New York were replaced with statement pieces and, of course, obviously-designer duds.
With NYFW abandoning Lincoln Center this season, attendees had far more running around to do in between shows to get from midtown to Soho and back again. Shoes were chosen for comfort (stylish comfort, of course) and the drizzly weather meant umbrellas became everyone's favorite accessory. But extra travel and dreary conditions certainly didn't keep everyone in lookalike ensembles — the quirky, the fancy, and the gloriously casual styles were all out to play. Bustle's fabulous street style photographers, Cameron Bertron and Ali Gilliams, captured some of the most intriguing looks rushing in and out of the shows. Take a peek below to find all the end-of-fall you could ever want.
1. Comfy Footwear
2. Pharrell-Inspired
3. Perfect Poncho
4. Modern Top Hat
5. Super Sleek
6. From The Back
7. Jumpsuit Heaven
8. Floral Bun
9. Mellow Yellow
10. Oversized Sunnies
11. Badass Beret
12. Bling-stronauts
13. Silver Silk
14. Perfect Plaid
15. Black & White
16. Criss Cross Crop
17. Floor-Length Sweater
18. Sweet Stripes
19. Funky Florals
20. So Much Sparkle
21. Laced Up
22. Suede Strut
23. Baggy Tee
24. Scarf City
25. Graphics
26. Breezy Bottoms
27. Slightly Grunge
28. Perfect Pair
29. Seeing Red
30. Crosswalk Chic
31. Between Shows
32. Arm In Arm
33. Going Green
34. High Five
35. Deepest V
36. All The Colors
37. Mod Mini
38. Big Booties
39. Rainbow Tips
40. Brights & Darks
41. Snakeskin
42. A Little Leather
43. Bright Blue
44. French Braids
45. Tiny Heels
46. Red Flare
47. Hint Of Skin
48. Sheer Spots
49. Sweet Smirk
50. Lace Jacket
51. Slouchy Cool
52. Coolest Culottes
53. Ladies In Black & Blue
54. Perfect Paisley
55. Stylish Couple
56. Bandana Bracelet
57. Skinny Stripes
58. Major Choker
59. From The Back
60. Jumper Time
61. Suede Shoes
62. Short Shorts
63. Sweet Kicks
64. Squad Goals
Images: Cameron Bertron (1-13); Ali Gilliams (14-64)