How Attendees Describe NYFW In One Word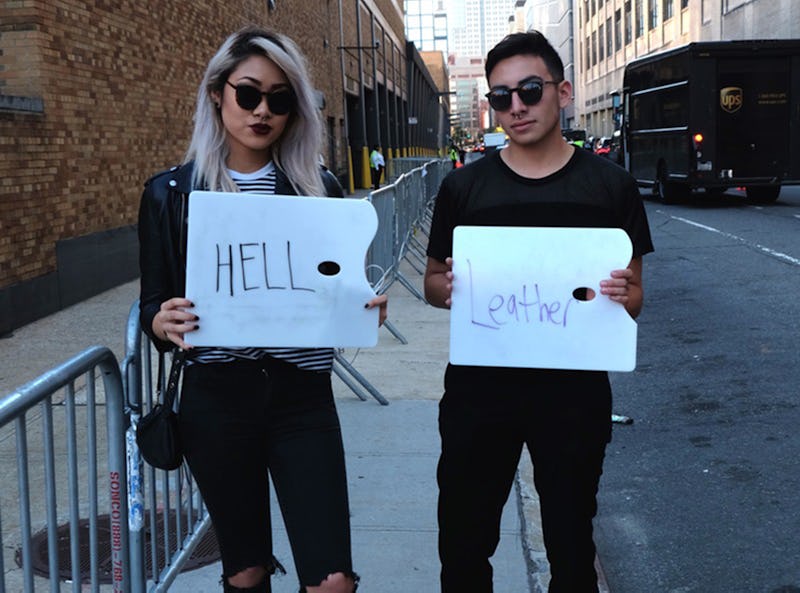 Love it or hate it, New York Fashion Week is here to stay and its stylish crop of fans seems to grow each year. Originating in the 1940s, the event was started when industry insiders could no longer travel to Paris due to WWII, according to TIME. Press Week, as it was called then, began showcasing and drawing attention to American designers for the first time.
But modern-day Fashion Weeks are all about being seen and not heard. You show up and flaunt your risk-taking ensemble, pose for the cameras, kiss some people on the cheek and rush into the next runway show. It can become a frenzy, which some may find exhilarating while giving others a panic attack. And there are definitely some major haters.
With all the paparazzi and celebs, herds of shades and platforms, and urban chaos that is specific to the Big Apple, I started to wonder: What do people actually think of NYFW?
I hung out with fellow photographers at Skylight Clarkson Square, the event's cool downtown venue, to catch everyone from fashionistas to first-timers (and even some working the events) as they ran in and out of shows, and asked them "How would you sum this whole thing up?"
Most responses were genuine and benign, while a few packed that blunt New York punch. Many attendees simply looked perplexed and were at a loss for words. Perhaps people want their outfits to speak for themselves? Good thing I caught some chic ones.
My one word to describe Fashion Week in the world's one-of-a-kind style capital? Inimitable.
1. Elaine
2. Tenele & Akief
3. Adriana
4. Melody & Damian
5. Yanyan & Yuyu
Right: "Chic"
6. Lola & Alimah
7. Chloe & Bert
8. KD
9. Dylana & Kylee
10. Kosuke
11. Ashlyn
12. Zeko
13. Al & Vanessa
14. Sarah
15. Devin & Diego
16. Alexandra
17. Sabrina & Rene
18. Jamie
19. Mihoko
20. Malikah
Images: Mich Cardin