12 Books For An Inspiring Dose Of Girl Power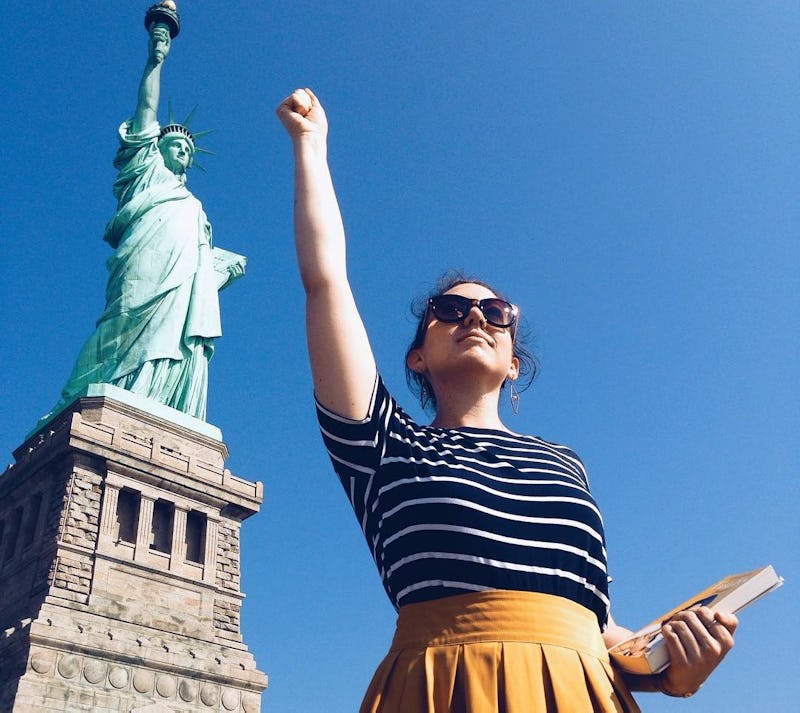 I don't know about you, but whenever I find myself in need of a serious burst of positive, go get 'em energy, I head directly to the source: other women who definitely know how to carpe diem with the best of us. One of my favorite ways to get inspired is by diving into a superbly motivational girl power book — it's kind of like having your own personal guru, only you can carry her around in your purse all day, and read her while you ride the subway or stand in line at Starbucks (yoga mat optional.)
Need some recommendations? Here I've compiled some of my faves for you. What do all the books on this list have in common, other than being written by some pretty fabulous women? They're all about amazing women as well — women who ventured risks, dared to dream big, and took life into their own hands. These are women who not only changed the world, but who inspired change and growth in themselves along the way. And after devouring these fabulous reads, you'll become totally inspired too; Girl Scout's honor.
Here are 12 ultimate girl power books that will inspire you to change your life and the world.
The only thing better than this book's subtitle: "How An Audacious Goal Taught Me to Love the World Instead of Save It" (seriously, all the feels) is this book itself. When author Jena Lee Nardella graduated from college, intent on changing the world, she had no idea what obstacles she would encounter. Endeavoring to build 1,000 wells across Africa, this leading lady not only changed the world, she learned to love it in spite of all its imperfections as well. This is a must-read.
In 2011, development worker Ming Holden traveled to Kenya with the short-term goal of creating a performance with refugee girls for World Refugee Day. By the end of that summer, Holden's goal had unexpectedly evolved into something much greater: The Survival Girls, a women's empowerment and artistic expression group, made up of young women living in one of Nairobi's slums. The group stages performances that illuminate harsh truths about women's issues in the developing world, from poverty and lack of educational resources, to female genital mutilation and what it's like to live as a refugee. This book tells their story.
Who says you can't be powerful and hilarious? From her childhood dreams of television comedian stardom to her rise through the ranks of fame, Tina Fey has always kept it real. (See: nightmares, romantic disasters, breastfeeding, totally disregarding the five-second-rule, and more.) This book tells the story of Tina Fey's life as only Tina Fey herself can.
This memoir will definitely speak to the animal-lover in you. As the self-assigned mother to countless orphaned animals across Kenya's landscape, conservationist Daphne Sheldrick has changed the way wild animals are observed and preserved far beyond the borders of Kenya. Her relentless campaign for an end to poaching is equal parts heartbreaking and inspiring. You'll find yourself sponsoring an orphaned elephant in no time.
Đặng Thùy Trâm spent her early 20s as a civilian battlefield surgeon in Vietnam during the Vietnam War. At 27 years old she was killed as a result of that wartime violence. Last Night I Dreamed of Peace is a collection of her handwritten diary entries, discovered by U.S. forces in Vietnam and published posthumously. They tell the story of an unbelievably brave young women who both risked and gave her life while trying to heal bodies destroyed by war.
After unexpectedly taking a job in Saudi Arabia, the British Muslim doctor Qanta Ahmed plunged headfirst into the world of woman in Saudi Arabian society. As a female healthcare provider in a society of veiled women who had been largely segregated from men their whole lives, her perspective on the rights of women over their bodies was altered forever. When encouraged by medical colleagues to explore her Muslim faith further, Ahmed discovered that true Islamic beliefs have nothing to do with the laws some radical Muslims impose on women's bodies.
This book tells the story of 21-year-old college graduate Wendy Kopp's plan to change public education in America for the better. Her idea: to send the best college graduates to teach for two years in America's under-resourced, low-income public schools. The result was her nonprofit organization, Teach For America. Taking readers from Kopp's initial idea, through her struggles in fundraising and founding a successful nonprofit, One Day, All Children is a must-read for anyone thinking about starting their own social justice movement.
West With the Night tells the adventurous tale of Beryl Markham's experiences as a female bush pilot in Kenya in the early 1900s. Markham also attempted to cross the Atlantic solo, from Europe to New York — a life-threatening journey that no female pilot had yet successfully completed. Although she didn't make it all the way to New York, her crash-landing in Nova Scotia, Canada was still record-setting.
Written during the Vietnam War, the feminist movement, and the civil rights movement, Adrienne Rich's stunning poetry collection Diving Into the Wreck , describes one woman's journey navigating the tumultuous waters of 1970s-era America. As a feminist political poet who disagreed with the war in Vietnam, Rich is a writer for whom poetry and social justice are inextricably linked. If you've ever wondered how creative writing can change people's consciousness, and the world, this collection is for you.
Working as an undercover journalist, Barbara Ehrenreich spent over two years investigating the 1996 Welfare Reform Act, which in part took welfare rights away from full-time mothers, individuals who had recently lost a wage-earning spouse, and made drastic distinctions between those "deserving" of welfare and those considered "undeserving." Ehrenreich takes readers on the journey of applying for a low-wage position, through the challenges of maintaining employment, and all the way to the grocery store line, where paychecks never seem to be nearly enough. This book will definitely make you think long and hard about who is really allowed to achieve the "American Dream."
When English teacher Erin Gruwell found herself standing in front of a classroom full of at-risk teens, she used literature and creative writing to reach her seemingly unreachable students. In The Freedom Writers Diary — written, in part, by the Freedom Writers themselves — both these students and their teacher learn that they have the power to transcend their own struggles, and the strength and determination to change the world around them for the better.
Magazine covers, and the resulting definion of "beauty," have come a long way since I was a kid. (Have you seen Demi Lovato in Cosmo? She rocks.) But nonetheless, some still have a long way to go. In The Beauty Myth , Naomi Wolf explores how as women have gained more power, professional achievements, and legal rights than ever before, definitions of female beauty have become even harder to obstain. This book will make you think about how you're really being affected by the marketing of physical perfection, and will definitely help you realize you're beautiful just the way you are, no matter what all those ads and television commercials might say.
Image: Alicia McClintic/Instagram