What Are The Friendliest College Towns In America?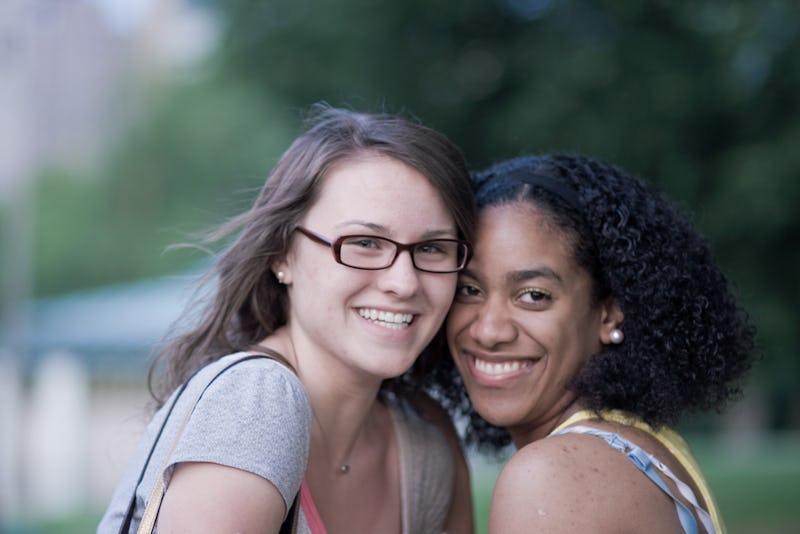 Now that I'm two years post-grad, I've come to realize that I probably didn't have what most would consider a typical college experience. I attended Kenyon College, a small liberal arts college in Gambier, Ohio. So where's Gambier? Well, it's more of a "what." And the "what" is a block-long strip of bookstores and coffee shops, and then cornfields, and then Amish Country. Thus, when I saw this list of America's Top 10 Friendliest College Towns, I thought, "OK, so what does that mean?"
Well, it definitely means more than a downtown that you can cross in about 30 seconds. Skout, a friend-making app, spent 12 months gathering data from users between the ages of 18 and 24; then they performed some fancy-schmancy analysis of the data, and it turns out the findings are pretty surprising. New York City ranked third in the app's engagement data, which makes a certain amount of sense, given the sheer number of schools in the area; however, it's also the un friendliest city in America according to some rankings, so... yeah. You'll excuse me if I'm a little shocked by the fact that a notoriously prickly metropolis is also simultaneously super friendly to college students.
Other highlights include Los Angeles, where nobody walks and everyone is tan (or so I've heard — I should probably mention I'm from Ohio); it ranked first in terms of students who share virtual gifts, more than students in Boston, Miami, Chicago and Dallas combined. Ugh, BFFs all over the nation!
Here's a look at the 10 friendliest college towns in the nation according to Skout — and don't forget to scroll down to see a neat-o infographic they put together featuring all their findings!
1. Madison, Wis.
Notable colleges and universities: University of Wisconsin-Madison, Edgewood College.
The capital of Wisconsin is, safe to say, dominated by the University of Wisconsin-Madison. State Street, which links the university's campus to downtown, is a pedestrian-only street filled with restaurants and coffee shops and, on Halloween, serves as the location for a giant music festival called "Freakfest."
2. Los Angeles, Cal.
Notable colleges and universities: University of Southern California (USC), University of California-Los Angeles (UCLA), California State University-Los Angeles.
OK, admittedly, LA is not really what comes to mind when someone says "college town." However, it is home to a number of top universities, each with its own subculture and community.
3. New York City, NY
Notable colleges and universities: Columbia University, Barnard Colllege, New York University (NYU), The Juilliard School, Fordham University
OK, yeah, again, New York City is definitively not a "town," but it hosts some of the brightest student populations, and campuses that are spread out across the country's most densely populated city. Navigating the subway and simultaneously trying to make it to your next lecture is a top-notch bonding exercise, I'm sure.
4. Ann Arbor, Mich.
Notable colleges and universities: University of Michigan.
Blue reigns supreme in Ann Arbor, a town that is sometimes hard to distinguish from the University of Michigan's campus. Understandable, since UMich is one of the top research universities in the world and has a total of about 43,000 students. That's about 40 percent of Ann Arbor's total population. That's a lot.
5. Chicago, Ill.
Notable colleges and universities: Northwestern University, University of Chicago, DePaul University, Loyola University, Columbia College.
Maybe I'm biased because I live here, but the sense of camaraderie among students at schools like University of Chicago and Northwestern is massively impressive, as is the city of Chicago's love for the many schools that share its parameters. It's a Midwestern thing. We're all very friendly. Go Bears.
6. San Francisco, Cal.
Notable colleges and universities: University of California-Berkeley, Stanford University, San Francisco State University
As a sunburn-prone redhead, San Francisco is probably the only city in California in which I'd ever consider living. In addition to the awesome "alternative" culture that has long established it as a center for liberal activism, San Fran hosts beautiful views and a number of highly-competitive schools, both Ivy League and State. But not that competitive, because it's Cali and people there are "chill" (or so people tell me).
7. Boulder, Colo.
Notable colleges and universities: University of Colorado-Boulder.
Located at the foothills of the Rocky Mountains, Boulder, CO is, first and foremost, beautiful, landscape-wise. Stunning. Home to the University of Colorado's main campus, Boulder routinely ranks in the top 10 for quality of life, arts, and education. And also outdoor sports buffs love this place. Or so I've heard. I am the opposite of an "outdoor sports buff," to be honest.
8. Phoenix, Ariz.
Notable colleges and universities: Arizona State University, Grand Canyon University, Phoenix College.
I'll be honest, before writing this article, my main opinion of Phoenix was "Arizona. Desert?" But turns out, it's the one of the most populous cities in the United States! With a really cool art scene! And some of the oldest community colleges in the country! The more you know, amirite?
9. Philadelphia, Penn.
Notable colleges and universities: University of Pennsylvania, Temple University, Drexel University.
No surprise that the City of Brotherly Love is on this list of nice 'n' friendly places. In addition to a whole lot of historical places, including the nation's oldest opera house, oldest theatre, oldest artist's club and, of course, the Liberty Bell, the city also hosts the third largest concentration of students on the East Coast.
10. Dallas, Tex.
Notable colleges and universities: Southern Methodist University (SMU), Dallas Baptist University.
The city of big cowboy boots, big churches and bigger hair also hosts the nation's sixth largest population of LGBTQ* residents, as well as a number of diverse arts organizations. The Annual Texas State Fair is also held within city limits, and let's be real, nothing brings folks together quite like fried Oreos and really cute barnyard animals.
Check out Skout's awesome infographic below:
Images: Giphy; fox-orian, Jim, SDDirck, llee_wu, One Raised Eyebrow, Larry Darling, Dan McCullough, Kevin Baird, MPR, Aquistbe, Ed Utham/Flickr; courtesy of Skout