Zach Braff Dreams of 'Garden State' Success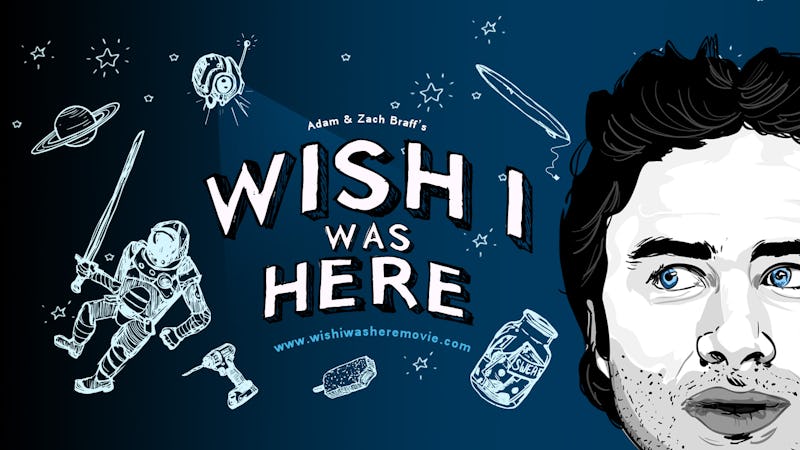 At Park City, Utah in 2004, a quirky low-budget film called Garden State screened at the illustrious Sundance Film Festival. Zach Braff, known for his ten year stint on Scrubs, wrote, directed, starred in, and hand-picked all of the music for his first real foray into the film industry. Now Garden State has become a cult classic, garnering major financial success and critical acclaim, and practically a rite of passage ritual for twenty-somethings engaged in some much needed soul searching. Braff's next adventure into directing comes in the form of his completely crowd-sourced film Wish I Was Here , which he raised money for through Kickstarter.
In the project's first two days on the website in April of this year, it raised over $1.5 million dollars. A month later, Braff had raised over 3 million dollars from 46,520 backers, who now have special access to the film's production information through its website.
In a very well-developed appeal to fans worldwide, Braff, with his typical goofy charm, asks viewers to provide funding for the film, which he pitches as a a sort of sequel to Garden State. Braff blames his inability to direct films after Garden State on financing, then uses a hilarious cameo by Donald Faison (worth watching just for him) to reveal how artistic licensing can be altered by "money people." Braff explains that Wish I Was Here will follow the tone of Garden State, progressing from his own experience in his twenties to his thirties. After watching, it took a lot of will power to refrain from donating all my well-saved Bat Mitzvah money to Braff's noble cause.
Scandal surrounds the film's use of Kickstarter, due to Braff's celebrity, the film production by Warner Brothers, and the lack of returns to investors, unlike other Kickstarter programs. Yet nearly 10 percent of Sundance films were funded by Kickstarter and some have even been nominated for Academy Awards. Braff defended his decision by explaining that he does not have "Oprah Winfrey money" and that he did not want to give up his creative license:
I was about to sign a typical financing deal in order to get the money to make "Wish I Was Here," my follow up to "Garden State." It would have involved making a lot of sacrifices I think would have ultimately hurt the film. I've been a backer for several projects on Kickstarter and thought the concept was fascinating and revolutionary for artists and innovators of all kinds. But I didn't imagine it could work on larger-scale projects. I was wrong.
What many do not know is that Garden State's success at Sundance spurred relative financial success for the film, over $26,782,316 million in the box office, especially in comparison to its meager $2,500,000 estimated budget. Viewers were immediately drawn to Braff's depiction of a depressed man returning home to his dysfunctional family for his mother's funeral to find love and himself. The raw emotional power of Garden State paved the way for alternative filmmakers of this generation, practically creating a template for indie films to come.
Braff continues this template in Wish I Was Here, which Sundance announced today will be following in Garden State's footsteps in premiering at the festival in 2014. The film, which contains a star-studded cast including Mandy Patinkin, Jim Parsons and Kate Hudson, centers around a thirty-five year old husband and father who resorts to home-schooling his children after failing to pay for private school. Yet part of what made Garden State so successful was that it created a new mold for main-stream independent films. Will Braff's unchecked creative license help or hurt his new venture into filmmaking? We'll see next year in Park City whether Braff's unconventional methods continue the indie legacy of Garden State or if the director could have benefited from some good old-fashioned Hollywood structure.
Image: WishIWasHereMovie.com