A 'Mary Poppins' Sequel Is Coming!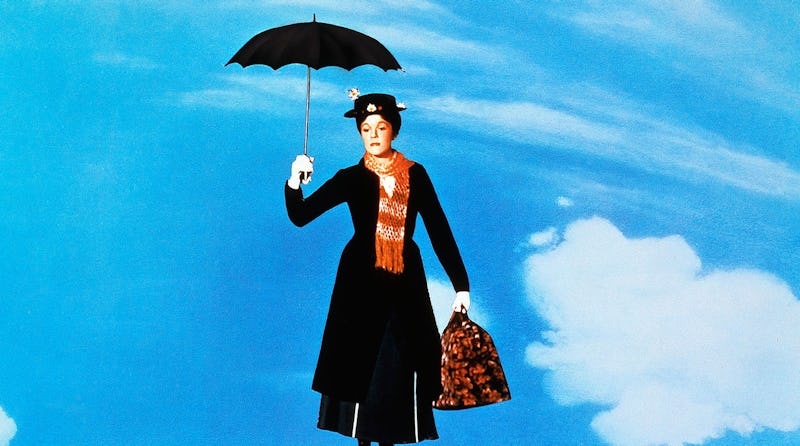 Has the nostalgia wave gone too far? On Monday, Variety reported that Disney has a Mary Poppins sequel in the works, which, while pretty awesome, still just seems totally unnecessary. Some things are better left untouched, and even though the new film, which will be directed by Rob Marshall (Into The Woods), will be a sequel taking place 20 years after the events of the original, it seems like Disney is setting itself up to fail. How could you be so ambitious to try to top the success of such a classic?
Maybe it will help revive Mary Poppins for those darn millennials, but does the 1964 film starring Julie Andrews and Dick Van Dyke need any help to stay relevant? It's still one of the most iconic musicals in history, and its cast of characters is beloved even now to audiences 50 years later: the story of a very unorthodox nanny that comes to the rescue of a wealthy British family. I know it's the world we live in, where everything gets a remake, but Mary Poppins doesn't need any help to stay beloved for the next 50 years and beyond. Here are seven reasons that the original Disney film is unbeatable and doesn't need the sequel.
1. It's One Of The Greatest Films Of All Time
If there can be any objectivity in the world of art, Mary Poppins is one of the most objectively great movies of all time. And it's been democratically voted that way, mind you: it smashed at the box office when it was released in 1964, won five Academy Awards (out of the 13 it was nominated for), and in 2013, ahead of the 50th anniversary of the musical, it was voted into the Library of Congress National Film Registry. Now that is supercalifragilisticexpialidocious (which is a real word now, officially added to the Oxford English Dictionary). The cultural impact of Mary Poppins has achieved legend status, and that will be tough to follow up.
2. And It's Got A Past
One of the most intriguing elements of the original 1964 Disney version is the backstory of the film's production, which was a much less sunny story than the tale the movie tells. There was even a movie made about the making of Mary Poppins: 2013's Saving Mr. Banks, focusing on the long meetings between Walt Disney himself (played by Tom Hanks) and the author of the Mary Poppins beloved book series, P.L. Travers (Emma Thompson), as Disney tries to convince her to sign over the rights to the series. Who knew that such a light-hearted musical had such a sordid production history?
3. Mr. And Mrs. Banks Are The Best Worst Parents
She's a suffragette, but she fears her husband, because he's overbearing. He thinks his kids are misbehaving and need to be reined in by a nanny, but maybe they wouldn't act out if he paid more attention to them than London capitalism! They are classic movie parents who misunderstand their curious and bright children, and their comedy and chemistry is unmatchable.
4. The Penguins
Is this animated scene the cutest in cinematic history? It's certainly a contender. There's no way that this adorable and bright penguin-filled fantasy scene with Bert and Mary Poppins can be improved upon.
5. The Soundtrack
How on earth will Disney compose a score to rival the Mary Poppins soundtrack, with some of the best showtunes of all time, including "A Spoonful Of Sugar," "Sister Suffragette," and "The Perfect Nanny?" I don't envy whoever has that task.
6. The Magic
For a film made in 1964, the magic of Mary Poppins floating around on her umbrella still seems wicked awesome. This movie didn't require all the fancy CGI and effects that will surely be involved in the sequel. The vintage magic doesn't need to be improved upon.
7. You Can't Beat Dick Van Dyke As Bert
A renaissance man to rival Leonardo, Dick Van Dyke is the most congenial, charming Cockney pal that Mary Poppins could have. Can you even imagine any young actor that could rival the amount of cheekiness that Van Dyke brought to the role? They would have huge, soot-and-chalk covered shoes to fill, that's for sure.
8. Julie Andrews IS Mary Poppins
The sassiest, most optimistic nanny in film history, Julie Andrews just is Mary Poppins, and she's practically perfect in every way, winning her first Academy Award for Best Actress for Mary. Even though Disney is developing what will be a sequel to the original, there's no earthly way that anyone could hold a candle — or should I say, a carpet-bag — to Andrews' take on the iconic, no-nonsense nanny that whips the Banks children into shape with her lessons about life. I wouldn't want to be the actress who had to follow in Andrews' footsteps. Sure, there are a bevy of strong, talented young women in Hollywood that are forging forward and making their marks, but could any compete with Julie Andrews and her melodious, magical voice that made us all feel a little less scared about growing up? I don't think so, friends.
This is one classic that is practically perfect in every way, and there's no chance the sequel can live up to the original. But hey, that doesn't mean I won't see it — it is Mary Poppins.
Images: Walt Disney Pictures; Giphy (4)