Emily Blunt May Be Headed For Her First Oscar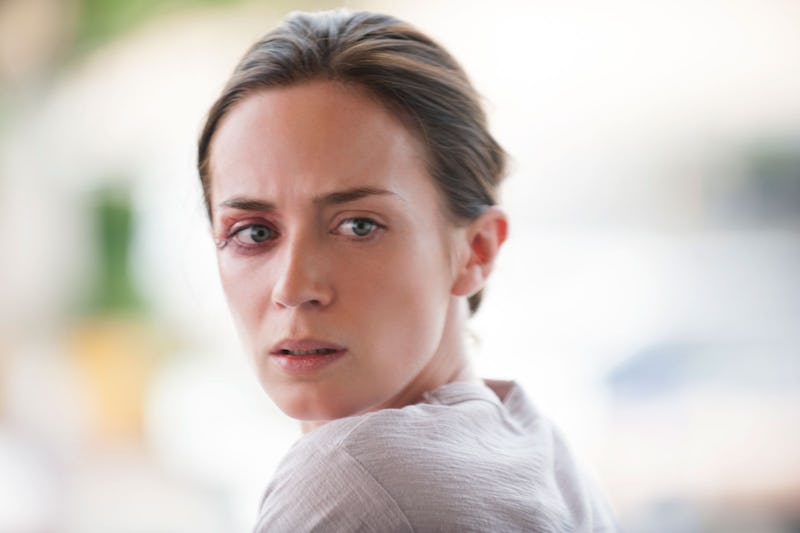 With each successive release this fall, critics and audiences evaluate the film's — and its stars' — Oscar chances. The legendary fall slush of films vying for some last-minute Oscar attention can be noisy and clamorous, but Sicario stands out among the biopics and tender romances and dark comedies. The film, which is directed by Denis Villeneuve (who will be directing the upcoming Blade Runner sequel) and has Roger Deakins as principal cinematographer, stars Emily Blunt in a role that has been described as quite similar to Jessica Chastain's performance in Zero Dark Thirty — in short, a definite awards season contender. But could Emily Blunt win an Oscar for Sicario ?
The top prize is notoriously competitive, thus the abundance of latecomer films clambering over each other for a shot at even a nomination. Still, Sicario has a few things going in its favor, not the least of which is Blunt's performance as Kate Macer, an FBI agent recruited for a suspect anti-drug-cartel taskforce headed up by Benicio Del Toro and Josh Brolin. It's astonishing, especially given how she takes to the Sicario role, that she's never been nominated for an Academy Award, though she has more than a few Golden Globe noms under her belt. (Including for The Devil Wears Prada — she lost that one, which is a snub if I've ever seen one.) Propelled by the team behind her (cinematographer Deakins has no fewer than 10 Oscar nods behind him), it seems likely that Blunt is heading for her first nomination. And if the past few years of winners are any indicator, Blunt could steal the show.
The Best Actress prize was first awarded in 1929, and over its nearly 100-year history it has gone to actors like Katharine Hepburn (Morning Glory), Julie Andrews (Mary Poppins), Diane Keaton (Annie Hall), and Hilary Swank (Boys Don't Cry, Million Dollar Baby). More recently, the award has gone to women who front their own films — Meryl Streep, Julianne Moore, Cate Blanchett — women who are the figureheads of the picture, rather than simply the primary female character. Blunt's character certainly fits the bill in this regard, but to really evaluate her prospects, it's necessary to take a closer look at the most recent winners.
8. Marion Cotillard, La Vie En Rose (2007)
This French biopic about Edith Piaf was released under the title La Môme in Cotillard's native country. She was up against Ellen Page (Juno), Cate Blanchett (Elizabeth: The Golden Age), Julie Christie (Away From Her), and Laura Linney (The Savages). Often the Oscars seem to reward compelling portraits of real people, so Cotillard's win for a biopic was not much of a surprise.
7. Kate Winslet, The Reader (2008)
Roger Deakins was also the cinematographer for The Reader (and was nominated for an Oscar for his work), as was the film nominated for Best Director, Best Picture, and Best Adapted Screenplay (it's based on a German novel of the same title by Bernhard Schlink). Only Winslet won in her category though, where she competed against Anne Hathaway (Rachel Getting Married), Angelina Jolie (Changeling), Melissa Leo (Frozen River), and Meryl Streep (Doubt).
6. Sandra Bullock, The Blind Side (2009)
In a particularly tough year (Bullock competed against Streep, Helen Mirren, Gabourey Sidibe, and Carey Mulligan), Bullock's performance as Leigh Anne Tuohy in The Blind Side managed to grab the top honors. Again the film was based in part on a true story, making it particularly appealing to the judges.
5. Natalie Portman, Black Swan (2010)
The standards for the roles women play in films are elevated year after year, and though Portman particularly shone in Black Swan, she also faced off against Jennifer Lawrence for Winter's Bone, Annette Bening for The Kids Are All Right, Nicole Kidman for Rabbit Hole, and Michelle Williams for Blue Valentine.
4. Meryl Streep, The Iron Lady (2011)
In a rare turn for a biopic, Streep played Margaret Thatcher, Britain's longest-serving prime minister, who was still alive at the time when the film was released. Thatcher unfortunately died just two years later, but often the rights to a biopic are reserved till after the person has died. (See the abundance of posthumous Steve Jobs and J.D. Salinger films for an idea of how this usually works.) With the added pressures of a subject who was still living, Streep deserved the award in a field that included Glenn Close (Albert Nobbs), Viola Davis (The Help), Rooney Mara (The Girl with the Dragon Tattoo), and Michelle Williams (My Week with Marilyn).
3. Jennifer Lawrence, Silver Linings Playbook (2012)
Lawrence had been nominated for Winter's Bone back in 2011, but 2013 was her year — her performance opposite Bradley Cooper in Silver Linings Playbook stole the show. Still, it was something of an upset for films like Jessica Chastain's Zero Dark Thirty, Emmanuelle Riva's Amour, Quvanzhené Wallis's Beasts of the Southern Wild, and Naomi Watts' The Impossible, many of which were centered on female characters as the principal character (whereas Lawrence's starred opposite a male lead with whom she shared much of her screen time).
2. Cate Blanchett, Blue Jasmine (2013)
Some years see a field of seasoned, competitive Oscar nominees, and the 2014 Academy Awards was one such year. Blanchett was up against Streep, Judi Dench (Philomena), Bullock, and Amy Adams (American Hustle), but in the end her performance as the titular character of Woody Allen's latest pulled ahead of the pack.
1. Julianne Moore, Still Alice (2014)
Julianne Moore, last year's Best Actress winner, is one to watch for this awards season, too, and could prove potent competition for Emily Blunt's Sicario appearance. Last year, she played a professor diagnosed with Alzheimer's in Still Alice, a start-to-finish tear-jerker that stood out among a particularly weepy crop of films (like Felicity Jones's performance in The Theory of Everything).
Emily Blunt is by no means a shoe-in for the Best Actress award this year. She's up against a competitive lot for the nomination alone — early estimations are Mulligan for Suffragette, Brie Larson for Room, Alicia Vikander for The Danish Girl, Bullock for Our Brand is Crisis, Charlotte Rampling for 45 Years, and Saiorse Ronan for Brooklyn, as well as Moore in the upcoming Freeheld. Only five women will receive nominations, so Blunt has a long way to go, but if the past years of nominees and prize-winners are any indicator, the fact that she carries Sicario is a strong indicator that she'll be a nominee. Plus, she's backed by Deakins, Villeneuve, and screen veterans Del Toro and Brolin, so the supporting cast will in all likelihood contribute to a strong Oscar showing for Sicario.
Images: Richard Foreman (2); Picturehouse; The Weinstein Company (3); Warner Bros.; Fox Searchlight; Sony Pictures Classics (2)