25 Books By Women For Your Bucket List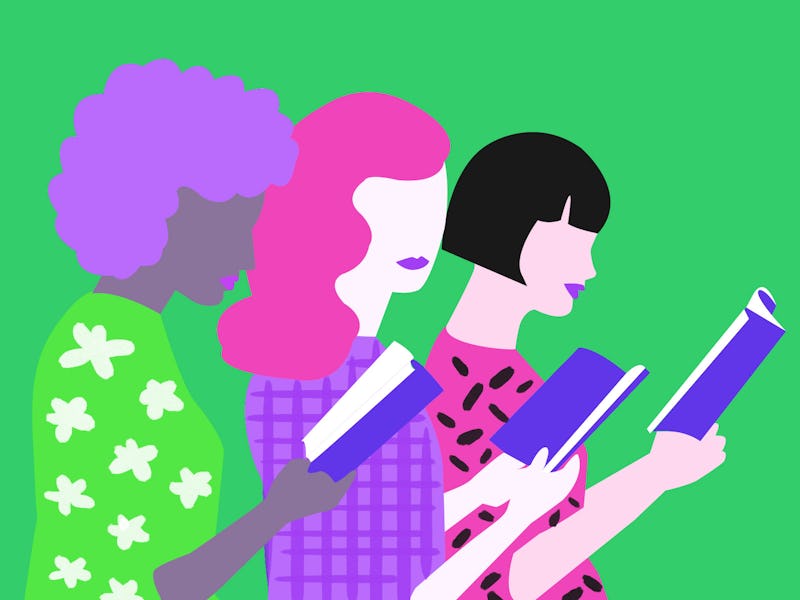 As a woman who has been reading daily since she laid her hands on the her first copy of The Boxcar Children , and who has since made a career out of publishing and writing, I can say that women writers and their books have changed my life. Whether I needed a place to escape to in my crowded childhood home, or a source of motivation for my own projects, books were there — especially those by women.
If I'm having a bad day and need the comfort of a good story, or if I'm going through change and need the guidance of one of my favorite heroines, books by women have always been a source of inspiration for me. There's nothing a good book by a good author can't help with, and I've found that especially true when the author is female. I mean, it's kind of the case that women just... get it, you know?
If you're a woman with a reading addiction but just can't seem to narrow down your list, turn to your fellow ladies for the answers. Of course, there are hundreds of titles worth mentioning, here are just 25 books by female authors that are a great starting point, from the classics to the current, in both children's to adult, that deserve a spot on every woman's bucket list:
Harriet M. Welsch has been inspiring young sleuths everywhere for generations. Her confidence, her IDGAF attitude, and her adventurous spirit is something every little girl can either relate to or be inspired by. Louise Fitzhugh's masterpiece was a groundbreaking work of children's fiction when it was originally published in 1964, but it will always be relevant, no matter when in life you get around to reading it (again).
If you want to know a thing or two about honesty, justice, humility, and morality, look no further than Harper Lee's To Kill a Mockingbird . At it's core, Lee's enduring classic is about the growing up and learning how to make good decisions, and finding the courage to stand up for what you believe in. I couldn't think of a better teacher than Atticus Finch — or Harper Lee for that matter.
A groundbreaking novel that tackles issues of teenage sexuality and desire, Forever is the Judy Blume book that answered every question teenage girls were too afraid to ask their own moms about. Whether you find it as a adolescent or don't get around to it until adulthood, this YA book is one every woman should have on her reading list — because love and sex are wonderful, confusing, and heartbreaking, no matter how old you are.
Would you believe me if I told you I didn't read Jane Austen until my 20s? Once I finally got around to it, though, I was hooked. Jane Austen's Pride and Prejudice is a masterpiece in which Elizabeth Bennet, a fiercely independent Victorian woman, deals with her family, society's expectations, and a very dramatic yet ultimately romantic "will they, won't they" relationship with the dashing yet arrogant Mr. Darcy. So much more than a novel of manners, Pride and Prejudice should be on everyone's, not just every woman's, bucket list.
Jane Eyre by Charlotte Brontë
Jane Eyre, Charlotte Brontë's part bildungsroman, part tortured love story, is another Jane book worth including. Following the emotional and spiritual growth of the titular character, this timeless novel tackles complex issues of morality, sexuality, religion, classicism, and gender relationships, among other things, with mesmerizing and poetic prose in a way that only a Brontë sister could pull off.
Speaking of the Brontë sisters, Charlotte wasn't the only one who could write, of course. Emily Brontë's dark and torturous multi-generational not-quite-love story, Wuthering Heights, has been haunting readers for well over a century. Brontë's only published novel, which came out just a year before her death, features vivid imagery and unforgettable characters that stay with you long after you've closed the book.
One of literature's most terrifying and most memorable monsters comes from the mind of a woman: Mary Shelley. Frankenstein, the twisted and thrilling tale of a doctor's decision to play with life and death, set the bar for the science fiction and horror that followed after it. A novel that was ahead of its time, Shelley's Frankenstein isn't just a book on your high school reading list — it's one for your bucket list, too.
A quintessential college read, Sylvia Plath's The Bell Jar might be a book found in every girl's dorm room, but it isn't without reason. No other novel captures the insecurities, the fears, and the self-doubt of young womanhood like Plath's semi-autobiographical modern classic about mental illness and growing up. Put it on you list, but be prepared to want to check it off more than once.
Alice Walker's acclaimed novel, The Color Purple, tells the story of a poor, abused black woman's fight for security, independence, and self love, but it also tells a story about the undeniable connection and unbreakable bonds between sisters, even when they're separated by time in space. Moving and tender, Walker's beloved work is raw with emotion and bursting with life, and a must-read for every woman.
Men like George Orwell and Aldous Huxley aren't the only ones who can write terrifying and thought-provoking dystopian fiction, just ask anyone who has read Margaret Atwood's novel. A terrifying story of a world where women aren't allowed to read, are owned by rich men, and are only as valuable as so long as they can reproduce, The Handmaid's Tale is a searing satire and a shocking warning worth every woman's time.
It's no secret that not everyone has the picture-perfect childhood, but for Lucille and her sister Ruth, this is especially true. After their mother commits suicide, the sisters live an unconventional lifestyle, first with their traditional grandmother and, later, with their eccentric and unpredictable aunt Sylvie. A multi-generational story about loss and abandonment and how to define a home, Housekeeping is an evocative tour de force.
Beloved by Toni Morrison
Toni Morrison is a profound writer whose novels are all worthy of any bucket list reading list, but Beloved is perhaps her finest work. Gripping and bittersweet, Beloved tells the story of a freed slave who can never be free from the memory of her old life and the ghost of her dead baby. Be prepared, this one will painful, but in a good way, I promise.
If you've ever been young, if you've ever been a dreamer, if you've ever been in love, Just Kids will speak to some part of you. Patti Smith's memoir of youth in a 1960s and 1970s New York is a enchanting lyrical read that is as touching and poignant as her music. It's time to plug in the head phones and crack this one open, ladies.
Susanna Kaysen's razor-sharp memoir about mental illness and recovery is a personal, honest, and intense book that might give you a reading hangover. In Girl, Interrupted, which was made into a film with Angelina Jolie and Winona Ryder, Kaysen chronicles her abrupt institutionalization and the time she spent at a psychiatric hospital at only 18. An affecting true story, Girl, Interrupted will send chills down your spine, but don't worry, they're worth it.
Zadie Smith leaves no stone unturned in White Teeth, a novel that candidly, and often comically, deals with issues of race, gender, assimilation, age, sexuality, immigration, friendship, family, and so much more. Beautifully written, White Teeth is like a tapestry for modern life, filled with joy and disappointment, truth and lies, and love and loss.
Mothers and daughters have complicated relationships. They are full of love, full of secrets, and, sometimes, full of resentment. The Joy Luck Club examines the complex relationships women have with their mothers and daughters in a profound and poetic way. Add this to your bucket list, and add it to your mother's (or daughter's) too.
Whether it's the loss of a parent, partner, child, or friend, grief can be overwhelming. Joan Didion captures all of the sadness, all of the fear, and, finally, all of the hope that comes hand-in-hand with illness and death in her memoir that chronicles the year following her daughter's coma and her husband's sudden death. While you should read everything by Joan Didion, especially if you're a woman, this one will be a favorite.
Julia Alvarez's novel follows the lives of four sisters who have to navigate not only adolescence and womanhood, but who also have to navigate being immigrants in the United States. How the García Girls Lost Their Accents is a sincere exploration of identity, assimilation, and culture that merits a reading from women everywhere.
"The Lottery" is, perhaps, one of the most famous and most shocking short stories ever published. Residents of a small town gather for their yearly lottery, one that ends in a resident being stoned to death. Accompanied by 24 other stories, all masterfully told and equally unique, this is the ultimate Shirley Jackson reader that every woman should add to their bookshelf or nightstand for frequent readings.
Pulitzer Prize-winning author Donna Tartt doesn't hold back in The Goldfinch, an extraordinary literary feat. When Theo's mother dies right before his eyes in a terrorist attack at an art museum, he impulsively steals her favorite piece of artwork, not knowing the resounding effects it will have on the rest of his life. Powerful and captivating, The Goldfinch earns a top spot on the bucket list.
Americanah by Chimamanda Ngozi Adichie
Chimamanda Ngozi Adichie's powerful novel about race, class, and identity was named one of NYT's "Ten Best Books of the Year," was a NPR "Great Reads" book, and Goodreads Best of the Year pick, among other 2014 honors. Spanning years and reaching around the globe, this love story is so much more. It's a cultural examination, a question of identity, and a honest look at loneliness. It's bold, poignant, and emotional, and a novel that every woman, no matter what her race is, must read.
Intersecting stories make up this rich novel of youth, love, loss, and rock and roll. Jennifer Egan gives each of her characters, from the disgruntled producer Bennie Salazar to the kleptomaniac Sasha, such unique and distinct voices and genuine personalities that are sure to delight and surprise you in the best ways.
Room by Emma Donoghue
Told though the eyes of a five year old boy, Jack, who has never seen the outside of the room he shares with his mother, Room is a disturbing yet remarkable novel. The film adaptation, staring Brie Larson and William H. Macy, will be released next month, but make sure to read this bucket-list worthy book first.
Who would have thought the end of the world could be so breathtaking. Well, it is if written in the stunning prose of Emily St. John Mandel. A truly breakout novel, Station Eleven is somber yet beautiful, tragic yet magical. Put it on your bucket list, but be sure to check it off ASAP.
At a recent baby shower, the mother-to-be asked for books in lieu of cards, and I seriously considered giving Bad Feminist to her unborn child. Too soon? Roxane Gay's collection of essays, which deals with everything from pop culture to reproduction rights, is a book you have to read, no matter what your relationship is with the label "feminist."
Image: Mary Blount/Bustle