Get A Side Of Franzen With Your Chipotle Burrito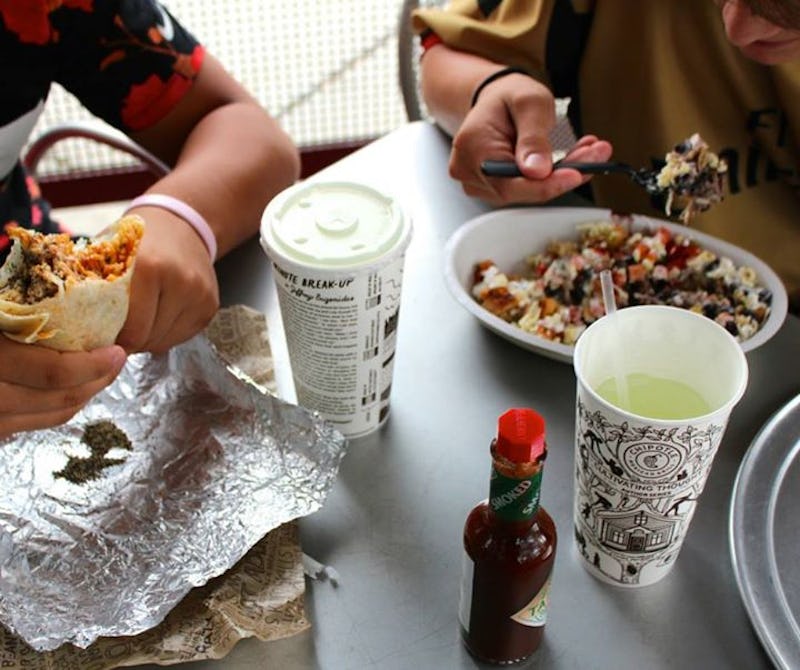 If you've been to Chipotle recently (which, who am I kidding, of course you have), you've probably noticed the writing scrawled all over the burrito restaurant's bags and cups. In case you've already exhausted the current offerings, Chipotle is adding new authors to its Cultivating Thought series, which pairs a well-known writer with a talented illustrator to turn boring soda cups into miniature, mass-produced artworks. As of next Monday, there will be 11 more two-minute reads to entertain you as you stuff your face with beans and rice, including a rant about traffic signs from Jonathan Franzen and a chilling tale of a haunted DVR from Colson Whitehead.
The Cultivating Thought series is the brainchild of another famous literary Jonathan, Jonathan Safran Foer. On meeting Chipotle CEO Steve Ells, Foer proposed that the blank bags and cups be filled with bits of prose that could "create a moment of analog pause in a digital world, provoking introspection or inspiration, and maybe a little laughter." Thus a tradition was born.
The pieces themselves, though mostly slight, are reliably entertaining: in addition to Franzen's curmudgeonly, but correct, complaint about the order of instructions painted on the pavement, Mary Roach offers some sage advice on pick-up lines, Lois Lowry recounts a surprisingly poignant meeting with a dog, and Tom Perrotta lists the many bits of wisdom and acts of kindness that he's thankful for. There are also pieces by Stephen J. Dubner, Laura Esquivel, Laura Hillenbrand, Anthony Doerr, M.T. Anderson, and Sue Monk Kidd.
You can read them all right now or hold out for the next time you're craving a burrito. We both know it probably isn't that far off.
Image: Chipotle Mexican Grill/Facebook