17 Fall Comfort Foods You Have To Make This Season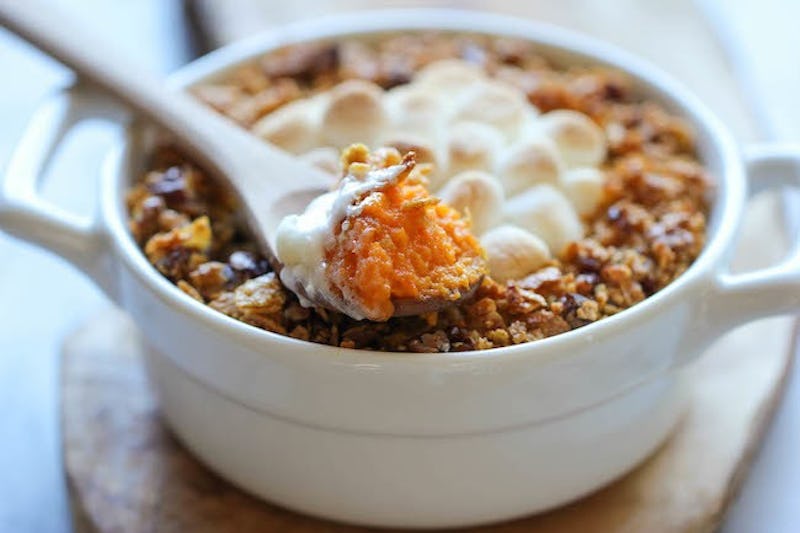 With football season in full force, crisp leaves starting to litter the ground, and holiday favorites like Halloween and Thanksgiving just around the corner, this time of year can only mean one thing. It is time to put on your kitchen apron and loosen your belt a few notches, because fall flavors have officially returned, and you can once again indulge in all of the amazing fall comfort foods that make this season so great. It's impossible to resist the appetizing treats that come along with the autumn's harvest, festive occasions, and cooler weather, so make the most of this delicious time of year with a few creative and classic recipes.
When I think of classic fall comfort foods, a handful of characteristics come to mind: tenderized meats, succulent pot roasts, cozy stews, herb seasonings, and sugary snacks with a spicy kick. It is all about combining sweet and savory tastes together to create mouthwatering noms that will warm your heart, feed your soul, and blow your mind. Here are 17 feast-worthy recipes bound to satisfy your desire for fall comfort foods. From pumpkin to butternut squash, hearty soups to pot pies and everything in between, these dishes need to be included on your menu this season — no excuses.
1. Butternut Squash Soup
Perhaps one of the most celebrated fall flavos, butternut squash is all you could ever ask for in a rich, creamy soup. Blogging Over Thyme serves up a bowl with leek, crispy prosciutto, and creme fraiche for added flair.
2. Sweet Potato Casserole
Make a large portion of this hearty casserole by Damn Delicious, because with candy pecans and oozing marshmallows, it's sure to go fast.
3. Chicken Pot Pie
This decadent dish may seem complex, but Closet Cooking shares a recipe that is simply too delicious to pass up.
4. Tomato Soup
Not only will Deliciously Yum's tomato soup with grilled cheese croutons bring you back to your childhood, but it's perfect for a chilly fall day... or any day, really.
5. Cornbread
This sweet, flaky cornbread with fluffy honey butter from Mel's Kitchen will have you begging for seconds and thirds.
6. Bacon Mac And Cheese
Bacon is a comfort food year-round. Macaroni and cheese is a comfort food year-round. But there's just something about combining the two that makes for a flawless fall snack. At your next game day party, serve this mac and cheese with gruyere by Savory Sweet Life to really impress your guests.
7. Southern-Style Pulled Pork
If you thought a recipe with pork tenderloin, root beer soda, and barbecue sauce was too good to be true, then this three-ingredient slow cooker pulled pork recipe by The Comfort of Cooking will teach you otherwise.
8. Pumpkin Pancakes
Nothing starts a day off right like a towering stack of pumpkin pancakes. This easy recipe by My Baking Addiction is all you need for a tasty morning pick-me-up.
9. Apple Cinnamon Scones
Sure, apple pies and baked apples can hit the spot for your fruity fall craving, but Averie Cooks knows how to make your sweet tooth really ache for this spiced and glazed dessert.
10. Spaghetti Squash Au Gratin
If you don't take advantage of the abundance of squash during fall harvest, you're not doing it right. If you need some help, The Healthy Foodie shows you how to put an irresistibly cheesy twist on spaghetti squash.
11. Chili Con Carne
Nothing warms you up when the temperatures start dropping like a hot, steaming bowl of chili. The Brown Eyed Baker shows you a way to make this simple dish pack a lot of flavor.
12. Roast Chicken
After you try Simply Delicious' method to making a crisp, creamy roast chicken dish, complete with roasted garlic and cauliflower puree, you'll be licking your fingers, cleaning the bones, and craving more.
13. Snickerdoodles
Just about any cookie would be thoroughly satisfying in the fall months, but this sea salt caramel-stuffed snickerdoodle by The Comfort of Cooking truly can't be beat.
14. Pork Chops
Smothered in onions and a juicy apricot brandy sauce, this tangy version of pork chops by Steamy Kitchen is the hearty dinner your stomach craves.
15. Sticky Cinnamon Buns
Ooey, gooey, chewy: You know you want these fluffy, pecan-dusted maple sticky buns by Simply Delicious right now.
16. Pigs In A Blanket
Big Girls Small Kitchen's old-school-style pigs in a blanket is a quick snack that makes the best game day crowd pleaser, or an easy appetizer for any gathering.
17. Apple Pie
Rhubarb, blueberry, pecan, potato — you really can't go wrong with pie. But Brown Eyed Baker certainly got it right with this crumbly, Dutch apple pie. Topped with some vanilla ice cream, this cobbler will make you want to skip right to dessert.
For more fall ideas, check out Bustle on YouTube.
Images: Elle C./Flickr; Blogging Over Thyme; Damn Delicious; Closet Cooking; Deliciously Yum!; Mel's Kitchen; Savory Sweet Life; The Comfort of Cooking; My Baking Addiction; Averie Cooks; The Healthy Foodie; Brown Eyed Baker; Simple Delicious; Steamy Kitchen; Big Girls Small Kitchen