15 Easy Halloween Makeup Ideas That'll Inspire You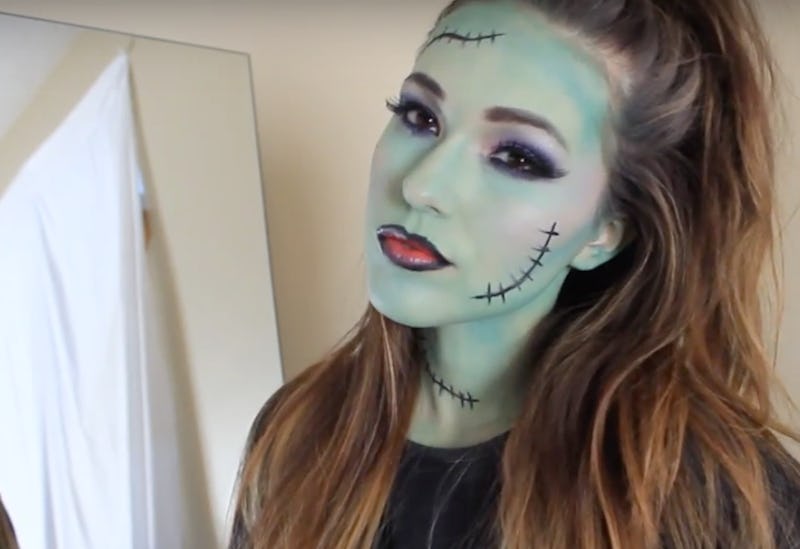 Are you ready for Halloween? If you're anything like me, you've had a couple ideas in mind since Fourth of July. No matter who you dress like, you're going to need killer (maybe, literally) makeup to complete the look. Here are 15 easy Halloween makeup ideas, so you can step out and scare (or charm) in style.
From the cute to downright creepy, Halloween makeup is seriously my favorite part of the season. You don't have to have an elaborate costume because if your makeup is on point, you'll be able to say all that you want or need to say. Plus, makeup allows you to customize your costume, so you don't look like every other girl at the party with the same Pinterest-inspired outfit.
You don't need expensive costume makeup to create these looks. In fact, you can grab most ingredients in the makeup counter of your local drugstore. The key is creativity: You can create Grumpy Cat's white face with a foundation in many shades lighter than your natural skin tone, or you create freckles and scars with eyeliner and lip pencils. Anything goes! Throw those conventional rules of makeup out the window.
Here are 15 of my favorite, easy Halloween makeup tutorials from YouTube.
1. Easy Half Skull Tutorial
A full-on skull can be a bit much for some, so opt for this simple half skull. It's just as scary, if not more, than the whole thing.
2. Cute & Easy Deer Makeup Tutorial
Last year was year of the deer, and it's easy to see why — it's such a pretty look.
3. Giraffe Tutorial
Another adorable, lovable jungle animal that is easily a quick costume.
4. Kitty Cat Tutorial
This one is easiest to do if you have to come up with a costume in a hurry.
5. Easy, Creepy Doll
Going for a scare? This will earn you a few shrieks.
6. Easy Comic Book/Pop Art
I think this is such an original costume idea, and easily doable with makeup.
7. Easy Ancient Mummy
Want something spooky, but not scary? How about a mummy?
8. Easy Skull/Brain Makeup
This one is really frightening, so it's perfect for a haunted house outing or scary party.
9. An Irresistible Diaries
Fans, rejoice! Here's a tutorial to look like an irresistible vampire.
10. DIY Wonder Woman
Feminism at it's finest. Rock your girl power with this makeup tutorial.
11. Simple Leopard
Meow.
12. Easy Glam Frankenstein
A classically scary character gets an adorable remake in this tutorial.
13. Easy Clown
Cute or creepy? You decide.
14. Quick, Easy Mermaid
If you jumped on the pastel hair bandwagon this year, a mermaid is a perfect costume choice.
15. Easy Minnie Mouse
Disney is forever adorable, no matter how old you are. While all the other girls are going as Princesses, you can be Mrs. Disney herself.
Images via Nikia/YouTube