'The Visit' & 'Hansel And Gretl' Are A Lot Alike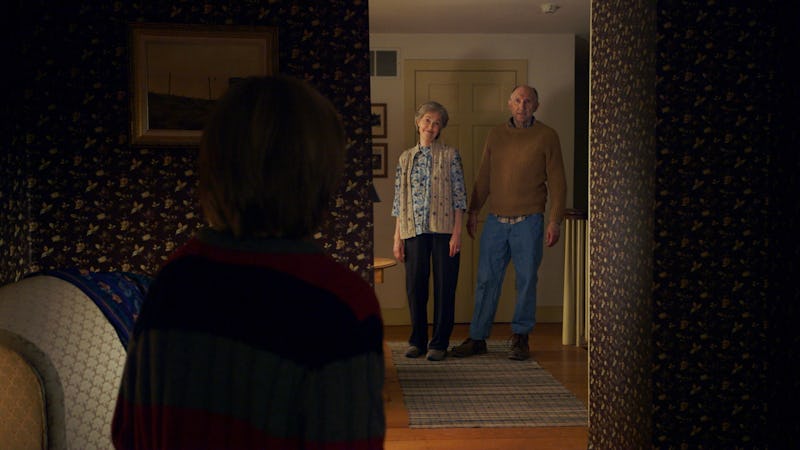 M. Night Shyamalan's The Visit is delivering some bonafide scares in theaters nationwide and the masses have spoken: this is officially the director's comeback. Audiences have been flocking to see the film about aspiring documentarian Becca (Olivia DeJonge) and her rapping, germaphobe little brother Tyler's (Ed Oxenbould) visit to their estranged grandparents, Nana (Deanna Dunagan) and Pop Pop (Peter McRobbie). All is jolly while they get to know each other over cookies, biscuits, and other home-cooked goodies — until night falls. That's when things get weird. The Visit has everything you want in a thriller: scenes that make you jump, creepy old people, tension, eerie darkness and, of course, a good ol' fashioned Shyamalan twist ending. The movie has also been drawing many comparisons to a classic fairytale, and everyone has been wanting to know if The Visit is based on Hansel and Gretel by the Brothers Grimm. The short answer: Not really, but it is a lot like it.
When the trailer for The Visit first came out, people were already claiming that the found footage thriller was going to revitalize Shyamalan's movie career, but they were also saying that the story was very similar to Hansel and Gretel — especially the scene where the Nana forces Becca to go into the oven. As many have noted, it's similar to the time when the witch tries to shove Gretel in an oven in the classic fairytale.
Yet Shyamalan's film is meant to be an original story, not simply a new version of the fairytale. Personally, I can't deny that The Visit could be considered a modern retelling of Hansel and Gretel, because there are many things that can be interpreted as similarities between the two (no trail of breadcrumbs, though). However, if you're looking for flat-out cinematic interpretations of fairytales (some horror, some not), you should check these out.
Rumpelstilstkin (1995)
The mythical baby-eating creature comes to life In this B-movie delight where saying his name three times won't make him disappear — because like he says, "this ain't no fairytale."
Red Riding Hood (2011)
Directed by Twilight's Catherine Hardwicke, it isn't the best interpretation of the little girl being harassed by a big bad wolf in the woods, but at times, Red wears a fabulous large red hooded cape that sure is pretty to look at.
Hard Candy (2005)
Ellen Page and Patrick Wilson star in this very different take on the story of Red Riding Hood. Page dons a red hoodie and plays a girl who suspects Wilson's character is a pedophile. She raids his house and some messed up things start to happen. It's more of a "Red Riding Hood's Revenge" scenario.
Black Swan (2010)
Darren Aronofsky's trippy take on the ballet Swan Lake won Natalie Portman an Oscar and made us all scared of obsessive ballerinas. The movie has some similarities to Hans Christen Anderson's fairytale, The Red Shoes, about two up-and-coming ballerinas who are placed into the spotlight.
Jack Frost (1997)
Another B-movie treat that you don't want nipping at your nose.
Sleeping Beauty (2011)
Julia Leigh's take on the Brothers Grimm fairytale is unsettling and definitely not something you would see on the Disney Channel.
Hansel And Gretel: Witch Hunters (2013)
The famous fairytale brother and sister duo like you've never seen them before: badass witch killers.
These movies prove that fairytales definitely aren't only for children.
Image: Universal Pictures