10 Easy Cat Makeup YouTube Tutorials For Halloween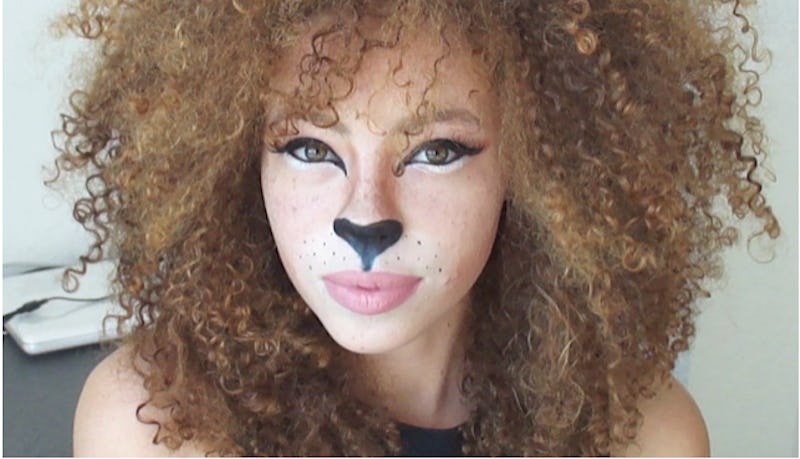 If you're a cat lady (or just short on time) then a cat costume is perfect for you this Halloween. Really, cats have never been more popular — they're all over the Internet, after all. If you want to slay in an easy, adorable kitty costume this year, here are 10 easy cat makeup YouTube tutorials.
We've all been there: You look up an adorable, lovable animal costume on Pinterest and try to recreate it an hour before you have to be somewhere with a black eyeliner pencil and some blush. Naturally, it turns out to be a disaster. Halloween costume makeup doesn't have to be hard, though — it just takes a little preparation and practice. You don't need expensive costume makeup and a ton of time to create these looks. Most can be done with items in your drugstore makeup aisle, a little creativity, and a practice round before you're big Halloween debut.
If you want to create a feline-inspired costume this Halloween, here are 10 crazy cool cat makeup tutorials. From a cute black kitten to a mischievous Cheshire, a fierce lioness, or even an internet famous feline, you can customize this iconic costume to be scary, funny, or sweet.
1. Easy Cat Makeup Tutorial
A sweet take on the classic costume. You can't go wrong!
2. DIY Cat Ears Tutorial
If you need a costume last minute, this is for you. She even teaches you how to create cat ears, so all you need is an all black outfit and you're set.
3. Easy Kitty Tutorial
A darker, vampy take on kitten makeup. Me-ow!
4. Easy Lioness Tutorial
Fierce! This is a golden look that plays up bronze shadows and shimmers. Fun!
5. Wild Cat Tutorial
This look blends realistic makeup with cartoon-esque flair.
6. Cheshire Cat Tutorial
If you're really trying to look spooky, this tutorial will do the trick.
7. Grumpy Cat Tutorial
This is just too funny and guaranteed to win you serious points at your party.
8. Dramatic Cat Eye Tutorial
Maybe you want something a little more subtle and not so in-your-face cat. This dramatic cat eye will translate your costume perfectly, without being too over the top.
9. Easy Kitty Leopard Tutorial
This gorgeous, intricate costume makeup tutorial is sure to impress without taking too much of your time.
10. Cleocatra Tutorial
Egyptians worshipped cats, so this one is a definite must to consider.
Images via Summer Kellsey/YouTube