How To Celebrate National Guacamole Day Right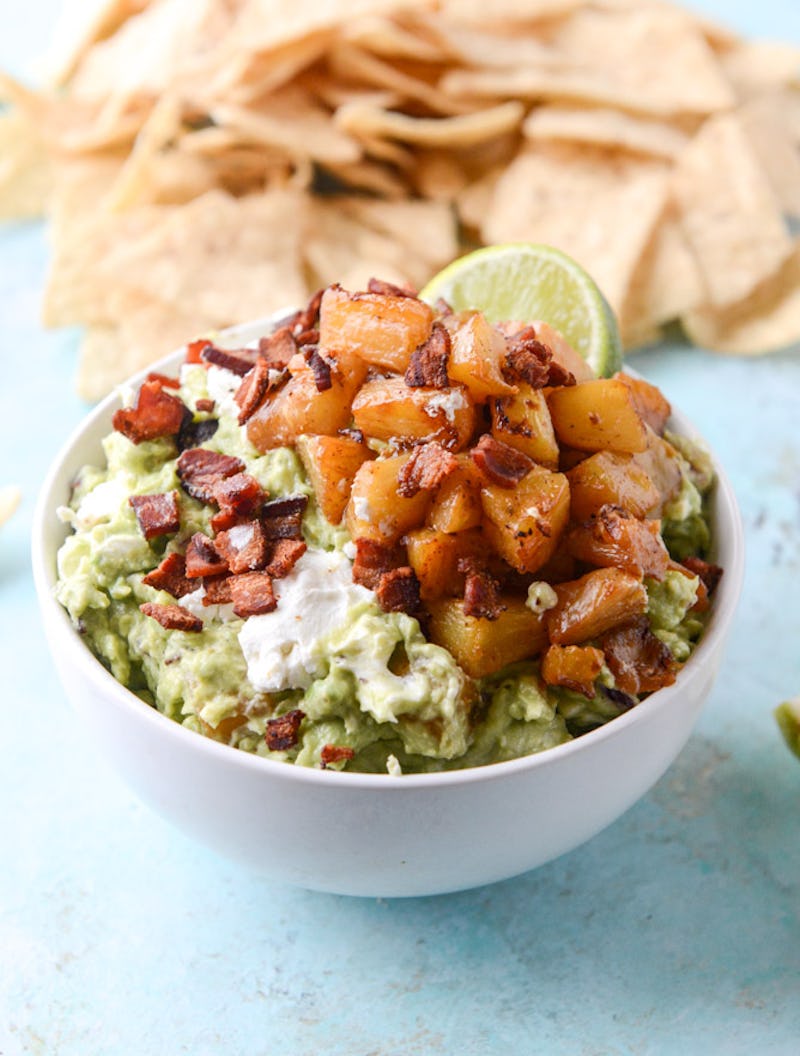 Grab some chips and get ready to party — it's National Guacamole Day! Can you even think of a more exciting food to celebrate than guacamole? If you are looking at me with crazy eyes, thinking there are tons of foods that would be better, we need to change how you think. You obviously haven't been introduced to the best and craziest guacamole recipes out there.
It's confession time… I might have an irrational obsession with guacamole. If I could survive off guacamole and chips for the rest of my life, I would do it in a heartbeat. I guarantee I would be happy every single second of my avocado-stuffed life. There's just something about indulging in creamy guacamole that makes me melt into my seat. Obviously this means today is my favorite foodie holiday. Ever.
The best thing about guacamole is that it is essentially a blank canvas for any ingredient. Of course, classic guacamole will always be a classic for a reason. However, you can stuff practically anything into guacamole and it'll taste darn delicious. Since today is such a special day, I've gathered up the best, craziest, holy WOW guacamoles out there. It's time to celebrate the best foodie holiday in some serious style. Viva la guacamole!
1. Mango & Jalapeño Guacamole
This fruity and spicy upgrade to guacamole from Joy the Baker has my mouth watering already. Plus, she's giving me an excuse to add tequila to my guacamole. Yes please!
2. Fully Loaded Guacamole
Fully loaded means fully loaded when it comes to this recipe from Blogging Over Thyme. There's peppers, squash, cheese, sundried tomatoes, and, most importantly, bacon. I'll be in my PJs eating this by the gallon if anyone needs me.
3. Pomegranate Guacamole
Don't you just love how pomegranate seeds burst in your mouth when you bite into them? Now imagine that amazing feeling surrounded by a hefty scoop of guacamole. Cookie + Kate nailed it with this pomegranate guacamole — it's a party in your mouth!
4. Grilled Corn And Poblano Guacamole
When you really want to infuse guacamole with flavor, it's time to take it to the grill. This grilled corn and poblano version from Blogging Over Thyme has all the charred goodness you love from the grill to make the best guacamole for your next tailgating party.
5. Guac-kale-mole
Don't get mad at me for sneaking a little healthy version of your favorite snack into the line-up. Making Thyme for Health actually makes guacamole that is still just as creamy, but with a little veggie-love snuck in. Talk about a great way to trick your loved ones into eating something healthy, am I right?
6. Pina Colada Guacamole
If you like pina coladas... I am seriously swooning over this guacamole from Closet Cooking. I mean there's coconut cream in it, for gosh sake. I just want to run away with it, and dance in the rain. Don't judge.
7. Roasted Tomato & Feta Guacamole
Ah yes, the answer to all our problems is cheese. Joy the Baker totally gets this, and in the most magical way. There's no such thing as adding too much feta to guacamole, by the way.
8. Mango Goji Guacamole
Goji berries make this guacamole from Love & Lemons taste bright and light, perfect for these last few days of warm sunshine. Think of it like a fruit salad with creamy guacamole dressing. Tell me, how does that not sound like the best thing ever?
9. Roasted Garlic And Jalapeño Guacamole
I've been getting really into pickled jalapeños lately, so when I saw this version from Foodie Crush, I practically cried. Roasted garlic just puts the whole thing over the top for me. This is why there's a national guacamole day.
10. Sriracha Guacamole
You know and love that red rooster sauce, don't ya? The correct response here would be an enthusiastic YES. This Sriracha-doused guacamole from Damn Delicious is perfectly sweet and spicy — you'll be licking the bowl so you don't waste a drop.
11. Caramelized Pineapple, Bacon, And Goat Cheese Guacamole
I might have saved the best for last. This trashed up guacamole from How Sweet It Is has all of my favorites, including sweet, savory, spicy, and then there's all that cheese. I seriously don't know why you aren't two steps out the door already to buy more avocados…
Pass the chips and margaritas! It's time to dig in and get this avocado train started.
Looking for more amazing ways to eat guacamole? Check out our recipe for deep-fried guac, and be sure to visit Bustle on YouTube.
Images: Joy the Baker; Damn Delicious; Cookie + Kate; Blogging Over Thyme; Making Thyme for Health; Closet Cooking; Joy the Baker; Love & Lemons; Foodie Crush; Blogging Over Thyme; How Sweet It Is