NPH Got Some 'Best Time Ever' Advice From The Best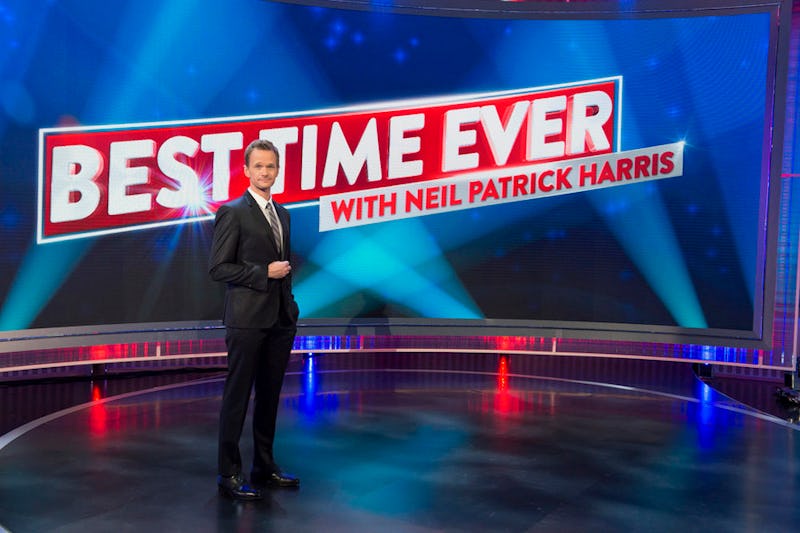 Neil Patrick Harris sang, danced, climbed a tower, bounced on pogo sticks, and generally had a blast during the Tuesday night premiere of Best Time Ever on NBC. The variety show featured lots of special guest stars, like Reese Witherspoon as the announcer, legendary singer Gloria Gaynor, and popstar Nicole Scherzinger. At the end of Best Time Ever , British comedians Ant and Dec made a cameo appearance to close out the first episode. Why does this matter? Well, NPH's variety show actually has British roots — it's based on Ant and Dec's Saturday Night Takeaway , a variety show with pranks and fun stuff that ran for 12 years in the UK.
Ant and Dec are the comedy duo Anthony McPartlin and Declan Donnelly, who are famous for being hosts with the most, just like NPH. They've hosted the British versions of I'm A Celebrity, Get Me Out Of Here!, Britain's Got Talent, Pop Idol, and more. You may have seen their faces pop up during Best Time Ever's grand finale: "The End of The Show" show, in which NPH juggled bottles with some bartenders, bounced on pogo sticks, and just had a big dance party. How awesome for Harris to pay homage to these guys already? Very cool. And it looked like they were thrilled to be there.
The cameos topped off a fun and hectic night, where NPH accomplished a lot. He good-naturedly stalked newlywed couple from Tuscaloosa, Ala., as a prank, Gloria Gaynor took the stage to sing "I Will Survive" for an impromptu "secret camera" at-home karaoke segment, and, because American Ninja Warrior will always be on NBC somehow, he won against Witherspoon in race to the top of an ANW-looking contraption hanging over New York City, complete with punny commentary by ANW's Matt Iseman. In a segment called "Undercover," NPH donned a wig, beard,and glasses and posed as the host of The Voice Austria, pranking The Voice judges Gwen Stefani, Pharrell Williams, Adam Levine, and Blake Shelton.
What's left for NPH to do next week? I guess we'll have to tune in and find out.
Image: Virginia Sherwood/NBC