Ariana Grande Channels Her Inner Britney Spears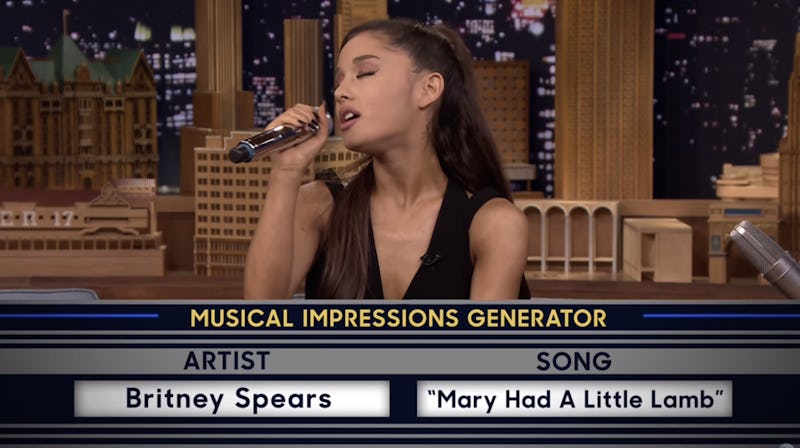 There are just some moments that leave you gaping open-mouthed at your television and trying to figure out what you just watched — in the good way. Such was the case when Ariana Grande imitated Christina Aguilera on The Tonight Show Starring Jimmy Fallon, as part of the sketch game "Musical Impressions." The point was to sing a random song in the style of a random artist, and Grande's wheel landed on Britney Spears, Christina Aguilera, and Celina Dion before the game was through. Sure, Bustle has pointed out that, on occasion, Grande and Aguilera look exactly alike in certain photographs and shots, but seeing it and hearing it are two completely different things. As it turns out, Grande can nail a Christina Aguilera impression so well that it can give an audience — and Jimmy Fallon — chills.
The best part of the game was that you had to adapt a singer's voice to fit a completely different song than they've ever song before. Even I like to think that I can get my One Direction on if you ask me to sing "Drag Me Down," considering how many times I've heard that hit. Grande had no such luxury, and yet she managed to whip out three amazing impressions of three amazing pop stars that truly showed off her vocal range like you wouldn't believe. But if her Christina Aguilera impression was the best, where did the other two fall on the scale? Let's take a look.
Britney Spears — C+
As hilarious as it was to see Grande sing "Mary Had A Little Lamb" in her best Spears voice, the fact of the matter is that she didn't actually sing the song. This was mostly a warm-up full of Spears-inspired musical panting and humming, with a couple of lyrics thrown in for flavor. She gets a plus attached to this grade, however, for the sheer fact that her vocal warm-up did sound eerily like Spears. Like, it's uncanny.
Christina Aguilera — A+
This is one of those moments when I wish that life came with a Like button, because Grande knocked this one out of the park. Not only did she nail the song, but she also nailed Aguilera's voice. She hit those high notes so amazingly that this sounded more like a performance you could expect to be nominated for a Grammy than it did a game of "Musical Impressions." Christina Aguilera should have come out and shaken Grande's hand, this impression was that good. I still have chills.
Celine Dion — B+
Grande's impression of Celine Dion was neither the best nor the worst of the ones that she did for the game. She didn't sound as much as like Celine Dion as she did Spears and Aguilera, but she sang that song with aplomb and even turned it into a duet with Fallon. The rest were impressions, for sure, but Dion's "Can't Feel My Face" section was a straight-up performance. It's no wonder it's the one she ended the game on.
To see all of the magic happen for yourself, check out the video below.
Image: TheTonightShowStarringJimmyFallon/YouTube