Here's Some Of The Year's Best Nonfiction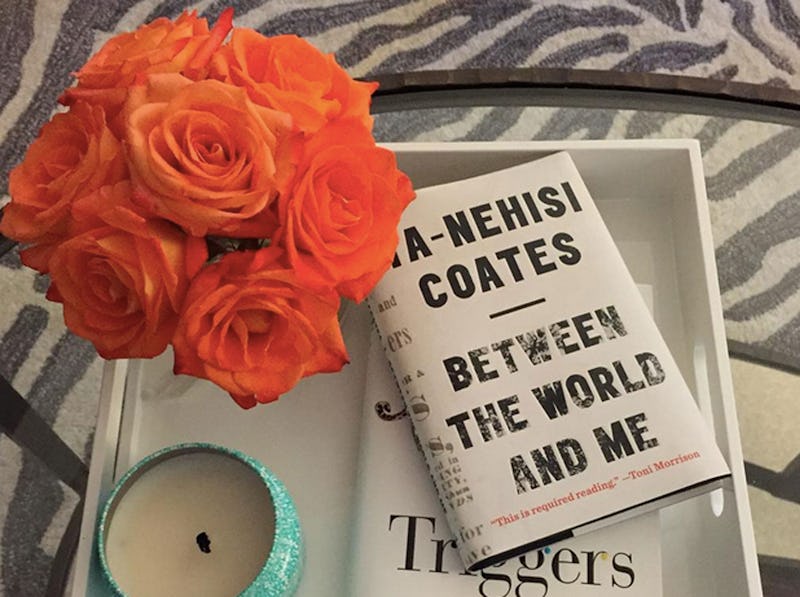 Get ready to bump ten books straight to the top of your TBR list; the National Book Award nonfiction nominees have been announced and they all look incredible. Every year, the National Book Awards celebrate the best of American literature, and, according to its website, aim to "enhance the cultural value of great writing in America." This fantastic mission statement means that this longlist is full of diverse worldviews and some seriously fascinating cultural observations — and I want to read every one of them.
Reading nonfiction is a great way for us to hear some of the perspectives that sometimes get sidelined. In this list, there are books to tell us about life as a person of color in America, as a Muslim sheikh, as an indigenous Hawaiian. Some are written from experience; some from research and conversations. Either way, every book on this list reminds us to pause and think about the world from someone else's point of view.
The NBA nominated books this year all offer wildly original ways to look at human culture, whether it's through the natural history of rain, or through an exploration of the consciousness of an octopus. And each one of these unique books can teach us something brand new.
Cynthia Barnett, Rain (Crown Publishing Group/Penguin Random House)
Ta-Nehisi Coates, Between the World and Me (Spiegel & Grau/Penguin Random House)
Martha Hodes, Mourning Lincoln (Yale University Press)
Sally Mann, Hold Still (Little, Brown/Hachette Book Group)
Sy Montgomery, The Soul of an Octopus (Atria/Simon & Schuster)
Susanna Moore, Paradise of the Pacific (Farrar, Straus and Giroux)
Michael Paterniti, Love and Other Ways of Dying: Essays (The Dial Press/Penguin Random House)
Carla Power, If the Oceans Were Ink: An Unlikely Friendship and a Journey to the Heart of the Quran (Henry Holt and Company)
Tracy K. Smith, Ordinary Light (Alfred A. Knopf)
Michael White, Travels in Vermeer: A Memoir (Persea Books)
Let's take a quick look at what makes each of these books so special.
Rain by Cynthia Barnett
In Rain, Barnett takes us back four billion years to the torrents that filled the oceans, and then leads us on an epic journey through natural and human history, exploring the different ways we have interacted with rain.
Between the World and Me by Ta-Nehisi Coates
Written as a letter from the author to his teenage son, this book takes a gritty approach to black life in America, forcing us to face the realities of violence against Americans of color.
Mourning Lincoln by Martha Hodes
The distress of the general public after Lincoln's assassination has been well documented, but in Mourning Lincoln Hodes delves in unprecedented detail into the reactions of a diverse group of Americans.
Hold Still by Sally Mann
Proving that a picture can say a thousand words, Sally Mann's memoir is laced with photographs on every page, powerfully entwining her life and her art.
The Soul of an Octopus by Sy Montgomery
Montgomery, who once shared a very real friendship with an octopus named Athena, explores he surprising connections an octopus can make with humans — and what this means about consciousness.
Paradise of the Pacific by Susanna Moore
In Paradise of the Pacific, Susanna Moore explores the very real humans behind Hawaiian history, bringing both the indigenous Hawaiians and the cold missionaries equally to life.
Love and Other Ways of Dying by Michael Paterniti
This collection of 17 essays, written over two decades, offers a complex insight into the minds of people from all walks of life: a giant in Ukraine; a person on the verge of committing suicide; himself, grieving after the death of a friend.
If the Oceans Were Ink by Carla Power
This much needed book dismantles the stereotypes surrounding Islam, as Carla Power reads the Quran with a sensitive and open mind.
Ordinary Light by Tracy K. Smith
This coming-of-age memoir shows how race, faith, and cultural history all combine to form the experience of black life in America.
Travels in Vermeer by Michael White
In the midst of a divorce and bitter custody battle, Michael White travels to six world cities to look at the paintings of Vermeer, an artist whose work speaks of romance and the inner life.
The list will be narrowed down further in October, and the final prizes will be awarded at the November 18th National Book Awards. But whichever writer receives the final award, all ten of them deserve a lot of praise. Through any one of these books, we can learn about race, faith, consciousness, prejudice, and how to break down the barriers between cultures and truly understand each other as humans.
Image: dariaburke/Instagram