'Doctor Who' May Need A New Assistant Soon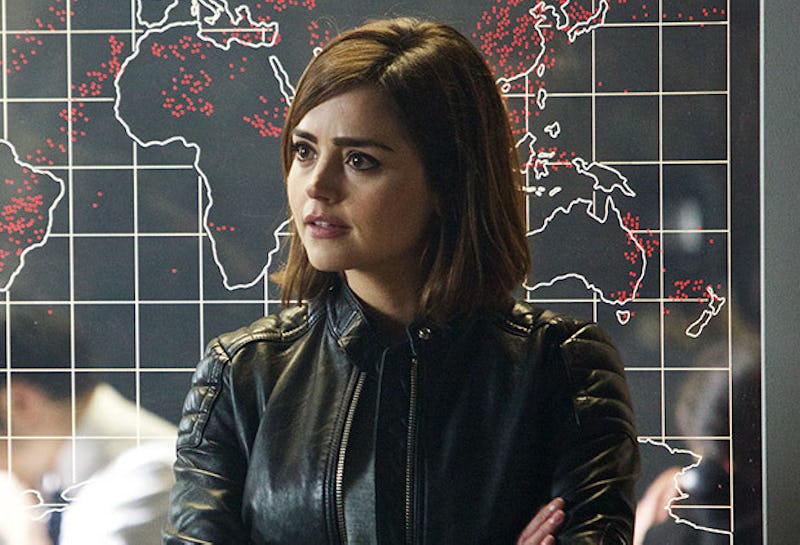 When it comes to TV shows with cult followings, Doctor Who has to be close to the top of the list. Whether you're a fan whose dedication goes all the way back to the 1960s or you only joined in at the beginning of the reboot back in 2005, those who love Doctor Who love it passionately and hold equally passionate opinions about every facet of the show. We all have our favorite Doctor, our favorite assistant, and our favorite seasons, but each is important in their own way to the franchise as a whole, as well as the mythology dreamed up over half a century ago about a Time Lord who explores time and space in a phone box shaped UFO called the TARDIS. Because of this, it's always difficult to say goodbye to the familiar despite how used to it we've become, and rumors that Jenna Coleman is leaving Doctor Who later this year are really tough to handle.
Coleman has played Clara Oswald for nearly three years now and has worked with both Matt Smith and Peter Capaldi's incarnations of the Doctor. However, reports have suggested that she'll make her last appearance on before the Christmas special, which isn't much time at all. Ugh, I don't think I can cope!
The question is, why on earth (or anywhere in time and space, for that matter), would a companion choose to leave the TARDIS willingly? According to The Mirror, Coleman has been cast in a drama about Queen Victoria that would likely take up the majority of her time and leave none for Doctor Who's demanding production schedule. Whether or not this is true, the Doctor's companions do tend to last only two or three years at most, so we shouldn't be too shocked that Coleman has been planning her exit, no matter how much we might wish she would stay.
While I might not be ready to accept Clara's departure, I do have a few ideas when it comes to dreamcasting the next companion. All of these are likely impossible, but so's time travel, so leave me alone and let's do this thing.
Emily Blunt
Emily Blunt is one of my favorite actresses, and she's capable of doing both comedy and drama, which could seriously come in handy. Obviously she's a major film star now and she lives in America, so the likelihood of her joining the Who universe is slim to none, but a girl can dream!
Carey Mulligan
This wouldn't actually be that much of a stretch, except for the fact that Carey Mulligan has already appeared on Doctor Who in one of the best episodes of Season 3, "Blink", in which she played Sally Sparrow. The likelihood of her returning now as a companion isn't all that great, but it's certainly possible...
Emma Watson
The whole thing is, Emma Watson just got out of a cult series with Harry Potter, so it's doubtful that she'd align herself with another role that could possibly pigeonhole her for life. Still, I think she'd be a wonderful companion for the Doctor and I would totally watch it.
Tuppence Middleton
You probably know Tuppence Middleton best as Riley from the amazing Netflix series Sense8, which would make her a relative unknown if she were to join Doctor Who. That doesn't mean anything, though, and she would totally be the adventurous, badass sidekick the Doctor needs.
Emilia Clarke
Obviously Emilia is ride or die for Game of Thrones, and understandably so, but can you imagine her as a Who companion? Ugh, just the thought is too magical to bear and it'd be a total dream, so we should move on before I get really depressed that it's not happening.
Images: BBC America (2); Getty Images (5)